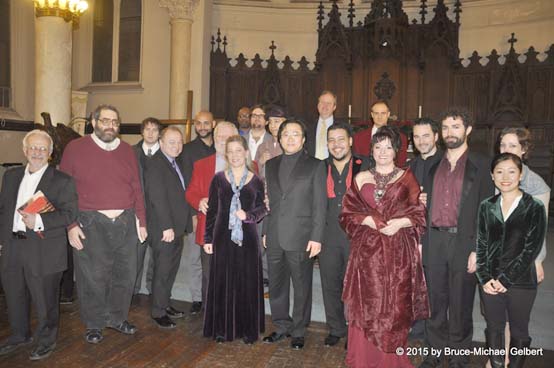 photo by Bruce-Michael Gelbert

cast of West Side Opera Society's "Rigoletto"

.......................................................................................................................................................................................
For a first opera of the New Year, Artistic Director David Clenny and his West Side Opera Society are presenting four semi-staged concert performances of Giuseppe Verdi's "Rigoletto," with an ensemble of terrific voices, guided by Clenny, presiding from the piano and providing a turbulent orchestra's-worth of sound, at Trinity Lutheran Church to benefit Trinity Place Shelter for LGBTQ Youth. The second night, January 11, is considered here.
Singing the title role at all hearings, Robert Heepyoung Oh displayed a huge resonant baritone in a forceful "Pari siamo!" and a fierce and furious "Cortigiani, vil razza dannata," concluding with a sensitive slow section. Possessing a promising Golden Age-style high lyric tenor, Jose Heredia, one of two singers cast as the Duke of Mantua, impressed immediately with his vibrant instrument and forward placement of tone in "Questa o quella" in the first scene; interpolated a head-voice high note at the end of the scene, which floated over the all-male chorus; added a cadenza just before the end of a graceful "Parmi veder le lagrime," in Act Two, where he capped a rousing "Possente amor mi chiama" with a ringing high D; and topped his achievement off with a gorgeous "La donna è mobile."
Lending a substantial soprano, a real Verdi voice, rather than a leggero, or light, one, to the role of Gilda, Beverly Butrie sang her three duets with Oh, representing a fine blending of outstanding dramatic voices, starting with "Figlia! … Mio padre!;" continuing with a thrilling "Tutte le feste al tempio … Sì, vendetta," crowned with Butrie's high E-flat; and ending with a moving "V'ho ingannato … Lassù in cielo," as she expired. In the romantic duet with Heredia, soprano and tenor harmonized in a perfect bel canto cadenza in the cavatina, which they followed with a spirited stretta, ending with a resounding climactic high D-flat from both artists. What a pleasure to hear Gilda's aria "Caro nome," with clear and full high E-flat in the cadenza and E at the end, sung by someone with a Maria Callas or Zinka Milanov-weight voice, instead of one in the Lily Pons or Roberta Peters mold!
This "Rigoletto" featured two sonorous basses, Javier Ortiz, as professional assassin Sparafucile, who joined voices with Oh, at the start of Scene Two, for a dark, most ominous-sounding duet, ending with Ortiz's deep, cavernous low note, and Kian Freitas, formidably delivering Count Monterone's fearsome father's curse. Galina Ivannikova, as Maddalena, helped anchor both the quartet "Bella figlia dell'amore" and the storm scene trio with her sturdy and colorful mezzo-soprano. Butrie ended the latter with a searing high D, a rare interpolation.
Taking supporting roles with distinction were Peter Schmitz as Borsa, Jamie Ahern doubling as the Countess Ceprano and Giovanna, Sam Shaw as Count Ceprano, Amadeo Pabon as Marullo, Eriko Ito as the Duchess' page, and Miguel Angel Vasquez as the herald. The chorus made its mark in "Zitti, ziti," in Act One, Scene Two, and "Scorrendo uniti remota via," between the Duke's cavatina and cabaletta, in Act Two, in particular.
At this writing, performances on January 16 and 18, at 7 pm, at Trinity Lutheran, at 164 West 100th Street, between Amsterdam and Columbus Avenues, remain, with some of these singers or with those alternating with them. The suggested donation is $15.