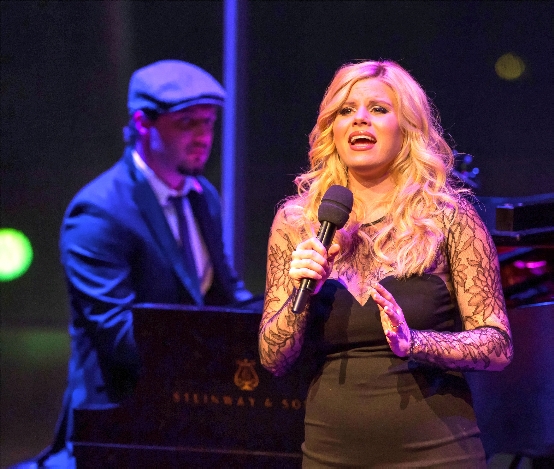 photo by Kevin Yatarola

singer Megan Hilty (right) with pianist Matt Cusson

.......................................................................................................................................................................................
Megan Hilty ("Smash," "Gentlemen Prefer Blondes," "Nine to Five") made her debut on Lincoln Center's American Songbook series, at the Appel Room in Rose Hall, on February 6, and with her polished voice, winning personality, and appealing choice of repertory, charmed us all with her performance. Matt Cusson, at the Steinway, led a band consisting of guitarist, and Hilty's spouse, Brian Gallagher; bassist Dennis Michael Keefe; and drummer Jack DeBoe.
Hilty offered a rueful, but resigned plaint, about rules that constantly change, in "They Just Keep Moving the Line," by Marc Shaiman and Scott Wittman, from television's "Smash." Slowly at first, then proceeding to up-tempo, she cheerfully waved "Bye Bye Baby," in her audition song for "Smash," from Jule Styne and Leo Robin's "Gentlemen Prefer Blondes." She seductively, then expansively promised that "The Best Is Yet to Come," in the song by Cy Coleman and Carolyn Leigh. Hilty celebrated her new daughter and her spouse with a dulcet and sentimental "A Place Called Home," a song that has new meaning for her now, by Alan Menken and Lynn Ahrens, from "A Christmas Carol." Hilty and Gallagher delightfully joined voices for Menken and Howard Ashman's familiar "Suddenly Seymour," from "Little Shop of Horrors."
One of Kristin Chenoweth's successors as Glinda, the Good Witch, opposite Idina Menzel's Elfaba, Wicked Witch of the West-to-be, in Stephen Schwartz's "Wicked," Hilty happily advised her future foe about how to become "Popular." Having expressed admiration for Menzel, who was helpful to her, Hilty also praised Dolly Parton, with whom she worked on Parton's "Nine to Five," and then, from that musical, sang of her character's image as a "Backwoods Barbie," who proves to have more feelings than people expect.
Particularly striking here was Hilty's plangent late-in-the-season pairing of a torchy "Autumn Leaves," by Jacques Prévert, Johnny Mercer, and Joseph Kosma, which she sang with the New York Pops, under Steven Reineke's baton, and a sensitive "When October Goes," by Barry Manilow and Mercer, with extended solo variations from Cusson. In Marcy Heisler and Zina Goldrich's "Alto's Lament" ("Give me a chance to sing melody"), in contrast, she comically probed emotions of the singer always fated to do no more than harmonize with the sopranos.
Hilty followed a touching, jazzy "Someone to Watch Over Me," by George and Ira Gershwin, from "Oh, Kay!," with a hushed "The Heart of the Matter," by Don Henley and John David Souther, contemplating a painful separation from a loved one. Survivors both, however, Hilty and pianist Cusson, joining her on vocals, shrugged off adversity in Dean Kay Thompson and Kelly Gordon's "That's Life."
Returning to "Smash" and "Bombshell," its musical about Marilyn Monroe, Hilty movingly limned and identified with a beloved piano that has seen better days, in Shaiman and Wittman's "Second Hand White Baby Grand," and left behind past yearning and anticipated a bright future in power ballad "Let Me Be Your Star." She concluded, knowingly and brassily, with the many verses of Lorelei Lee's classic gold digger's credo from "Gentlemen Prefer Blondes," "Diamonds Are a Girl's Best Friend."
In her encores, Hilty banished care with an upbeat "Get Happy," by Harold Arlen and Ted Koehler, and singing with simplicity, in what was essentially a duet with guitarist Gallagher, dedicated Paul Williams and Kenneth Ascher's "Rainbow Connection," from "The Muppet Movie," to their daughter.