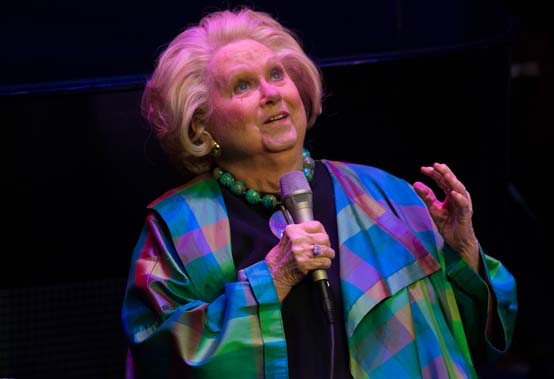 photo by Kevin Yatarola

Barbara Cook

.......................................................................................................................................................................................
Barbara Cook, born in 1927 and continuing to be a singer to be reckoned with, returned to Lincoln Center's American Songbook, at the Appel Room in Rose Hall, on February 28, ever transcendent and, treasured for both her singing and her commentary about the songs and her life, was rewarded with a number of standing ovations. Music Director and pianist Lee Musiker, saxophonist and player of other woodwinds Dave Riekenberg, bassist Jay Leonhart, and percussionist Warren Odze assisted splendidly.
Cook queried, in her still lustrous and expressive soprano, in Sammy Fain and Jack Yellen's song, "Are You Havin' Any Fun?," from "George White's Scandals," for a bright and cheerful opening, and the answer was that we were indeed! She went on with an apt pairing of an awestruck "I Hadn't Anyone Till You," by Ray Noble, and in contrast, an upbeat "It Had to Be You," by Gus Kahn and Isham Jones, with her musicians getting hot during an instrumental interlude and the singer ending on a high note. In "Where or When," by Rodgers and Hart, from "Babes in Arms," Cook looked at déjà vu lyrically, thoughtfully, and simply. In Walter Donaldson and Kahn's "Making Whoopee," from the show "Whoopee!," Cook cannily traced the rise and decline of a romance, complete with a little-known third verse, discovered by Michael Feinstein.
In a pairing by Hoagy Carmichael, Cook sang more fondly of love in a hushed and dulcet "The Nearness of You," written with Ned Washington, and warmly limned the state she originally hailed from, in "Georgia on My Mind," written with Stuart Gorrell. In the final verse of the latter, she easily jumped up the octave a couple of times, but added afterwards, "When I sing it, it's kind of a lie, because I couldn't wait to get out of Georgia!" Cook's heart is now, as we know, in New York City and she reminisced about "Flahooley," her first Broadway show, and sang a few snippets of it. Then, giving us a short, spontaneous Master Class, in singing and interpretation, she shared that she first learned from Mabel Mercer how to make the most of and to savor a word like "wonder" and its consonants.
Cook brought us back down south with a haunting and evocative a cappella "The House of the Rising Sun," about going back to the "ball and chain" of working in a brothel, leading into a sentimental and optimistic "Bye Bye Blackbird," by Ray Henderson and Mort Dixon, with Musiker's understated assistance, about getting to bid farewell to work at a whorehouse. She offered some curious bona fide country song titles that she'd found—"If my nose were runnin', I'd blow it all on you (but it's not)," "If the phone doesn't ring, you'll know it's me," "I'm so miserable without you, it's almost like you're here," and "They don't make Jews like Jesus anymore"—before proceeding to sing, in a similar vein, "If I'd'a' Shot You Sooner (I'd be out of jail by now)," with one verse that she played on kazoo. She touched us, on the other hand, with Jimmie Davis, Jimmy Sherman, and Roger "Ram" Ramirez's "Lover Man," replete with yearning and written for Billie Holiday.
Continuing with a swinging "This Can't Be Love," by Rodgers and Hart, from "The Boys from Syracuse," Cook sang the repeat double-time, and the instrumentalists enjoyed an extended interlude and capped the song with a final fanfare. Cook doesn't sing much Cole Porter, finding his lyrics too arch for her taste, but "I've Got You under My Skin" clearly appeals to her and she mined the love song for its fullest measure of sincerity and magic. She preceded a poignant "No One Is Alone, the Baker's Wife's song from Stephen Sondheim's "Into the Woods," by speaking of the lines "Sometimes people leave you/Half-way through the wood," which hit her particularly hard and leave many of the rest of us, thinking of people close to us whom we've lost, choked up as well.
In Ben Oakland and Jack Murray's "If I Love Again," Cook tenderly anticipated a possible future love, while holding a past love firmly, devotedly in her thoughts. Still in philosophical mode, Cook proposed an understated toast, "Here's to Life (here's to love, here's to you)," in Artie Butler and Phyllis Molinary's song. In the Gershwins' "I Got Rhythm," Cook's final song, from "Girl Crazy," she contrasted a contemplative verse with an up-tempo chorus. A scatted section included Cook's riff on an "American in Paris" theme and showy solos for the instrumentalists gave them another opportunity to take center stage and shine. The singer's blissfully unamplified but, of course, fully audible encore was a peaceful "Imagine," by John Lennon, assisted solely by Musiker at the Steinway.