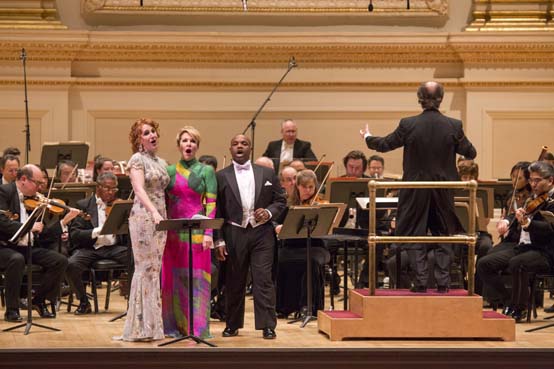 photo by Richard Termine

(left to right) Laura Claycomb, Joyce DiDonato, Lawrence Brownlee & Maurizio Benini with the Philadelphia Orchestra

.......................................................................................................................................................................................
On March 18, the Philadelphia Orchestra, under Maurizio Benini's baton, brought a brief, but welcome program of bel canto opera selections, both familiar and rare, to Carnegie Hall, as part of mezzo-soprano Joyce DiDonato's Perspectives series.
The Philadelphians and Benini began the evening with a rousing rendition of the familiar overture to Gioachino Rossini rarity "Aureliano in Palmyra," first incarnation of the curtain-raiser that also opens the composer's later "Elisabetta, Regina d'Inghilterra" and "Il Barbiere di Siviglia." DiDonato started off the vocal offerings with an obscure aria from a rare opera on a familiar theme by a little-known composer, Lucia's recitative "L'amica ancor non torna" and elegiac and lyrical cavatina "Oh, di sorte crudel," akin to a Vincenzo Bellini or Gaetano Donizetti solo, from Michele Carafa's "Le Nozze di Lammermoor," predecessor, by a decade, of Donizetti's "Lucia di Lammermoor." DiDonato sang an exquisite extended a cappella cadenza near the end of the aria.
Popular Donizetti pieces followed, excerpts from Act Two of "L'Elisir d'Amore," with tenor Lawrence Brownlee delivering a fine, heartfelt legato account of Nemorino's romanza "Una furtiva lagrima," including a beautiful ascent into voix mixte and a diminuendo just before the conclusion, and soprano Laura Claycomb, deputizing for Nicole Cabell, who had withdrawn, delicately spinning out Adina's cavatina "Prendi, per me sei libero," with Brownlee joining her for the exchanges prior to her cabaletta, "Il mio rigor dimentica." Some startling high notes punctuated Claycomb's performance. A fiery DiDonato introduced us to "Ove t'aggiri, o barbaro," Stella's angry, but deceptively bouncy, coloratura polonaise, from Giovanni Pacini's "Stella di Napoli," just before intermission.
The second half of the evening commenced with Claycomb's recitative "Eccomi in lieta vesta" and cavatina "Oh! quante volte," Giulietta's solo, also delicately spun, from Bellini's "I Capuleti e i Montecchi." Playing a swaggering Romeo to Claycomb's Giulietta, DiDonato exchanged diva gown for jacket and pants and soprano-y timbre for darker mezzo sound for the extended love duet, "Ah! mia Giulietta … Sì, fuggire: a noi non resta … Ah, crudel, d'onor ragioni … Vieni, ah! vieni, e in me riposa," from Bellini's opera, as thrilling crown jewel of the concert.
Brownlee next contributed a lyrical "La maîtresse du roi! … Ange si pur," with some ringing high notes, Fernand's aria from Donizetti's "La Favorite," in lieu of the previously announced bravura showpiece "Asile héréditaire," from Rossini's "Guillaume Tell." Making a quick change into another colorful gown and commenting, "That was fast!," DiDonato returned for a spectacularly sung "Riedi al soglio: irata stella," the jubilant rondo finale and its variations, from Rossini rarity "Zelmira," with a mostly staccato cadenza concluding its opening section.
The singers' delightful encore was the comic trio "À la faveur de cette nuit obscure," from Rossini's "Le Comte Ory," with Brownlee as the Comte, Claycomb as Comtesse Adèle, and DiDonato as Isolier, the Count's page.