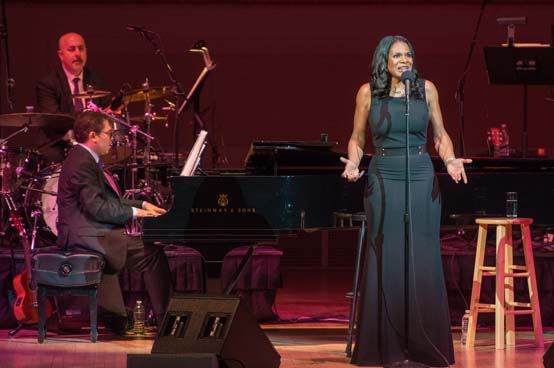 photo by Stephanie Berger

Audra McDonald (right), with Gene Lewin & Andy Einhorn

.......................................................................................................................................................................................
Multiple Tony® Award-winner Audra McDonald, supported by Music Director and pianist Andy Einhorn, bassist Mark Vanderpoel, and drummer Gene Lewin, kept a Carnegie Hall audience spellbound for nearly two hours, without intermission, singing an "eclectic mix of songs from my living room," that is, songs she grew up singing along with at home, and more, on April 29. During the course of the evening, she saluted favorite icons of song and spoke passionately of causes to which she's devoted, which further endeared her to listeners.
Her instrument creamy and bright, McDonald opened with Kander and Ebb's "Sing Happy," her optimism increasing in expansiveness as the song, from "Flora the Red Menace," written for Liza Minnelli, progressed. She waxed ecstatic in anticipation of "(when I marry) Mr. Snow," in Carrie Pipperidge's song from Rodgers and Hammerstein's "Carousel," in which she sang at Lincoln Center in the '90s. McDonald paid tribute to Chita Rivera, declaring "she inspired me [when I was] growing up," with "Chief Cook and Bottle Washer," from Kander and Ebb's "The Rink," telling, in the up-tempo number, the tale of a tough life and expressing relief that she's retired from all that. She touched us with a sentimental, plangent "My Buddy," by Walter Donaldson and Gus Kahn.
McDonald got her musicians strumming acoustic guitars and ukuleles as she pattered through Cole Porter's rapid fire "Let's not Talk about Love," from "Let's Face It," complete with a new verse, as replete with tongue twisters as the original, that was all about Audra, tickling us with references to Chipotle, Billie Holiday, "Porgy and Bess," and Juilliard. Her "No One Else," from Dave Malloy's "Natasha, Pierre and the Great Comet of 1812," after "War and Peace," was dulcet and deeply affecting. She sang an impassioned "Proud Lady," Dominique's song, by Stephen Schwartz, from "The Baker's Wife," which Schwartz rewrote for her to reflect Geneviève's viewpoint. "It Never Was You," she sang simply, in Kurt Weill and Maxwell Anderson's song from "Knickerbocker Holiday." Giving a nod to Barbara Cook, she sang of discovering unexpected attraction, in a "(Vanilla) Ice Cream," from Bock and Harnick's "She Loves Me," that was interpretively and vocally dazzling. She shared Shaina Taub's "The Tale of Bear and Otter," recounting a story for children with an honesty that appeals to grownups as well, and wrung hearts with a torchy "Maybe This Time," by Kander and Ebb, from the film of "Cabaret."
McDonald made her Broadway debut in Lucy Simon and Marsha Norman's "The Secret Garden" and, here, rapturously sang "How Could I Ever Know," following it with a contrastingly angry, funny "(And now you want to be my friend on Facebook) Are You Fucking Kidding Me?" AKA "The Facebook Song," by Kate Miller-Heidke, with a melisma on the climactic repeat of "fucking."
Helping homeless youth is a cause dear to McDonald's heart, which has led her to join forces with Covenant House—insisting on Twitter, that despite its reputation, "No way are they homophobic! Many homeless teens Covenant House supports have been ostracized by their families because they're LGBT"—hope she's right—and, in this vein, sang a wistful, moving "(When I'm gonna) Go Back Home," from Kander and Ebb's "The Scottsboro Boys."
McDonald honored Betty Buckley with a powerful "(I have read) The Writing on the Wall" from Rupert Holmes' musical version of Charles Dickens, "The Mystery of Edwin Drood." Calling the Styne, Comden, & Green song, from "Do Re Mi," one that has helped her realize what is important in life, she delivered an intense and affirmative "Make Someone Happy." Quipping "My Mother Abbess was from the really sunny side of the Alps," she proffered the "benediction," with which she was "sending [us] out into the New York night," an uplifting, classically sculpted "Climb Ev'ry Mountain," from Rodgers and Hammerstein's "Sound of Music," resulting in a standing ovation, to close her concert.
Feigning that she would sing "Let It Go," from "Frozen," for a first encore, McDonald turned instead to a song she had not sung since 1986, "Rainbow High," by Andrew Lloyd Webber and Tim Rice, from "Evita," with drive, and with the musicians contributing backup vocals. Acknowledging that the Stonewall Rebellion began on the day of Judy Garland's funeral, in New York, in June 1969, McDonald spoke of her own debt to the Civil Rights Movement, reaffirmed her support for Marriage Equality and, "in honor of hope and dreams and Judy, Judy, Judy," brought tears to our eyes with a radiant "Over the Rainbow," by Arlen and Harburg, from "The Wizard of Oz," for a final encore.