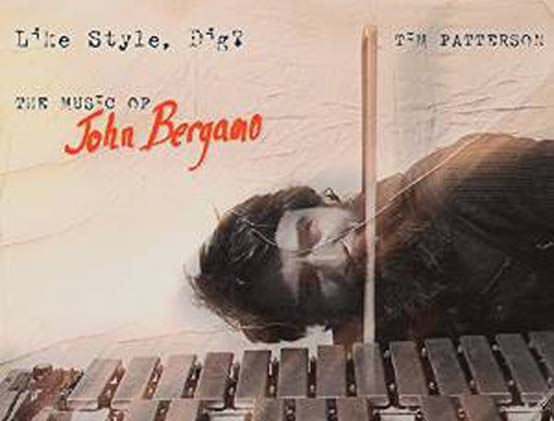 CD Cover

.......................................................................................................................................................................................
The world of percussion music speaks differently to the brain, in it its tintinnabulative way, that is onomatopoetic, while literally striking a chord that is sometimes in the brain, sometimes in the chest, or in the fingertips, or thrumming through one's entire body. Tim Patterson's evocative collection of composer John Bergamo's work is a walk in time from 1963 through the next nearly 40 years of Bergamo's creation and inspiration.
"Like Style, Dig?" has, as its first piece, "Interactions," written when Bergamo was just 23 years old. The piece is especially wonderful when heard through headphones with the sound turned up to about 7.5 or 8. Bergamo broke new ground at a time when exploration of the music of percussion, for its own sake, in Western music, was in its infancy. Collaborating with artists like Ringo Starr and Frank Zappa, even while working on film soundtracks, Bergamo explored this nova terra, ultimately taking on students like Patterson, whose greatest tribute is in collecting and playing the works that best represent Bergamo's body of work.
"Three Pieces for the Winter Solstice" includes frosty sounds interspersed with mechanistic bits and moments of positive-negative space. "Five Miniatures" is another work most enjoyable with headphones … there's the sense of being in the midst of the drums and the world they create. "Duets and Solos" are thoughts with voices–this is how they'd speak, if they had voices outside our heads. They are time passing, great ideas imagined then slipping away like smoke. They are track 16–the eponymous "Like Style, Dig?" "Blanchard Canyon" dates from 1985 and the sound of cymbals, both suspended and amplified, is otherworldly. Combining the sense of time passing, positive negative space, and the joy of being within the drums, it's music for a hammock on a sunny afternoon under a shade tree where the sun dapples your eyelids with shade as you listen. The final work, "Five Short Pieces for Marimba," is from 2000 and they are programmed in the order III, I, IV, V and II. They are the passage of time, the ghosts of what was and the hint of what will be. John Bergamo passed in 2013, far too young at age 73, but his music continues to live. Buy this album, then download Patterson's free book, "A Guidebook to Performing the Percussion Works of John Bergamo," to get the feel of genius in your own hands.