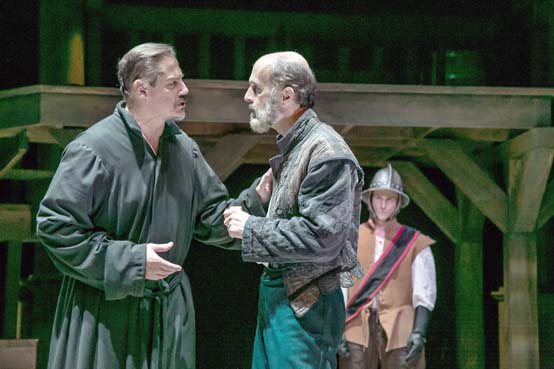 photo © Jerry Dalia, Shakespeare Theatre of New Jersey, 2015

left to right: Garnet (Rob Krakovski), Shag (James Michael Reilly) & the prison guard (Kevin Isola)

.......................................................................................................................................................................................
"Remember remember the fifth of November" is the start of the British reminder of a near-tragedy, when Guy Fawkes and a handful of plotters allegedly planned to assassinate King James I, with his wife and children, along with several members of Parliament, with 36 kegs of gunpowder placed in a room beneath. Luckily the plot was foiled but, when you examine the circumstances surrounding this event, there are questions that emerge for logical thinking people. Perhaps it didn't happen quite the way history has recorded it.
Bill Cain's "Equivocation" has its New Jersey premiere as Shakespeare Theatre of New Jersey's (STNJ) latest production. This play originally appeared in 2010 and it posits a plausible alternative genesis of a historic event to what generally presents. Everyone who's ever thought there's more to meet the eye in 400-year-old history, as well as in current events, will find plenty to love in this production that scintillates, even as it chills the heart with the depth of possibilities that it stirs up. In fact, when a 14-year-old child's science project clock is claimed to be a bomb, but the protocol of how he and the situation were treated doesn't follow that protocol, this play could be ripped from today's headlines as well.
Shag (James Michael Reilly) is called for an audience with Robert Cecil (Dominic Comperatore). The year is 1606 and we're in London. King James is on the throne and Cecil, like many politicians, wants to rewrite history, namely what happened during the Gunpowder Treason plot. Though it's only upon consideration that Shag realizes that what's happened may not really be what's happened. Is he too smart for his own good?
One of the joys of following a troupe like Shakespeare Theatre of New Jersey is seeing members of the company like Reilly in a variety of roles. He's been a comedian of great breadth, but it is roles like Shag that define a career, and he plays this with gravitas and brilliance. Shag is a man who's at once simple and complicated. His relationship with his daughter Judith, Therese Barbato in her company debut, is intense and varied. Initially there is a gulf between them surrounding the death of her twin brother, who was Shag's favorite. Ultimately, they overcome their distance and it's part of Cain's brilliance as a writer that Shag and Judith are the only characters in the play who remain themselves throughout. Nate (Comperatore), Armin (Kevin Isola), Richard (Rob Krakovski), and Sharpe (Matthew Stucky) are true Shag-speareans in that they play multiple roles throughout, with Comperatore doubling as Cecil and Stucky as the louche and fey King James, both of whose cunning and cruelty show in most interesting ways.
This cast is truly all stars and each player has some amazing moments–Krakovski as the Jesuit priest whose treatise on equivocation inspires Shag to improve his life, Stucky as James, Comperatore as Cecil, and Isola as Armin, who is the ultimate chameleon and clown. Judith has as much wisdom and determination as her biblical namesake and Barbato's work is a great harbinger of what's to come.
Four hundred years before Viet Nam, Desert Storm, and 9/11 there was the Gunpowder Treason Plot. When you look at the facts, could it have really happened the way it's portrayed? That's a question that will linger with you about every event you read in the headlines from now on. It's the power of "Equivocation."
Get your tickets NOW for "Equivocation," playing in Madison, New Jersey, through October 4, at www.shakespearenj.org. Go early to give yourself enough time to see it again. Take your thinking friends with you for a timely and deep evening of thought-provoking theater.