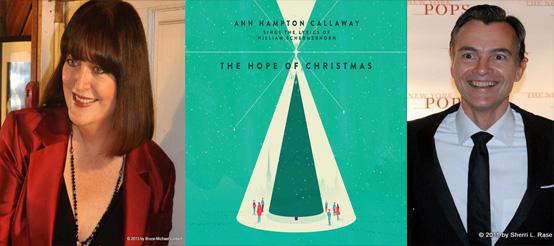 Ann Hampton Callaway - photo by Bruce-Michael Gelbert, Hope of Christmas CD cover, William Schermerhorn - photo by Sherri L. Rase

.......................................................................................................................................................................................
This year, "back-to-school" crowded July 4th barbecue items and, even as the children actually return to school, Halloween fills the shelves. Is it too early to think of Christmas? Is there anything really new for the Holidays? The answer is it's never too early to consider Christmas feelings and now there's something wonderful to put in Christmas stockings and to give as host gifts for the Holidays–"The Hope of Christmas!"
Ann Hampton Callaway's newest Christmas album consists entirely of the lyric work of two-time Emmy Award winner William Schermerhorn, in collaboration with composers Ann herself, Milton Delugg, Mary Ehlinger, Michael Feinstein, Stephen Fox, Matthew Sklar, and Wesley Whatley. The album is jazzy, hopeful, modern, and infused with the dark golden honey of one of the finest voices in jazz today. The pure heart and the hope that Christmas feelings will last all year permeate this album like the smell of cookies linger in the house long after baking is done.
Favorites of mine on the album include the eponymous "The Hope of Christmas," the charming and homey "On Union Street," "Discovery" with its gospel meets jazz feel, and the Latin-flavored "What Good Is Being Cranky," but it's "Fly With the Angels" that wraps it all up in a bow for me. You'll have your own favorites, and you may want to put the music on your phone so that the CD can stay in the car.
The lyrics celebrate the unifying message of Christmas, whether or not you believe that an infant was born to a virgin in extremely humble circumstances. What are the events that unite as individuals? What does it take to bring all people together as one family? When you listen to this album, it may answer some of those questions that we ask whether we live in the heart of a city or in the heartland surrounded by amber waves of grain. Get your copy now—or copies?—and give your loved ones the best gift they'll receive this season–a tangible reminder of your love. The CD launches on October 9 and will be available on October 13.