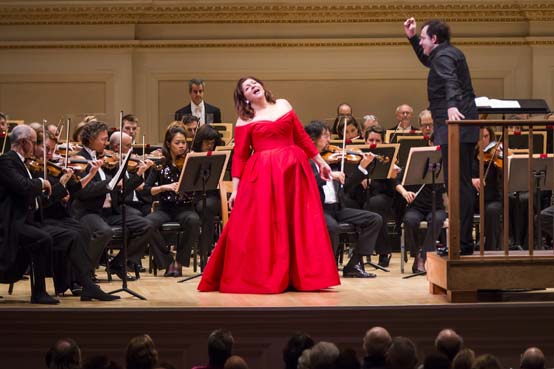 photo by ©2015 by Chris Lee

Christine Goerke, Andris Nelsons & the Boston Symphony Orchestra

.......................................................................................................................................................................................
On October 21, the Boston Symphony Orchestra (BSO) brought an aptly resounding and overwhelming, persuasively semi-staged concert account of Richard Strauss and Hugo von Hofmannsthal's grand, jangling and jagged, ferociously beautiful opera "Elektra" (1909), fresh from Symphony Hall, led by Music Director Andris Nelsons, and starring Christine Goerke, to Carnegie Hall, to thunderous audience acclaim.
Garbed in a blood-red gown, Goerke—the Metropolitan Opera's recent Dyer's Wife in "Die Frau ohne Schatten" and its Brünnhilde designate, her gripping Elektra making its New York debut—captivated listeners immediately, singing the title character's entrance monologue "Allein! Weh, ganz allein" (Alone—woe, all alone), mourning her murdered father King Agamemnon, in dark dramatic tone; dancing, moving, and acting with flair, unfazed by the concert format; and capping her solo with most assured high notes. Goerke unleashed unbridled fury on Gun-Brit Barkmin—as her timid, more traditional, more fancily dressed sister Chrysothemis, who sang in a contrastingly bright lyric timbre—and lashed out at and upbraided her for cooperating with their mother Queen Klytämnestra and consort Ägisth, under whose thumbs they subsist.
Goerke toyed with Jane Henschel, as a haunted, nervous, guilt-ridden Klytämnestra, who, making herself unusually vulnerable to the daughter who has been so openly hostile, vividly detailed the horrible ailments and nightmares, which she suffers from, to her disheveled offspring. Henschel emitted an anguished cry as she reached the end of her confession, expressing her fear that her son Orest may yet come to avenge his father's death at her and her lover's hands. Goerke's Elektra, seizing on her mother's terror, exulted in temporarily having the upper hand—over the parent who causes her torment and obliges her to live in rags and filth—and mockingly told her off in a monologue that would have inspired ecstatic applause, were there a place for it, in this through-composed score. Maniacal laughter marked Henschel's exit, crowing as she savored an apparent, though ultimately empty victory.
In their mournful, wrenching exchange, Goerke's Elektra and Barkmin's Chrysothemis lamented the reported death of Orest, which had so cheered their mother, the former formidably pushing away the unwanted sad news. Trying seductively to cajole her sister into joining her in avenging their father's death, Goerke's Elektra sang warmly and dulcetly, as befits a soprano whose background is in Gluck and Handel, even while rising as well to the role's most dramatic demands. Failing to convince Chrysothemis to conspire with her, Goerke's heroine took a moment to pronounce a vehement curse upon her recalcitrant sibling, before abruptly shifting, resolutely, to action, digging up the very ax, used to slay her father, to use on his assassins.
Goerke's Elektra forcefully, defensively rebuffed the stranger who interrupted, then gave way, with pathos, to an expression of her sorrow over Orest's death, not yet aware that she was in fact addressing him. James Rutherford was somber and guarded as the bearer of these bad, though false tidings, listening to Goerke's plangent plaint and her anger at Orest's unworthy survivors. When Rutherford finally revealed himself to be Orest, Goerke emitted a firm, cathartic cry, and the siblings enjoyed a triumphant reunion, as Goerke, welcoming him, reveled in more of the role's rare lyric pages, the recognition scene then rising to a compelling climax.
Goerke's Elektra evinced uncommon calm, before quickly realizing that she'd neglected to give Orest the ax, sending him perhaps defenseless into the palace. Pacing until she heard her mother's screams from within, Goerke's princess could then afford to play cat-and-mouse with Gerhard Siegel, as the repulsive Ägisth, as she had earlier with Henschel, and feigned simple-mindedness as she sent him to his death, strongly declaiming, "Agamemnon hört dich!" (Agamemnon hears you), when assured that Äegisth had paid for his crimes.
Her character's mission, avenging her father's death, accomplished, Goerke celebrated with Barkin, in soaring duet, both forcefully expressing their relief, even while Elektra's mind unraveled, as she danced a frenzied and fatal victory dance, bringing to a close a most dazzling evening.
Nelsons elicited a powerful performance from the BSO and from the singers, including, in supporting roles, Nadezhda Serdyuk, Claudia Huckle, Mary Phillips, Sandra Lopez, and Rebecca Nash as the maids; Nadine Secunde, dramatic soprano of the 1980s and '90s, making a cameo appearance as their overseer; Elizabeth Byrne and Meredith Hansen as Klytämnestra's confidante and trainbearer respectively; Mark Schowalter as an energetic young servant; and Kevin Langan anchoring the proceedings as both the old servant and Orest's guardian. The Tanglewood Festival Chorus delivered its few lines, hailing Orest's return, from an upper tier.