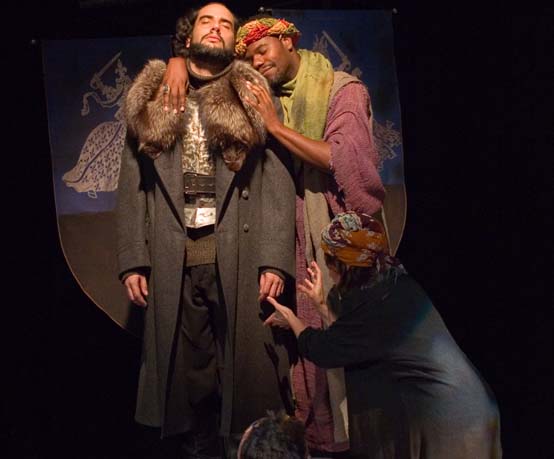 photo by Michael Dekker

Antonio Minino (Macbeth), James Edward Becton (Second Witch), Briana Sakamoto (Third Witch) & Lavita Shaurice (First Witch)

.......................................................................................................................................................................................
Tom Slot's adaptation of the Scottish play, "Macbeth (of the Oppressed)," is rocking the house at the Theater at the 14th Street Y in lower Manhattan. Slot also directs this thrillingly talented cast featuring Antonio Minino as Macbeth and David Stallings as Husband Macbeth. A quick perusal of the program featuring color- and gender-blind casting piqued my interest even more and Fab Marquee Production's set, Daniel Gallagher's lighting, and Jacob Subotnick's sound design conspired for a perfect pre-Halloween brew of misdirection, intrigue and, ultimately, Destiny.
Izzy Field's costumes gave us suggestions of functional opulence and subtle menace. Chester Poon's fight choreography was forceful and the clashes frequently had me using just the edge of my seat. The splatter patterns on the floor of the set notified the wary that "something wicked this way comes" and wicked indeed it was as the masterful adaptation unfolded.
Minino's Macbeth is a brooding man of action, who ultimately believes his own PR and whose scruples only come out after the coppery tang of innocent blood fills the air. Stylized puffs of petals evoke the fleeing of the soul as each faux foe is vanquished, even those Macbeth originally believed to be his allies, with the final button put on each by the falling of the house crest. One for each noble family creates the backdrop of the set and the knell is final when the textiles meet Gravity. With his mad scenes, the show winds tighter, even as he unravels, and the swirling back and forth of male and female energy between Minino's Macbeth and Stallings' Husband Macbeth, as Husband tries to buck him the fuck up, is an infinity loop of anima/animus between them. Stallings' later self-flagellation is satisfyingly physical as well as emotional, and the slap of leather on skin is deliciously evocative. There's much to be said for penitential self-mortification.
Elisabeth Preston's Banquo awakened my nascent crush on warrior princesses with her blend of loyalty and bravissimo bravado. Her striding presence complemented Macbeth, when he was humble as well as when he was preening. And the Weird Sisters: Lavita Shaurice's First Witch was all seeing and all knowing; James Edward Becton's Second Witch was full of gamboling mischief; and Third Witch Briana Sakamoto seemed to melt like Salvador Dali's clocks, as she liquidly arrived on surfaces to become a gracefully athletic faerie, intent on adding her power to her Sisters' for the ultimate destruction of the folly of Man. Seeing and hearing different tones and timbres had me listening to the lines with greater nuance, scenes had more texture and verve, and you simply must see. There's atmosphere, blood, sex, and power and, really, what more do you need for an evening of intellectual enjoyment?
Digging the hot Scots? Visit www.fabmarqueeproductions.com for production and ticket information and www.14thstreety.org/macbeth for ticket purchases. "Macbeth (of the Oppressed)" plays Thursdays through Saturdays at 8 p.m. and Sundays at 3 p.m. through October 24.