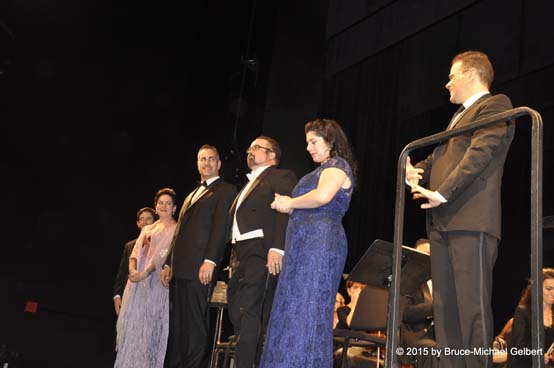 photo by Bruce-Michael Gelbert

(left to right) Scott Joiner, Jessica Grigg, Sean Cooper, Raúl Melo, Marie Masters & Israel Gursky

.......................................................................................................................................................................................
Italo Montemezzi's heroine Fiora was "L'Amore dei Tre Re," the doomed love of three kings. In Umberto Giordano's "Siberia" (1903), Stephana is the love of three impassioned Russians—her true love Vassili, son of her godmother and maid; the wealthy Prince Alexis Frouwor, her patron; and her louche pimp Gleby. The Giordano rarity was explored on October 24 by Teatro Grattacielo, champion of Italian verismo opera, at the Gerald W. Lynch Theater at John Jay College, with a committed and accomplished cast, under the sure baton of Israel Gursky.
"Siberia" had its world premiere, at La Scala, Milan, on December 19, 1903 with an illustrious cast featuring Rosina Storchio, the first Madama Butterfly, as Stephana; Giovanni Zenatello, the noted Otello, as Vassili; and Giuseppe De Luca, who had a long and distinguished Metropolitan Opera career, as Gleby, paced by Cleofonte Campanini, veteran of the Met's first season and brother of Italo, who sang Faust on the Met's first night, October 22, 1883. The lovely Lina Cavalieri was the Stephana of the Paris premiere in May 1905. "Siberia" reached New Orleans in January 1906 and New York, at Oscar Hammerstein I's Manhattan Opera House, in February 1908, again with Zenatello.
Grattacielo's revival revealed "Siberia" as a hidden treasure, with compelling love duets for Stephana and Vassili, in each of its three acts, as passionate as those in Giordano's earlier and better known "Andrea Chénier" (1896) and "Fedora" (1898), the latter considering the loves of Russian émigré aristocrats, and also incorporating traditional Russian melodies. "The Song of the Volga Boatmen," "Ey, ukhnem," first published in 1866, echoes throughout Act Two, set in a Siberian labor camp and sung at the Grattacielo performance by the men of the Cantori New York Chorus, strikingly harmonizing, a cappella at first, on it as a laborers' lament. Russia Orthodox liturgical strains appear here as well, as do sounds of the balalaika, played by the mandolin ensemble of the Teatro Grattacielo Orchestra, in Act Three. Also found here were fervent lyric and spinto solos, including a paean to Siberia, where she has learned to love and found beauty in Nature, radiantly sung by Marie Masters, as Stephana, who has followed Vassili to the prison camp; outpourings of love, a dramatic limning of the punishing terrain of the steppes, and a wrenching condemnation of Stephana for her past, forcefully sung by Raúl Melo as Vassili, exiled to Siberia for wounding Prince Alexis; expressions of love, in vain, disclosure, in an undertone, of an escape route out of the camp, an attempt to lure Stephana back to her old life, and a breezy accusation, with damaging underpinnings, disclosing her past as a 'lady of the evening,' powerfully sung by Daniel Ihn-kyu Lee as Gleby; and a poignant cameo by Megan Monaghan, as a young woman whose father was sentenced to the chain gang. A lilting "Mattinata," a morning 'serenata,' "O bella mia, perche i begli occhi tu chiudi"—led by Lee, with Wesley Morgan as Prince Alexis; Joseph Flaxman as the banker Miskinsky, a role created by Antonio Pini-Corsi, the first Ford in "Falstaff;" and Damian Savarino as Captain Walinoff of the Kalonga regiment—was one of the highlights of Act One, which Lee later quoted, mockingly, when slandering Stephana to Vassili. A moment for Gursky's players to shine was the evocative prelude to Act Two, with "Volga Boatmen" quotes and strains suggesting the chill Siberian winds blowing.
Completing the cast with distinction were Jessica Grigg as Nikona, Stephana's maid and Vassili's mother; Scott Joiner, doubling as Ivan, Stephana's servant, and a Cossack; and Sean Cooper, as the captain and the governor. Morgan also played the sergeant, Flaxman portrayed a rag picker, and Savarino was also the inspector.