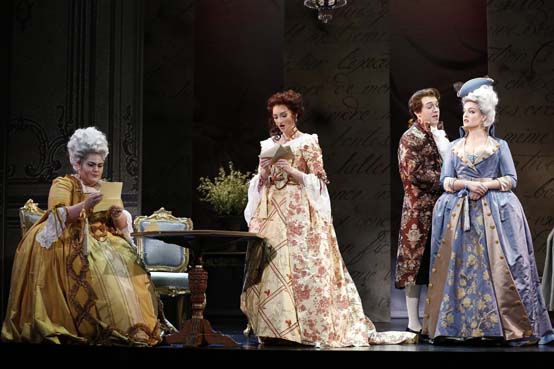 photo by Carol Rosegg

(left to right) Brittany Nickell, Abigail Shapiro, Tinothy Murray & Anna Dugan

.......................................................................................................................................................................................
The holiday season may bring such expected fare as "Hansel and Gretel," "The Nutcracker," and "Messiah"—but "Dangerous Liaisons" (1994), composer Conrad Susa and librettist Philip Littell's dark and treacherous opera after Pierre Choderlos de Laclos' pre-French Revolution epistolary novel, may also loom, and is on the bill for the Manhattan School of Music (MSM) Opera Theater this month. We fall head first into a writhing snake pit, get caught in a black widow spider's web of scheming and manipulating, mirthless seduction and betrayal, as Susa's music, led here by George Manahan, its squalls echoing the indicated opening tempest without and storms within its principals, as it scurries, swirls, and curls around Littel's arch phrases, etched in venom and layered with many meanings, some of them contradictory, their louche messages smoldering in the subtext. In the three-performance MSM run, most roles have been double cast. The December 9 first night cast is discussed here.
"Dangerous Liaisons" concerns Madame de Merteuil, a role created by Frederica von Stade and played here by Anna Dugan, coolly dignified and singing in a colorful, tangy soprano, and Vicomte de Valmont, originally Thomas Hampson and now baritone Timothy Murray, at once dashing and sinister, akin to Mozart's Don Giovanni. These former lovers, who still have a hold on each other, make as unsavory a pair as the Macbeths. "It is not my fault" is, significantly, the refrain of one of their exchanges. They're equally masterful at fun and games that far outstrip those played in "Who's Afraid of Virginia Woolf?" and make wagers as cruel as the one in "Così Fan Tutte," but it is Merteuil who, like Lady Macbeth, emerges as the stronger one. It is to director Dona D. Vaughn's credit that she kept us engaged by these intensely unsympathetic characters, as they wrought their havoc and destruction, with their love 'em and leave 'em philosophy. One of the latest on Valmont's list of conquests is poor Madame de Tourvel (Abigail Shapiro), the Donna Elvira figure, created by Renée Fleming, driven to distraction and death by Valmont, with Merteuil engineering their breakup. Another is young Cécile de Volanges (Janet Todd), the picture of innocence, violated or educated by Valmont, at Merteuil's instigation. Cécile's love, as opposed to her husband-to-be, is Chevalier de Danceny (Oliver Sewell), her harp teacher, whom Merteuil handily seduces. Also caught up, against their will, in Merteuil and Valmont's relentless juggernaut are Madame de Rosemonde (Noragh Devlin), Valmont's aunt, and Madame de Volanges (Brittany Nickell), Cécile's mother, working overtime to protect her from Danceny, but neglecting to shield her from the inexorable Valmont. Danceny fatally wounds Valmont in a duel, but before he dies, Valmont turns Merteuil's letters over to his killer, with the instruction that he publish them. The dying Tourvel, learning that Valmont has died, likewise turns his letters over to Mme de Rosemonde. Publication of the letters leaves the reputation of Merteuil—suffering from smallpox, but surviving—in tatters, with the scandalized women, while the men cheer her bravado.
Erhard Rom's set, lit by Tyler Micoleau, acknowledged both the letters that are the "Liaisons'" origin and its 18th century setting. Tracy Dorman's costumes and Dave Bova's hair and makeup were also apt for the period.
MSM's Opera Repertoire Ensemble gives Verdi's "Luisa Miller" in concert on December 16 and 18 at 7:30 p.m.; the Senior Opera Theater presents the American premiere performances of Delibes' "Le Roi l'a Dit" from March 30 to April 2, 2016 at 7:30 p.m.; and the Opera Theater offers the American premiere of Ibert's "Persée et Andromède" with Ravel's "L'Enfant et les Sortilèges" on April 27 and 29 at 7:30 and May 1 at 2:30.