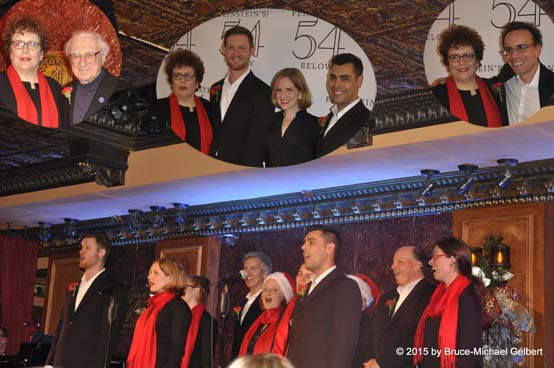 photo by Bruce-Michael Gelbert

Essential Voices USA members in performance (insets L-R: Judith Clurman & Sheldon Harnick, Judith Clurman, Joseph Beutel, Amy Justman & Nicholas Sotack, Judith Clurman & Tedd Firth)
.......................................................................................................................................................................................
Judith Clurman's Essential Voices USA welcomed us to Feinstein's/54 Below, the elegant supper club and cabaret, on December 3, to hear them "Sing Christmas" most exquisitely, as they offered familiar carols, with audience sing-alongs; music from Broadway; selections from their new Sono Luminus CD "Holiday Harmonies: Songs of Christmas," reviewed in these pages last month by Sherri Rase; and even a world premiere, in which our participation was invited. The invaluable Tedd Firth was at the piano and Essential Voices USA's Amy Justman, Joseph Beutel, and Nicholas Sotack were the striking soloists.
To open, Clurman led her ensemble in a mellifluous "Angels We Have Heard on High," with the line "Gloria in excelsis Deo" sung in counterpoint throughout. We then joined Essential Voices USA in singing along with festive renditions of "Hark! The Herald Angels Sing;" "It's Beginning to Look a Lot Like Christmas," from Meredith Willson's "Here's Love;" and "We Need a Little Christmas," by Jerry Herman, from "Mame." Justman capped her dulcet solos—"Stay with Me," from "City of Angels," by Cy Coleman, with lyrics adapted by David Zippel to make it a Christmas song, and "Once Upon a December," by Stephen Flaherty and Lynn Ahrens, from "Anastasia," the latter with Essential Voices USA—with high, quiet endings.
After we joined the chorus for "O Come All Ye Faithful" and the refrain of "God Rest You Merry Gentlemen," Firth played his haunting arrangement of Ralph Blane and Hugh Martin's "Have Yourself a Merry Little Christmas," Judy Garland's song from "Meet Me in St. Louis," and Sotack, Justman, and Beutel sang a merry "(Just sing) A Christmas Song," by Matthew Sklar and Chad Beguelin, from "Elf." Next we blended voices with soloists and chorus in "Deck the Halls" and "Jingle Bells."
A beautiful tribute to lyricist Sheldon Harnick, who was present, followed and comprised "Green Willow Christmas," from Frank Loesser's "Green Willow," as Margery Gray AKA Mrs. Harnick, who was not at the performance, had been in its original Broadway cast; "Christmas Eve," cut from Jerry Bock and Harnick's "She Loves Me," and lyrically sung here by Justman and Beutel, with Essential Voices USA; and "Christmas Gifts," from Joe Raposo and Harnick's "A Wonderful Life," Beutel's solo, with a floated high ending.
Clurman then rehearsed us in our part in the world premiere performance of her and Firth's intricate and intriguing arrangement of Franz Xaver Gruber and Joseph Mohr's "Silent Night," which we sang along with Essential Voices USA. You can find the song, as arranged by Clurman and Firth, on the "Holiday Harmonies" CD. "Merry Christmas Wishing Well," by Gene Gilroy, Essential Voices USA's closing, heartfelt number, is on the disc as well. Irving Berlin's "White Christmas" was the encore.