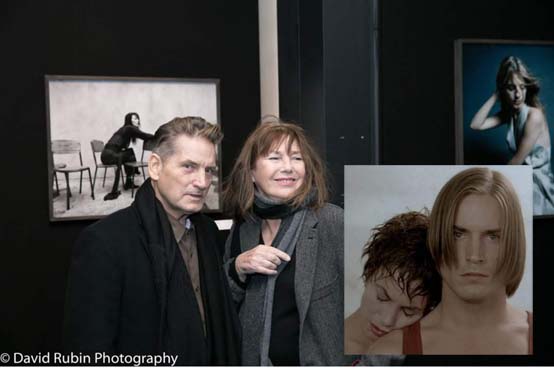 photos courtesy of Film Society of Lincoln Center

Joe Dallesandro & Jane Birkin at the Film Society of Lincoln Center (inset - Jane Birkin & Joe Dallesandro in a scene from "Je t'aime ... moi non plus")

.......................................................................................................................................................................................
On the night of January 30, the Walter Reade Theatre on the Upper West Side of Manhattan radiated a seriously uncharacteristic downtown vibe: the Film Society of Lincoln Center had scored a major coup by securing both Joe Dallesandro and Jane Birkin for an appearance in the house, both onscreen and off. The occasion was the only New York screening in recent memory of Serge Gainsbourg's 1976 debut as a film director, "Je t'aime … moi non plus (I love you…neither do I"), headlined by Dallesandro and Birkin.
The passionately enthusiastic, celebrity-studded audience was joined by a small army of photographers and filled the theatre to more than its capacity, spilling over into the reception areas and onto Lincoln Center Plaza.
As exciting as the prospect was of seeing this particular film on the big screen, the promise of a Q & A with Dallesandro and Birkin after the screening was what actually lured me there that night. Every expectation I might have had was more than fulfilled to the max.
The movie itself is delectable fare for the cinematic gourmet and is a must-see for anyone interested in the history of film. Artistically self-contained, "Je t'aime … moi non plus" is an unfiltered experience of the aesthetic which became the artistic root of later masterpieces such as Gus Van Sant's "My Own Private Idaho." The script, a significant document for cultural historians and critics, throws a white-hot spotlight on sexual fluidity and matters of the heart in the liberated timeframe between the Sexual Revolution and the outbreak of the AIDS Epidemic.
The making of the film was inspired by the enormous success of the international release in 1969 of "the ultimate love song," "Je t'aime … moi non plus," written and recorded by Gainsbourg and Birkin, and later recorded, with great success, by such artists as Brigitte Bardot, Donna Summer with Giorgio Moroder, the Pet Shop Boys, Asia Argento … and the list goes on. According to Gainsbourg, the song is an "anti-fuck" anthem, which proves the impossibility of combining love and attraction, when a couple is not really a match. The film elaborates on the song, to be sure, but Gainsbourg's directorial rigor keeps his story extremely simple, and his principal actors are as splendid as they are provocative, both individually and in ensemble.
Johnny (Birkin) a waif-like, boyish, waitress in a remote diner, falls in love with the swaggeringly handsome Krassky (Dallesandro), the garbage truck driver. Her gross peasant of a boss (Reinhard Kolldehoff), well-known to filmgoers as Konstantin von Essenbeck in Luchino Visconti's "The Damned," harangues her with the fact that Krassky is gay. She disregards his warnings, and after many false starts, finally succeeds in engaging Krassky in a sexual relationship, although totally on his terms. Krassky's boyfriend and co-worker Padovan (Hugues Quester) decides to fight for his relationship with Krassky, despite being tempted by the advances of a mythical figure, a nameless peasant on horseback (Gerard Depardieux). Violence ensues. The climax of the film and the resolution of the story are both gripping and revelatory.
Jane Birkin was spot-on, in the Q & A, when she described the story as Shakespearean in its simplicity and elemental power. "Othello" certainly comes to mind.
The Q & A was beautifully introduced with a carefully prepared tribute to his guests of honor by Dennis Lim, Director of Programming for Film Society of Lincoln Center. The tepid questions which followed, however, were cliché-ridden and did not advance the evening's proceedings.
In a series of diplomatic coups, however, Birkin and Dallesandro managed somehow not only to address Lim's questions, but also to provide a wealth of anecdote—and attitude—that gave the evening its crowning lustre: Birkin romancing with a smooth international style, and Dallesandro shooting from the hip with characteristic candor and a charming smile that lit up the room.
There are rumors that Joe Dallesandro is considering a return to the big screen, and that a memoir is in the works. We all certainly hope that those rumors become fact.
It is of great interest to note that recently, with no particular fanfare, as is the way of the French in such matters, Joe Dallesandro received the highest honor that the French government can bestow upon a foreign artist. As a Chevalier in the Ordre des Arts et des Lettres, he is now a member of the pantheon which includes such great figures as T.S. Eliot, Audrey Hepburn, Sean Connery, Bob Dylan, Clint Eastwood, David Bowie, Meryl Streep, Patti Smith, Ringo Starr, Elton John, Rudolf Nureyev, Shirley Verrett, Philip Glass, and many many others. Clearly his work with such groundbreaking French directors as Louis Malle, Jacques Rivette, and Gainsbourg played a pivotal role in his making a lasting contribution to French culture and, therefore, it was only a matter of time before he was selected for this mark of outstanding distinction. I would like to initiate a movement to see to it that he is acknowledged here in his own U.S.A. at the Kennedy Center Honors.
For all the wonderful Dallesandro work that has gone before and become embedded in the fabric of international culture, I feel strongly that the best is yet to come.