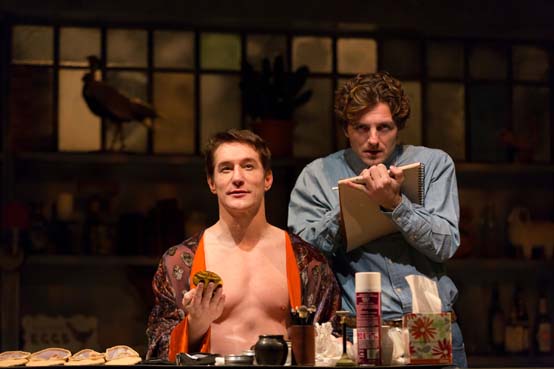 photo by T. Charles Erickson

(left to right) Bill Dawes as Rudolf Nureyev & William Connell as Jamie Wyeth in "Nureyev's Eyes"

.......................................................................................................................................................................................
In David Rush's "Nureyev's Eyes," now at George Street Playhouse, Jamie Wyeth is a man who feels the weight of a legacy from his grandfather N.C. and his father Andrew. Imagine how difficult it must be to separate yourself, as a brilliant painter from a very early age, from the shadows of the brilliance that came before you. You want to respect the work they've done, yet it's so important for you to create your vision, and your art. Jamie Wyeth was only 20 when he painted the iconic portrait of John F. Kennedy that now sits in the Museum of Fine Arts Boston, his brilliant clarity evident, even while tortured in his quest to create the perfect intersection of representation of the form and the personality that animates the corporeal form of his subject. When Jamie Wyeth (William Connell) meets Rudolf Nureyev (Bill Dawes) at a party, these men's demons align with one another to torment and inspire them both.
As unlikely friends, each is fired by his own brand of creativity. Wyeth has a great deal of personal charm and plays a longer game in his search for perfection. Nureyev makes quick judgments and revisits his initial assessment of Wyeth–when they first meet, Nureyev is in pursuit of pleasure and Wyeth isn't interested in him in that way. Yet a spark flies between them and they become great, if combative, friends.
Part of the success of Rush's amazing new play, under Michael Mastro's excellent direction, is how much certain friends come to occupy the mind. Connell and Dawes as Wyeth and Nureyev, take us into the golden spiral of a relationship that is recognizable, loving, cognizant of the foibles of one another, and lasting. We all have friends we've come to love in a way that's beyond age and time. This play dazzles even in its quiet moments and when the end arrives–figuratively and literally–it's for our hearts and minds to continue to vibrate with the memory and inspiration of those friends who go before us.
This play runs through February 21. This would make a most wonderful Valentine's gift for those you love. Visit
www.GeorgeStreetPlayhouse.org
today and get your tickets now!