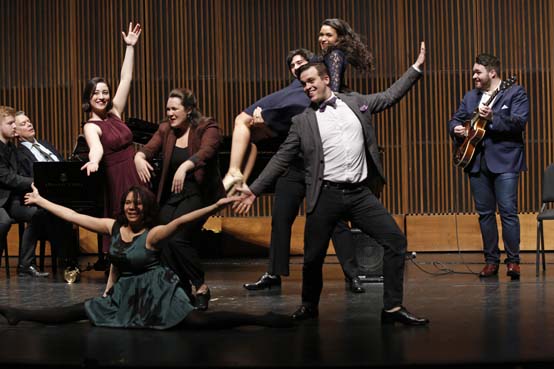 photo by Michael DiVito

(left to right) Chris Reynolds, Steven Blier, Kelsey Lauritano, Amanda Lynn Bottoms, Christine Price, Dimitri Katotakis, Samuel Levine, Mikaela Bennett & Gerard Schneider

.......................................................................................................................................................................................
On January 13, at the Juilliard School's Peter Jay Sharp Theatre, New York Festival of Song Artistic Director and pianist Steven Blier presented some of Juilliard's Ellen and James S. Marcus Institute for Vocal Arts' young crème de la crème in "Harry, Hoagy, and Harold," a scintillating program of standards and rarities by three composers who, along with George Gershwin, Cole Porter, Irving Berlin, Jerome Kern, and Richard Rodgers, shaped the American Songbook, Harry Warren, Hoagy Carmichael, and Harold Arlen. Blier was at the keyboard for most numbers, sung by sopranos Mikaela Bennett and Christine Price, mezzo-sopranos Amanda Lynn Bottoms and Kelsey Lauritano, tenors Samuel Levine and Gerard Schneider, and baritone Dimitri Katotakis, guided and assisted, in addition, by stage director Mary Birnbaum, choreographer Adam Cates, assistant pianist Chris Reynolds and, as guest coach, Broadway's Mary Testa.
Arlen and E.Y. (Yip) Harburg anthem "Over the Rainbow," from "The Wizard of Oz," played, as a wistful guitar solo, by tenor Schneider, served as the overture. In Carmichael and Johnny Mercer's "The Old Music Master," from "True to Life," Katotakis, Price, and Lauritano, assisted by Blier, determined delightfully to bring the eponymous longhair into a swinging musical world. Caressing the romantic "A Sleeping Bee," by Arlen and Truman Capote, from "House of Flowers," Bennett showed that she knows how to bend a note, something that few classical singers know how to do, and she and Bottoms charmed as they collaborated? competed? in "Two Ladies in de Shade of de Banana Tree," from the same musical. With Levine on banjo, Schneider serenaded Lauritano, Southern-style, with Carmichael and Jack Brooks' "Old Buttermilk Sky," from "Canyon Passsage," and then Levine tackled Arlen and Harburg's sentimental quasi-aria "Last Night When We Were Young," first sung by Lawrence Tibbett in the opera-themed film "Metropolitan."
Price gave us a hopeful and delicate "It's a New World," by Arlen and Ira Gershwin, sung by Judy Garland in "A Star Is Born," with Blier interpolating some of "Over the Rainow" into the piano accompaniment, and Lauritano found, in Schneider, her "Dancing Partner," in a lilting romanza written for, but not used in, the same film, a possibly unpublished song, Blier told us, and realized for performance here from the sketchiest of scores. "I'm Going Shopping with You," declared Katotakis to Bennett, in Warren and Al Dubin's song from "Dames," as the others displayed the merchandise in question, whistled a verse, and assisted in the dance, with lines newly added by Mark Campbell and Blier showing Katotakis to be, not Bennett's mate, but her GBF—gay best friend—and coupled with Levine as his boyfriend. Bottoms took us uptown, evoking a hot Harlem night, in Carmichael and Rudy Vallee's "Old Man Harlem," complete with scatting and big climactic high note, and further cast her spell in a sizzling "That Old Black Magic," by Arlen and Mercer, from "Star Spangled Rhythm," with Blier, and Schneider on guitar.
Reynolds joined Blier for piano four hands in zesty Warren numbers for the full company, up-tempo love song "Cheerful Little Earful," from "Sweet and Low," with lyrics by Ira Gershwin and Billy Rose, and "Jeepers Creepers," from "Going Places," written with Mercer, with Schneider on guitar, Lauritano and Price tap dancing, and the others setting the stage, with tables and chairs, and dancing along.
Levine strummed and sang a seductive Southern serenade to Price, as his incognito fiancée, "the feisty," as Blier described her, "Evelina"—long i—Applegate, Arlen and Harburg's "Bloomer Girl." Katotakis confessed, lovingly and sincerely, that Lauritano would be "Hard to Replace," in Warren and Gershwin's song from "The Barkleys of Broadway," liberally sprinkled with insinuating blue notes. In Carmichael classics, Katotakis gave us a heartfelt, gently-voiced love song "Skylark," written with Mercer, and Price, singing to Schneider, precisely and persuasively limned paean "The Nearness of You," with lyrics by Ned Washington.
In Arlen and Harburg's up-tempo plaint "Buds Won't Bud," from "Cairo," Levine clearly conveyed that all's wrong with the world when love's not working out, and Blier quoted "Someday My Prince Will Come" when Disney was mentioned in the verse. Lauritano reveled in becoming 'lady in the tutti-frutti hat' Carmen Miranda, for Warren and Mack Gordon's "I, Yi, Yi, Yi, Yi (I Like You Very Much)," from "That Night in Rio," and "When I Love, I Love," from "Weekend in Havana," both standard repertory in Cherry Grove, where I summer. With Blier, Schneider played guitar and sang an impassioned "At Last," the song associated with Etta James, by Warren and Gordon, from "Orchestra Wives," with some fancy high vocal ornaments.
Bennett made a fiery eulogy of "Sleep Peaceful, Mr. Used-to-Be," by Arlen and Mercer, from "St. Louis Woman," sung as a farewell to a faithless lover, after the character Lila has killed him. The septet of singers breezily made plans for a gala fête "In the Cool, Cool, Cool of the Evening," by Carmichael and Mercer, from "Here Comes the Groom," for a gala finale, and sent us off with a dulcet "Hit the Road to Dreamland," by Arlen and Mercer, from "Star Spangled Rhythm," as an encore.