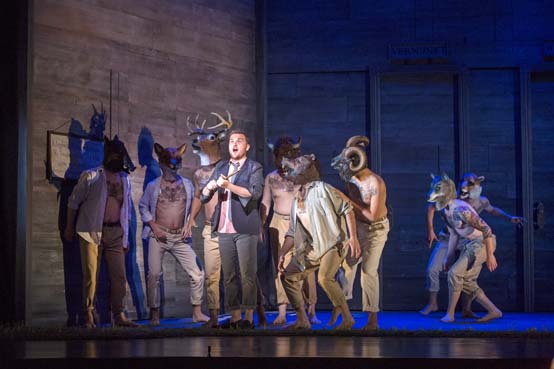 photo by Richard Termine

Miles Mykannen makes Tamino's music that charms & sooths the savage beasts

.......................................................................................................................................................................................
Composer Wolfgang Amadeus Mozart and librettist Emanuel Schikaneder's masterpiece "Die Zauberflöte" (The Magic Flute, 1791) presents intriguing problems and poses knotty questions under the best of circumstances, particularly regarding the roles of men and women and the shifting perspective on who its heroes and villains are. The Juilliard School's Juilliard Opera presented a new, strange and wonderful take on "Flute," this spring—with singers from Juilliard's Ellen and James S. Marcus Institute for Vocal Arts—many of them familiar from other Juilliard opera performances and from the New York Festival of Song—and the Juilliard Orchestra; guided by conductor David Stern and director Mary Birnbaum; with designs by Grace Laubacher (sets), Moria Sine Clinton (costumes), and Anshuman Bhatia (lighting); and choreography by Adam Cates and Sean McKnight—that upended old assumptions and infused the work with renewed vitality, not to mention giving a dynamic cast of promising young singers the opportunity to refresh and relish its matchless music. The April 21 second of three hearings is the one considered here.
Miles Mykannen, a pure-voiced, lyric tenor Tamino, who ornamented his vocal line, and Christine Taylor Price, a vibrant, liquid soprano Pamina, were dressed in contemporary casualwear and, fully inhabiting their roles, also displayed voices that hinted that they could encompass more dramatic assignments in years to come. When Mykannen charmed the beasts with his flute playing, they were frisky dancers and/or singers, barefooted, bare-chested, and tattooed, wearing animal heads, who morphed into Alexander McKissick's sleazy Monastatos' men, menacing and then undone. Price's strong Pamina swatted away Önay Köse's capable high priest/judge Sarastro-in-a-suit when he made denigrating comments about her mother, the Queen of the Night, in particular and women in general. Tamino and Pamina met and first interacted when she stepped out of a full-sized picture frame—no handheld portrait here, and lines of dialogue referring to that miniature were duly omitted, as were groaners about Monostatos' race.
Soprano Liv Redpath, the height of elegance as the Queen, brought down the house with her two florid, stratospheric arias, rising to easy high Fs. When she knelt, as she told her story to Tamino, and he approached her sympathetically, she quickly forced him to his knees, aptly reversing their positions. She sang "Der Hölle Rache" in what appeared to be her office, adorned with bird paintings, but turned out to be Sarastro's. At the end, she and her posse remained onstage after their 'banishment,' Sarastro's court, men and women alike now, paid homage to her as well as to him, but agreeing to disagree, the Queen and Sarastro retreated to their separate realms.
Baritone Theo Hoffman's Papageno, suitably every bit the lovable everyman, made his entrance through the audience, net in hand, birdcage on his back, with 'birds' on fishing rods, 'flying' over our heads. He and Kara Sainz, as Papagena, were bohemians, gender benders, Raggedy Andy and Ann. He was the birdman and she was equipped with bird-watching binoculars. And he, charmingly, was little and lithe enough to be carried not only by Mykannen, but also by Sainz!
Striking use was made of two significant trios. The Queen's Three Ladies, Alexandra Razskazoff, Caitlin Redding, and an indisposed Avery Amereau, acting and lipsynching to an offstage Amanda Lynn Bottoms' singing and speech, worked the leafy dragon that threatened Tamino before slaying it and rescuing him from it, and directed toward Papageno the birds he would sell to their mistress. Just as they manipulated these situations in Act One, so were they manipulated in Sarastro's court in Act Two—a place of men in suits, with books, where women were relegated to the balcony and set up chairs for the men before vanishing—and were carried in like manikins, by Sarastro's men, for their confrontation with Tamino and Papageno. The three spirits were Christine Oh, Sophia Kaminski, and Kelsey Lauritano, keeping the vibrato out of their voices as much as possible, and playing feisty teenage girls, bouncing a globe like a ball, helmeted as they rolled around on sneaker-skates, producing food and drink for Papageno from their backpacks, and using the noose he would have hung himself with for a jump rope for themselves and Papagena.
Sarastro's men, including soloists Fan Jia and Matthew Swensen, were a grim lot, who wouldn't let Papageno out of his trials long enough to pee, but forced him to sit with legs crossed and clenched. Thesele Kemane, as the Speaker, who emerged from the light in 'wisdom's temple'—the one of the three doors that actually worked, as the one marked 'nature' collapsed around Mykkanen's Tamino—joined his resonant bass-baritone to Samuel Levine's Armed Man's formidable tenor for the Bach-style chorale in Act Two.
Tamino and Pamina's trial by fire began with a globe that gave off sparks and then continued in red light and the trial by water was lit in blue. Sometimes one felt some confusion about wherever under the zodiac we were—a loft, its antechamber, a courtroom, or an office—but ultimately that mattered little in the scheme of things.