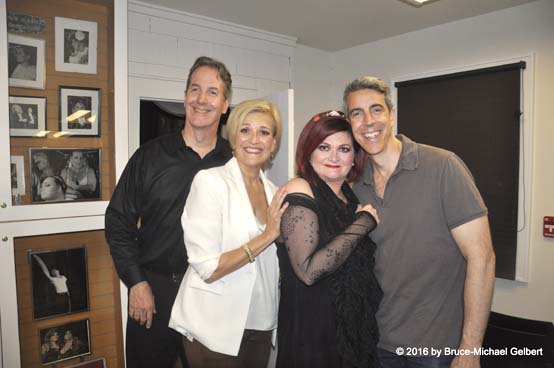 photo by Bruce-Michael Gelbert

(left to right) Christopher Denny, Karen Mason, Faith Prince & Joseph Thalkin

.......................................................................................................................................................................................
The opening show of the Arts Project of Cherry Grove's theater season, inaugurating the newly-renovated, restored, and repaired Community House and presented in cooperation with George McGarvey, was "An Evening of Celebration and Song," on June 11, starring Broadway's Faith Prince and Karen Mason, with the support of their respective pianists Joe Thalken and Christopher Denny, and what a thrilling first night it was.
Taking the stage, tastefully decorated by McGarvey with geraniums, roses, and colored orbs, the divas rightfully had us in the palms of their hands from the start, singing with Thalken, "It's Today," from "Mame," pertinently rewritten and beginning, "Prince and Mason/Fire Island/what a combo/just today!"
The rest of the first act belonged to Prince and Thalken. Prince paired an engaging "Broadway Baby," from "Follies," with a riotous "Adelaide's Lament," from "Guys and Dolls," with "Hell, I'd even play the maid," altered to "Hell, I'd play Miss Adelaide," as the transition line, and then returned to "Broadway Baby" for a terrific finish. She tickled us with Sondheim's very gay parody, the mock lament "The Boy from …," well, some place with many syllables. With a rueful "Sweet Kentucky Ham," she looked at 10 hard years of touring before she finally made it to Broadway.
Prince hails from Lynchburg, Virginia, home of "J. Crew, ChapStick, Fleet Enema, and (shudder) Jerry Falwell," she told us. Adding, "I like to thank of myself as gracious with an edge," she turned to songs from and stories about "On a Clear Day You Can See Forever." She began with a cheerful "Hurry! It's Lovely up Here" and talked about playing opposite Jack Jones in that show in Sacramento. She raved about his voice, but as he was new to summer stock, "he was terrified." She then sang "Come Back to Me" as he did, with most lines of the list song omitted. She rang the rafters with her torchy "What Did I Have that I Don't Have;" recounted the tale of meeting her husband of 29 years, who was in the pit, playing trumpet, for that production; and closed by finishing "Hurry! It's Lovely up Here" triumphantly.
Mason and Denny began Act Two by getting hot with "All That Jazz," from "Chicago," with plenty of ringing high notes. Mason expressed gratitude in a now thoughtful, then powerhouse "Just in Time," from "Bells Are Ringing." She spoke of her origins in St. Louis, sitting with her parents in the last row of the 11,000-seat St. Louis Muny Opera's theater and knowing, even as a child, what her future would be. Going to those shows opened "A Whole New World" for her, as she sang, awed, in the song from "Aladdin."
Mason seduced us with "Diamonds Are a Girl's Best Friend," the gold digger's credo, from "Gentlemen Prefer Blondes," with jewelry provided by Faith Prince and a little prompting from the audience on some of the lyrics. Mason stood by for Glenn Close, Betty Buckley, and Elaine Paige in "Sunset Boulevard," on Broadway, and here, she gave us a wrenching "As If We Never Said Goodbye," as she limned poor deluded Norma Desmond, thinking she's on the verge of making a motion picture comeback. She closed with a hushed and hopeful "Over the Rainbow," complete with the verse, "When all the world is a hopeless jumble," from "The Wizard of Oz."
For a finale, the divas paired "Bosom Buddies," from "Mame," with "The Best of Times," from "La Cage aux Folles," and invited the rapt audience to join in singing the last verse of the latter.