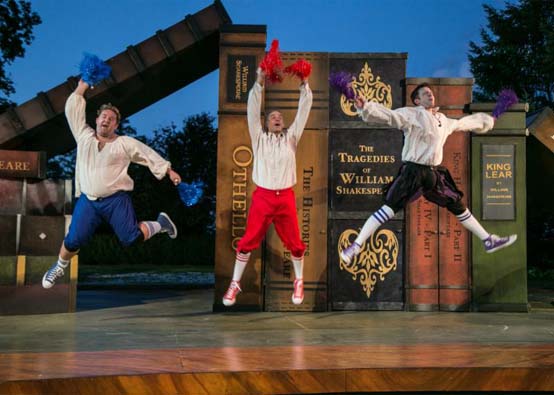 photo by Jerry Dalia

(left to right) Connor Carew, Patrick Toon, Jon Barker

.......................................................................................................................................................................................
Summer is buzzing with the Bard–even whilst they are putting the finishing touches on "Coriolanus" on the Main Stage, the Outdoor Stage for Shakespeare Theatre of New Jersey, resident in the Greek Theatre on the campus of the College of St. Elizabeth, looks like the book return at the Brobdingnagian Library. Gigantic books, leaning and standing against one another, form Benjamin Kramer's set, which houses as many props as there are words in Shakespeare's 37 plays! What?? You didn't know there were 37? This is only one of the tidbits you'll pluck from the frothy fun afoot. Yes, it's "The Complete Works of William Shakespeare (abridged) (revised)." You may have seen "(abridged)," but "(revised)" is fresh and super-new.
Our three players–Jon Barker, Connor Carew and, Patrick Toon—are favorites for those of us who follow STNJ's seasons like others follow the Mets. Patrick helped the ushers on the evening that I was there, and the performances at the Outdoor Stage run nightly, Tuesdays through Sundays at 8pm, through July 31, with matinees every Sunday at 4:30pm, so like a baseball game, you could hit an afternoon or an evening.
The action hits the ground running with Patrick opening the proceedings and Jon, the Pre-Eminent Shakespeare Scholar, assuring we are acclimated to our task for the evening–all of Shakespeare's plays in less than the time it takes for the performance of one! When Connor is introduced, it's easy to see that this easy breezy show has teeth, and for every morsel of fun, there's a nip of fact to give it punch.
Jeffrey Bender directs these worthies in mad dashes, derring-do, and drag, as each has many moments to shine during the show. Some of Connor's amazingly quick transformations are as fast as a door opening and closing so the team backstage is on top of everything! Jon has a nervous breakdown and a confession on stage and Patrick seems to be everywhere at once. Favorite moments include "Titus Andronicus" as a cooking show—no spoilers from me—and the combination of high brow and low brow humor that draws in adults and children alike. It's antic good fun with lots of audience interaction and each actor makes his part so fully his own that, even if you've seen earlier productions, you won't remember any performances but these. The fresh touches and modern references breathe new life into this nearly 30-year-old work and bits will come back to you unbidden, bringing fresh laughter in recollection. Drama is drama, comedy is hard work–Jon, Connor, and Patrick's timing is superb!
The balmy air is perfect for families and picnics, so feel free to pack a lunch or light supper to enjoy before the show begins or even during the performance. Through a special arrangement with Bank of America, tickets for those 18 and under are available at a VERY popular price, so what better time to reserve at www.shakespearenj.org. Plan a romantic night of family fun under the stars for less than taking your family to a ball game–now THAT's Art!