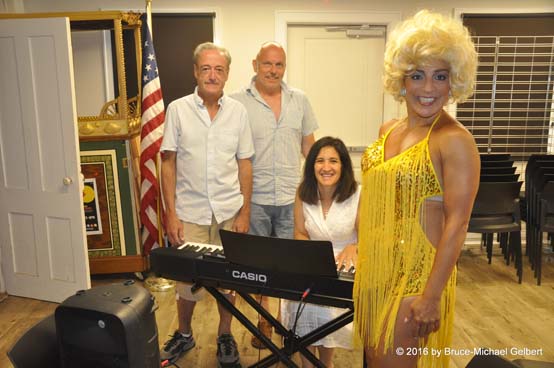 photo by Bruce-Michael Gelbert

Susan "Lavinia Draper" Campanaro (right) with Richard Kennedy, Mark Nayden & Lynn Portas

.......................................................................................................................................................................................
"Five Minutes, Miss Draper" is a new musical, by Susan "Lavinia Draper" Campanaro (conception and writing) and Lynn Portas (music and lyrics), with Mark Nayden and Richard Kennedy, which had its premiere at the Community House, thanks to the Arts Project of Cherry Grove, on July 23. "Five Minutes, Miss Draper" provides us with popular singer, actress, and comic Campanaro's intense look at the ups and downs, dramatics and melodramatics, loves and losses and, in general, relentless rollercoaster ride that is the life of her persona Lavinia, impassioned, if under-appreciated, actress, understudy, singer, and lover. Over-the-top Lavinia is well known from her Ice Palace shows, where she sings standards, Broadway, classic rock, and new pop, to prerecorded tracks, with Kennedy as her faithful DJ RDK. Here, as directed by Nayden, she tells her story via dialogue with the unseen Kennedy, Nayden's spouse, and splendidly enhancing it are Portas' original songs—ballads, laments, up-tempo numbers with wistful underpinnings, Las Vegas showpieces, and expressions of bitterness and meltdown—with the composer at the Casio keyboard.
A wide-eyed teenager, Lavinia leaves home in Palm Beach, Florida ("A Little too Old for a Very Young Girl" and "Lavinia") to become a Vegas showgirl ("Wishing You Were Mine," with a split and other intricate dance moves; "Circus Circus;" and "Love You Right Back"). She morphs into Betty Buckley's stunt stand-in and all-but-lifetime standby, but never gets onstage in "Cats," on Broadway, and "Sunset Boulevard," in London ("Losing My Show"), because Buckley never cancels! Lavinia's marriages, a lusty one to a pig of a casino manager and a sexless one with a gay Englishman, are disastrous ("Don't Worry about Me" and "Strange Me").
Lavinia flirts with reading books-on-tape and making a workout video, but these offer scant solution to her money woes. An ocean of booze flows and fuels the tale and there's a valiant stab at rehab ("Thank You, Betty Ford"), but frustration still haunts her and she backslides. She survives all her perils, however, and the audience that adores her ("This One's for the Fans"), and the endless efforts to reinvent herself ("As Long As"), keep her going.
In the course of the weekly shows, we've gotten swatches of Lavinia's autobiography, but never before laid out linearly, as it is here. What a fertile mind! And what a strong figure! As Lavinia, ever the chameleon, changes her skin, so, no doubt, will this show undergo revisions and permutations. "Five Minutes, Miss Draper" stands as a love letter to her devoted fans, who give as good as we get.