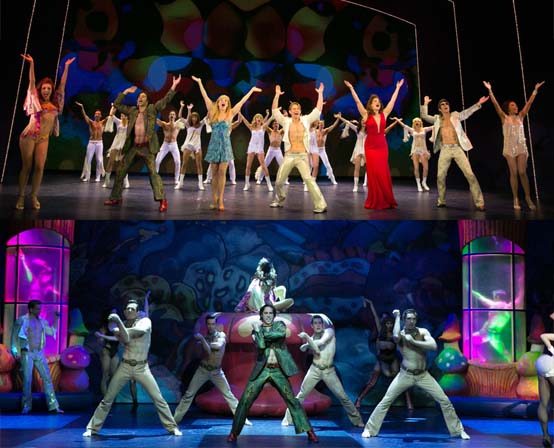 photos by Misaki Matsui

"Trip of Love"

.......................................................................................................................................................................................
"Trip of Love" is pure theatre magic, virtuoso to the Nth power. Imagination, literacy, and virtuosity abound. Brilliantly directed and choreographed by James Walski, in his New York debut, the quality of the show fully warrants, and actually demands, nothing less than the no-holds-barred delivery it receives at the hands of a stunningly beautiful and extraordinarily skilled cast, who sing, strut, and shimmy their way through this high-energy, sensory overload, sexy psychedelic trip through the best of the 1960s.
Hats off to the meticulous producers, who have assembled a group of professionals' professionals to take responsibility for all aspects of this outstandingly inventive and stylistically cohesive production: Walski and Robin Wagner (scenery), Gregg Barnes (costumes), Tamotsu Harada (lighting), Peter Fitzgerald/Domonic Sack (sound), Josh Marquette (hair), Daniel Brodie (projections) and, not least, Martyn Axe (musical direction and arrangements).
The lavish purple and rose-colored pre-set transforms the entire theatre into a sensuous grotto of earthly and spiritual delights, reminiscent of the most visually rapturous moments in Federico Fellini's "Juliette of the Spirits"—and things just get better.
The '60s was the era of variety shows ("Ed Sullivan," "Hollywood Palace," "Jackie Gleason"); sketch comedy ("Laugh-In," "That Was The Week That Was," "Red Skelton"); extreme fashion (Carnaby Street, Twiggy); a time when vividly colored Art Nouveau-inspired collage became a popular art form (The Fillmore Posters, The Tarot, and album covers of Martin Sharp), and "Trip of Love" is exactly all of those things–a musical, visual, and emotional collage that takes the audience to an artistic Event Horizon, where the normal rules no longer apply, and all color and all feelings are everywhere all the time—definitely my kind of date night.
Valentino Garavani is quoted as saying that surprise is an essential element of real beauty, and "Trip of Love" offers surprises at every turn. To list just a few of my favorites, the use of Hokusai/Hiroshike ukiyo-e stylized waves for an incredibly charming and provocative surfing number; a festival of hot-air balloons that transformed the intimate theatre into an outdoor field; day-glo body painting that left just enough to the imagination; a grand pas de deux to end all during "The Girl From Ipanema"—and what a gown on what a girl! And the list goes on.
One arrow in the heart of the 60's was The Vietnam War, and in his manner of introducing the topic, Walski has staged a real coup de theatre. What begins as an apparent homoerotic striptease transforms into a breathtaking vista and costume change, as the young men shed their civilian clothes and don military fatigues. It is useless to debate whether art defines an era or whether an era produces art, but if there is one item and one slogan that I would say defined the '60's it would be the anti-war button "Make Love Not War." Walski and company bring the message home and break our hearts doing it.
To be absolutely truthful and fair, I cannot say which number or numbers, or which performers, stood out most. They ALL stood out, and this review is my love note to them all. I look forward to returning to Stage 42 and seeing the show again and again. There is no better way to spend a summer night in New York City. And, I must say, what a relief it is to see dancers, on or off-Broadway, who DON'T fall out of their pirouettes!!!