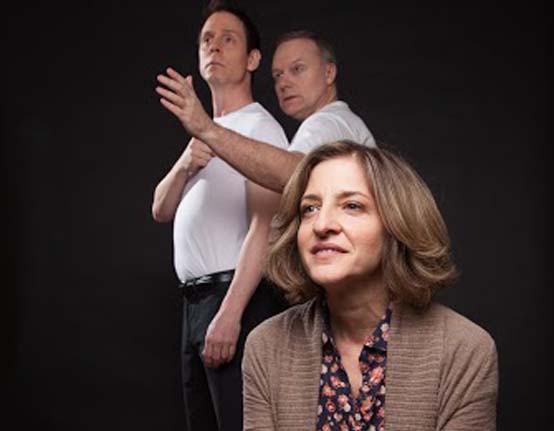 photo by Katrina Del Mar

scene from "The Further Adventures of ..."

.......................................................................................................................................................................................
This month, the New York International Fringe Festival celebrates its 20th anniversary season with an ambitious program: 1100 performances of 200 shows in 16 days. In the past 20 years, the Fringe has developed from an avant-garde East Village experiment into one of the largest multi-Arts events in the U.S. The Festival's enormous wingspan embraces theatre, musicals, opera, dance, solo performance, vaudeville, and clown, which is just a partial list. Competition for inclusion is stiff, and selections, understandably, are made by committee, from among thousands of applicants. August 12, the opening day of this important anniversary at the Fringe, was highlighted by a performance from TOSOS (The Other Side of Silence).
Without a doubt TOSOS is a company that is worthy of this signal honor. Rapidly establishing a serious presence in New York City's theatre world, TOSOS' stated mission is to make available to the public not only the archive of American LGBTQ theatre, but also to encourage the creation of new plays by LGBTQ authors. The TOSOS presentation which opened The Fringe was the most recent version of a work-in-progress, by Kathleen Warnock, entitled "The Further Adventures of …"
Upon entering the spacious Teatro LATEA, at the Clemente, on Manhattan's Lower East Side, the audience was treated to a preset featuring Sound Designer Morrey Campbell's atmospheric and witty soundtrack. His mix of overwrought Film Noir symphonic melodrama, interspersed with selections that might have underscored Zsa Zsa Gabor's "Queen of Outer Space," laid just the right foundation for the surreal emotional and psychological zig-zag that was to follow.
The central spine of "The Further Adventures of …," which provides the play with its reference point and cohesion, is the character of Maggie Day. We follow Maggie's progress from girlhood to middle age, and it soon becomes clear that her life-long obsession with a Sci-Fi fantasy TV show, set in Atlantis at 1,000,000 B.C., is the crucible for her self-discovery. In addition, Maggie is narrator and commentator, as the highly-charged events of other onstage lives unfold.
It is a tour-de-force role, demanding technical command in many respects: age range, cinematically quick scene changes, believable relationship shifts over long periods of time, charismatic soliloquy and, oh yes, vocal stamina.
The actor chosen for the role of Maggie bears the major responsibility for the evening's success or failure. Jamie Heinlein captured my full attention from first to last with her touching and honest portrayal of the open-hearted, impressionable Maggie, both in scene and soliloquy. An actor of rare poise and taste, she successfully evades every temptation to sentimentalize, and her subtly meticulous script analysis kept everything in its proper place, as we careened through dimensions of time and space. A major plus was her splendid articulation of the text, which ensured that every word that she spoke was effortlessly heard and understood. It therefore came as no surprise to learn from the program notes that, in addition to her award-winning work onstage, she records audio books.
Heinlein was supported by Tim Burke and Mark Finley, personable actors playing multiple roles. Finley was particularly convincing as the elderly screen writer, a stroke victim, who bequeathed his Atlantis memorabilia album to Maggie, in a very profound posthumous gesture. The dramatic peak of the evening was a scene between him and Maggie. Close to despair, as he sees the number of his days shorten, he questions the value of his life, particularly his memories of the past. Her response: "You're a witness." Superb.
There is an anecdote in one of Sir Rudolf Bing's memoirs about a performance by the Metropolitan Opera Company on tour, when Jussi Bjoerling shared the stage with Maria Callas. Someone asked Bing: "Did you hear how beautifully Bjoerling sang that aria?" Bing replied, "No. I was watching Callas listen." In simile modo, Burke's fully engaged presence at all times was an affirmation that an actor does not necessarily have to be center stage to interpret a character sympathetically.
In 1970/71 I attended a performance of Charles Ludlam's "Bluebeard" in a loft somewhere near Times Square. In the years that followed, his independent projects, on the rebound from the Playhouse of the Ridiculous, curated by John Vaccaro (R.I.P. August 8, 2016), had become the Ridiculous Theatrical Company. Ludlam established its permanent home at One Sheridan Square, and the Ridiculous became a de rigueur destination for the avant garde and, along the way, achieved international acclaim.
TOSOS has a bullet-proof socio-political and artistic raison d'être, as well as an impeccable pedigree. Clearly its artistic direction is visionary, and the company has inspired the participation of a splendid ensemble of theatre artists. Perhaps the time is approaching for TOSOS to take steps toward attracting the major funding needed to establish a permanent home, offer a full season, and become a destination for the theatre-going public at-large. It would certainly be of great value to New York City's cultural life, but that, I think, goes without saying.
Keep track of TOSOS. It will be time well spent.