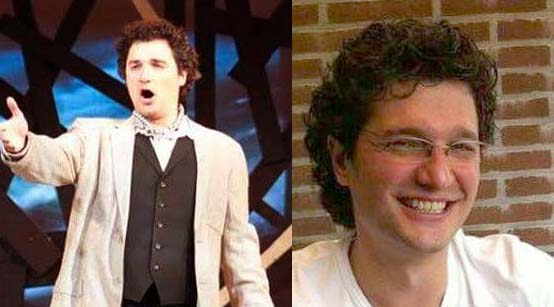 photos of Dimitrie Lazich (from facebook)

.......................................................................................................................................................................................
There is a dark cloud of rumor hanging over the head of any young opera singer: everyone assumes that if you can sing, you can't act, and even if you can act, you certainly can't dance.
Sad to say, the rumor is too often corroborated by fact, but absolutely not in this particular instance. Dimitrie Lazich (pronounced Dim-ee'-tree-eh Lah'-zitch) is an exciting Serbian-American baritone, who is emerging on the scene as a first-rate singer, not only in classical opera and oratorio, but in music theatre. And yes, he can act. And yes, he can dance.
Coming up through Carnegie Mellon University, the Curtis institute of Music, the Music Academy of the West, and the Santa Fe Opera Apprentice Program, Lazich immediately made himself indispensible in roles which demand not only voice, but incisive theatrical skills and charismatic presence. His toreador Excamillo, in Georges Bizet's "Carmen," for Amsterdam's great Concertgebouw, was applauded not only by capacity crowds in the hall, but by television audiences throughout the Netherlands. On alternate nights, his Pops Concerts sent the Dutch home humming the melodies of Rodgers and Hammerstein.
Meeting Dimitrie for this interview over a late afternoon prosecco lunch on the sun-drenched patio of a trendy East Village café was the next best thing to having bourekas and an ouzo or two on the terrace of a Greek taverna overlooking the Aegean. Tall, well-proportioned, sturdily built, with a tangle of dark curls crowning his beaming smile and ready laugh, he rushed to be seated and began to tell me about himself. Only the day before, he had returned from a summer-long engagement at a music festival in Pittsburgh, where his song-and-dance-man Gangster, in Cole Porter's "Kiss Me, Kate," made him an audience favorite and gained him special attention from the press. His other triumph at the festival was in Richard Strauss's spitfire comic opera "Die Schweigsame Frau" (the Silent Woman), which is a labyrinthine interweaving of musical accent and torrential verbiage, with libretto by Stefan Zweig, inspired by a Ben Jonson play. The non-stop pedal-to-the-floor stage action tests the mettle of even the most skillful singers and, needless to say, Dimitrie more than rose to the occasion.
Dimitrie's "now" projects represent a performing artist at the top of his game. The rich hues of his singing voice allow him to include bass-baritone and even some bass roles in his active repertoire. The word "active" is operative here: on the 26th of September, a facet of Dimitrie's social activism comes to the fore when he participates in the Concert across America to End Gun Violence, offering the bass solos in Giuseppe Verdi's "Requiem," with Orchestra Amadeus at St. Peter's Church, on Lexington Avenue, in Manhattan.
October 11 will find Dimitrie center stage in a concert of lyrical and rarely heard music at the Kosciuszko Foundation mansion in the heart of Manhattan's Upper East Side. The program represents a degree of civilization and literacy all too-rarely encountered on the New York concert stages. In the first half, Dimitrie will be singing songs set to texts by William Blake and Rabindranath Tagore, but it is the concert's pinnacle event that excites him most: a 45-minute tour-de-force monodrama for singer and piano, Francis James Brown "Cornet."
Brown (October 26, 1925-January 18, 2008) was an American composer/pianist, whose successful completion of his elite studies at Eastman School of Music won him a Fulbright scholarship to study with Luigi Dallapiccola in Italy. His success there, and the encouragement of Samuel Barber and Gian Carlo Menotti, led him to establish residence in the United Kingdom and Greece, while continuing to work periodically in the United States. Brown is the third composer of note who was sufficiently bold and imaginative to set Rainer Maria Rilke's prose poem-cum-novella "The Lay of the Love and Death of Christopher Rilke" verbatim, and in its entirety. He is also the only one of the three, the others being Viktor Ullmann and Frank Martin, who created a through-composed work using both sung and spoken word. Brown's "Cornet" setting is unrivaled in its capture of the evanescent and subtly shifting hues of this Rilke miniature masterpiece, hailed by critics as an early bridge between traditionalism and modernism.
In the right hands, this "Cornet" offers a riveting musical and theatrical experience. Enter Dimitrie: the opera singer who can act. Through the generosity of a sponsor, the concert is being offered free of charge to the public, with a voluntary charitable contribution to the Musicians Foundation encouraged, but not required.
December will see a career-defining event: Dimitrie's Carnegie Hall debut as a Principal Artist, singing the bass solos in George Frideric Handel's "Messiah," with the Masterworks Chorale. As if this weren't enough, he recently had his first audition for a role on television. The breadth of his activities is far from accidental. He is managed by Kathy Olsen at Encompass Arts, who only represents artists whose elite skill level is matched by the breadth of their range.
Encompass. Dimitrie. What's in a name? Some things are simply …. right.