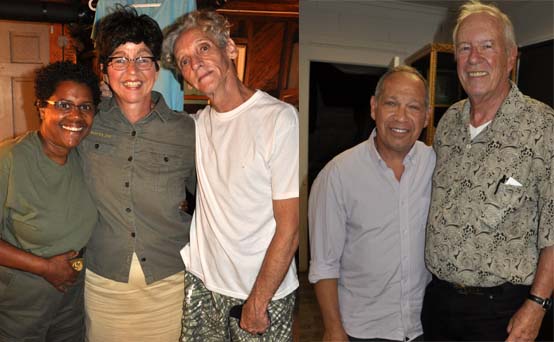 photo by Bruce-Michael Gelbert

Kay Davis, Sherri Rase & Tommy "Tush" DeMastri - Joe Anania & Roland Michely

.......................................................................................................................................................................................
The Arts Project of Cherry Grove (APCG) rounded out its theatrical season at the Community House on September 10 with Terrence McNally's comedy-drama "Next," a one-act rarity dating from and set during 1969, the era of the Vietnam War and the Anti-War Movement, the year of Stonewall and the Moon Landing. The actors were Sherri Rase, Tommy "Tush" DeMastri, and Kay Davis; Joe Anania was producer and director; his spouse Roland Michely was stage manager; Matt Baney was technical director; Alison Brackman was responsible for sound and lighting; Luis Valentin created the stage set; and Michael Romanelli and Arthur Cohen completed the crew.
With beautiful, soulful a cappella renditions of "Leaving on a Jet Plane" and "Blowing in the Wind," Kay, as a singing soldier, situated us as securely in the period, as Luis did with his grim draft board setting. "Next" pitted Sherri, as humorless and exacting US Army medical examiner Sergeant Thech, against Tommy, as hapless and unlikely inductee Marion Cheever, well past standard draft age and, frankly, a hot mess. The more she grilled him, the more deliberately off-kilter and comical his answers became, so sure was he that he would be rejected. Their exchange about smoking, drinking, and drug use was priceless, but the best was yet to come.
Tommy's Marion challenged Sherri's Sergeant to question him about and dismiss him because of his feet, his flab, his teeth and, especially, his mind. They sparred fiercely and brilliantly, as he willfully flubbed answers to questions about history and math, and gave provocative responses when she wanted him to free associate and zeroed in on homosexuality. Getting up in his face one final time, Sherri's Thech declared Cheever "unacceptable," classification 4F, to the Army, and then he turned the tables on her.
Cheever resented the dismissal he seemingly wanted, took Thech to task about her examining room manner, and demanded the return of his blood and urine samples and an apology. As he had bared his body for the examination, now he bared his soul about his pittance of a salary as a theater manager and his lamentable family life, and got up in her face, charging, "You are unacceptable!," and ordering her out of the room.
Did the final scene take place in Marion's mind? After his nemesis' withdrawal from her own turf, he relived the examination, more politely, the way he thought it should have gone; confided his feelings to us about the death of his mother, just in her early 30s; and assumed the role of stern examiner himself, pronouncing inductees "unacceptable" and barking out "Next!" to summon the following victim.
It was good to experience this play and would be hard to imagine better casting.
The grand finale of APCG's season will be the Grand Inaugural Ball, at Island Breeze, on September 24 from 7 to 11 p.m. Tickets are $75 and include open bar and food.