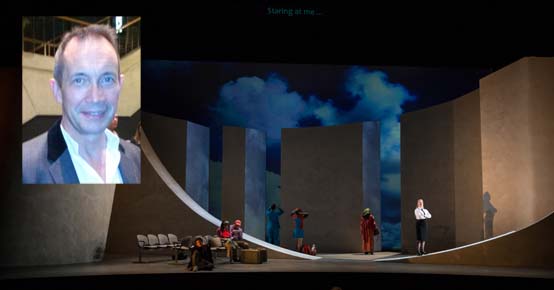 scene from "Flight" (left to right) Amanda Lynn Bottoms, Nicolette Mavroleon, Matthew Swensen, Jakub Jozef Orlinski, Dimitri Kakotakis, Kelsey Lauritano & Rebecca Farley- photo by Rosalie O'Connor, Inset- composer Jonathan Dove- photo by Bruce-Michael Gelbert

.......................................................................................................................................................................................
Juilliard Opera at the Juilliard School opened its season on November 16 with English opera "Flight" (1998), by composer Jonathan Dove and librettist April de Angelis, based on the experience of Iranian stowaway and refugee Mehran Karimi Nasseri, who lived at Paris' Charles de Gaulle Airport for 18 years, beginning in 1988.
Dove's musical world for "Flight" is akin to the idioms of Benjamin Britten and Richard Strauss, spare, lyrical, crystalline, and soaring; with concerted numbers that put one in mind of the finales of "Le Nozze di Figaro" and "Falstaff"—classic comedies that reveal the tears beneath the humor; mellifluous smaller ensembles for women's voices, like those in "Peter Grimes" and "Der Rosenkavalier;" storm scenes out of "Peter Grimes," "Porgy and Bess," Rossini comedies, and Verdi tragedies; and ecstatic reconciliation scenes that remind of the finales of "Ariadne auf Naxos" and "Die Frau ohne Schatten."
The action is set entirely in an airport lounge. Act One focuses on the exuberance and anticipation of the travelers. Act Two, when they're stranded together during a storm, is, other than the depictions of the tempest itself, a peaceful nocturne, during which the cast squabbles, flirts, reminisces, and ruminates. And Act Three provides the resolutions, when the travelers are at last on their way, some with hope, others with shattered dreams, and the refugee continuing in his unusual surroundings.
The Controller, coloratura soprano Rebecca Farley, and the refugee, countertenor Jakub Józef Orlinski, looked at the wonders of the sky and the airport they will always inhabit in solos and florid duet. Bill (tenor Matthew Swensen) and Tina (soprano Nicolette Mavroleon) bickered as they embarked on a vacation that includes more surprises than they expect. The older woman, Sandra (mezzo-soprano Amanda Lynn Bottoms), sadly expected a fiancé who will never arrive. The lusty steward Simon (baritone Dimitri Katotakis) and stewardess (mezzo-soprano Kelsey Lauritano) grabbed amorous moments together when and where they could. Bill and Simon unexpectedly shared a moment of intimacy and defended themselves in an angry, yet comic, quartet with their astounded partners. Minskman Geoffrey (baritone Xiaomeng Zhang) departed for Belarus, leaving behind his wife, Minskwoman (mezzo-soprano Natalia Kutateladze), but returned for her just before she gave birth in the lounge. The refugee eluded the forbidding Immigration Officer (Cody Quattlebaum), who eventually brought him the news that reunion with the brother he fled with and awaits will never happen, but allowed him to stay where he is without punishment. The travelers turned on the refugee, as they realized they'd been duped by his claims of magic, as he asked them for money, but supported him, ready to claim they're related to him, in his encounter with the law, before they departed on their journeys. He shared his poignant story, his dashed hopes, at the end, when he was left with the Controller, his one true ally.
Breathing life into the work and supporting the singers were conductor Steven Osgood and director James Darrah. Designers were Ellen Lenbergs (sets), Mattie Ulrich (costumes), Cameron Jaye Mock (lighting), and Adam Larsen (the evocative videos). At this writing, performances on November 18 at 7:30 p.m. and 20 at 2 p.m. remain. The season continues with Handel's "Agrippina," at Alice Tully Hall, in February 2017, and Janácek's "Katya Kabanova," at the Peter Jay Sharp Theater, in the spring. Visit www.juilliard.edu for further information.