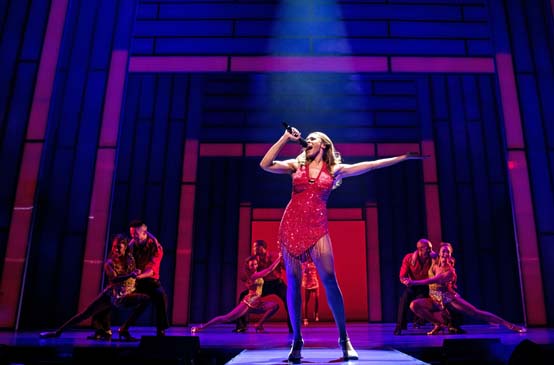 photo courtesy of Paper Mill Playhouse

scene from "The Bodyguard"

.......................................................................................................................................................................................
Deborah Cox and Judson Mills star in Paper Mill Playhouse's latest smash production, Alexander Dinelaris' "The Bodyguard," featuring songs recorded by Whitney Houston. In 2012, this show took the West End by storm and it's no wonder. This is a thriller in more ways than one! It's a stalker mystery and a dazzling concert experience that rollercoasters us through a range of emotions, leaving one very satisfied audience.
Superstar Rachel Marron (Cox) is a Grammy Award-winner six times over. Her sister Nicki (Jasmin Richardson) takes care of business and her ten year old son Fletcher (Douglas Baldeo, in the opening night performance) is the light of her life. Yet, there's a shadow over her world that chills her heart–she's being followed by a dangerous fan! Letters-cut-from-magazines and creepy missing items (like dresses?!) add up to STALKER (Jorge Paniagua) and, while she doesn't initially deem it necessary, Frank Farmer (Mills) becomes her security tsar and, ultimately, more than a protector to this beautiful chanteuse.
Hot and energetic from the very first, this show is not for the faint of heart. The opening is arresting, first with a vignette of Frank in action, then with Rachel doing what she does best. This show has everything you need for an amazing date with someone you love or a playdate with your wing-person. Richardson's Nicki is the older sister, who is just as talented as Rachel, but for whom there's no room in the spotlight. Baldeo's Fletcher has the clear purity of range and control that we remember from Michael Jackson at that age and verve that many young men take years to achieve. Tim Hatley's sets and costumes are dazzlers and what can we say about Paniagua's Stalker? The subtle menace and not-so-subtle ways director Thea Sharrock has him appearing and disappearing add to the thrill, even though we know the outcome. Or do we …?
First and foremost is the music. Have no doubts–Whitney is in the house and she's smiling down at what she sees. Deborah Cox has amazing technique and she was working the audience like the star that she is. Jasmin Richardson brings the angels down with her torch songs and when the sisters sing together with Fletcher, Nicki and Rachel's harmonies are clearly the stairway to heaven.
"The Bodyguard" runs through January 1, 2017 in Millburn, New Jersey, so see it early, or you WILL miss out! Visit www.papermill.org for your tickets today.