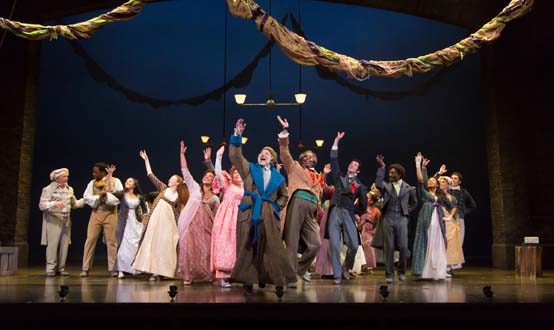 photo by T. Charles Erickson

Greg Wood (center) & company


.......................................................................................................................................................................................
Do you think you know Charles Dicken's famous novelette "A Christmas Carol" and its many adaptations? Have you got something merry headed your way! McCarter Theatre Center, in Princeton, New Jersey, has done "A Christmas Carol" for a number of years now, but this year is VERY different! David Thompson's fresh adaptation and Adam Immerwahr's expertise as director will dazzle with their vision of the Holidays.
I am a huge fan of diverse casts and this is one for the ages! Combining community actors with stellar Broadway and Regional stars, there's a real sense of coming together to create great beauty and warmth.
The McCarter Theatre Center's Matthews Theatre has 1100 seats and every one of them was full. From small children to most-experienced adults, attention was rapt and punctuated only by the occasional gasp, laugh or collective "AWWWWW" at different sections.
What's different about this production? The Ghost of Christmas Past returns to her roots. The Ghost of Christmas Present is a continual delight that you must see for yourself. The Ghost of Christmas Future will chill your dreams. Daniel Ostling's sets give a sense of place, space and the too-closeness of certain rooms. Linda Cho's costume designs set the perfect mood and the actors are nonpareil! You'll recognize gifted Philly actor Greg Woods as a Scrooge for the ages, Broadway actors Anne L. Nathan and Lance Roberts doing true star turns as the loving Fezziwigs—now THAT's a party I want to attend!—and rising stars like Warner Miller, as one of the most beautiful Bob Cratchits with a gorgeous loving family, and Jamila Sabares-Klemm and JD Taylor as Lily and Fred–Scrooge's nephew and his lovely young wife who endeavor to wear away the rock of discontent that we see more fully in this adaptation: how Scrooge got Scrooge'd, then how everyone's great love for the seemingly unlovable melts even the most hardened icy heart. It's the perfect antidote for the Autumn as we prepare to take on the Winter of our own discontent.
"A Christmas Carol" runs through December 31, so reserve NOW while there are still good seats left. Contact the box office at
www.McCarter.org
or via telephone at 609/258-ARTS, extension 2787.