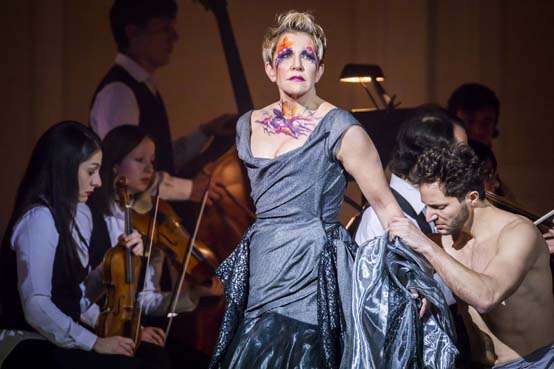 photo by Chris Lee

Joyce DiDonato & Manuel Palazzo with members of Il Pomo d'Oro

.......................................................................................................................................................................................
At one time, in recent past decades, there used to be multi-media, multi-faceted, audience participation events that were styled as "happenings," because words like concert, play, show, or rally didn't begin to seem sufficient to describe them. Mezzo-soprano's Joyce DiDonato's striking endeavor at Carnegie Hall on December 15, entitled "In War & Peace: Harmony through Music"—involving period instrumental ensemble Il Pomo d'Oro, under Maxim Emelyanychev's baton; interpretive dance, devised and executed by Manuel Palazzo; direction by Ralf Pleger; illustrative video by Yousef Iskandar; and lighting, or light show, by Henning Blum; not to mention arias, from relatively familiar to extremely rare, from Baroque operas and oratorios; and instrumental interludes from the period, as well as one from the 21st century—was far from the traditional diva recital, that is, a showcase for a beloved singer, and more a ritual, sometimes mystical event or "happening," thoughtfully reflecting on the often lamentable, chaotic state of things in the world today and asking whether hope and peace can be achieved through music.
The performance started in darkness, the singer already onstage—no entrance applause, no applause at all until after the first gripping da capo arias. DiDonato situated us squarely and thrillingly in theme by singing and acting a fiery "Scenes of horror, scenes of woe," from George Frideric Handel's "Jephtha," followed immediately by a tempestuous "Prendi quel ferro, o barbaro!," a rarity by Leonardo Leo from "L'Andromaca," with a pensive B or middle section separating the A section and its florid repetition in each. Serving as calmer, though still serious instrumental interludes were the Sinfonia from Emilio de' Cavalieri's early 'sacred opera' "Rappresentatione di Anima e di Corpo" and Henry Purcell's Chacony in G minor, Z. 730.
DiDonato had taken us to the time of the Trojan War with the Leo aria, angrily addressed by Andromache—widow of Trojan warrior Hector, the prince slain by Greek warrior Achilles—to Pyrrhus—Achilles' son, later, ironically, Andromache's husband. The mezzo returned to this era with Dido's Lament, "Thy hand Belinda … When I am laid in earth," so simply sung and simply moving, from Purcell's "Dido and Aeneas," tale of the Queen of Carthage and the Trojan Prince, who loved her and abandoned her. Carlo Gesualdo's mournful "Tristis est anima mea" introduced DiDonato's final "War" selection, Almirena's plaintive "Lascia ch'io pianga," from "Rinaldo," sung with consummate purity and lightly ornamented.
The mood brightened, quietly, subtly at first, for the start of the "Peace" part of the program, DiDonato's graceful "They tell us that you mighty powers above," from Purcell's "The Indian Queen," and blithe "Crystal streams in murmurs flowing," from Handel's "Susanna." She then brought down the house with the full-tilt zest of her brilliantly sung, florid, and exhilarating "Da tempeste il legno infranto," Handel's Cleopatra's triumphant aria from "Giulio Cesare," once the property here of Beverly Sills, whose surviving fans DiDonato appears to have inherited. In the joyous Handel aria, Cleopatra celebrates storm clouds dispersing, as she anticipates victory over her brother Ptolemy, her rival for the throne of Egypt. In more recent juxtaposition of peace and war, Arvo Pärt's "Da pacem Domine," written for a peace concert in 2004, in response to the terrorist massacre of 192 passengers on four commuter trains in Madrid, was performed by Palazzo as a solemn dance piece.
Next came the cheerful birdsong of DiDonato's "Augelletti che canta," from Handel's "Rinaldo," essentially a duet between singer, again as Almirena, in a lighter moment, and a sopranino recorder. For the finale, singer, giving forth with eloquent cascades of coloratura, and dancer both rejoiced exultantly in bravura rarity "Par che di giubilo," from Niccolò Jommelli's "Attilio Regolo." There were more fireworks, from the singer and in the lightshow on stage, in the encore of this last aria, but ending on a reflective note, DiDonato's second encore was a gently optimistic "Morgen," of Richard Strauss. Before this last Lied, the singer addressed the audience directly, posing the searching question, suggested by the evening's subtitle, "Harmony through Music," "In the midst of chaos, how do you find peace?"—a good question to contemplate in these turbulent times.