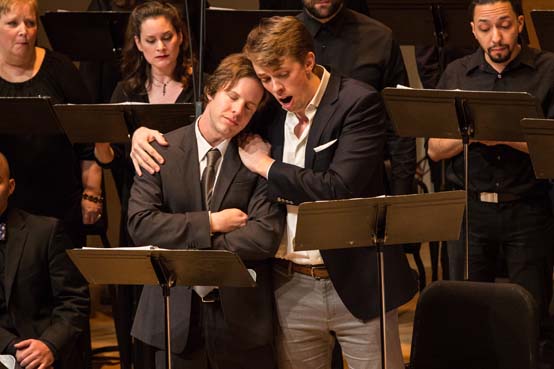 photo by David Pearlman

Andrew Bidlack & Jonathan Michie

.......................................................................................................................................................................................
Around the time of my coming out and coming of age, some gay activists considered Oscar Wilde, witty and popular Irish-English playwright ("The Importance of Being Earnest") and novelist ("The Picture of Dorian Gray"), to be a gay martyr, betrayed by his lover, Lord Alfred Douglas, and Douglas' father, the Marquess of Queensberry, his spirit broken by imprisonment in Reading Gaol, and his subsequent ostracism. Theodore Morrison and John Cox's opera "Oscar," performed in Santa Fe in 2013 and Philadelphia in 2015, starring David Daniels as Wilde, reflected that viewpoint.
Now Alan Turing (1912-1954), pioneering English mathematician and scientist, considered the father of computer science, takes center stage operatically, in composer Justine F. Chen and librettist David Simpatico's new opera "The Life and Death(s) of Alan Turing," given by American Lyric Theater (ALT) and MasterVoices at Merkin Concert Hall on January 12. ALT Founding Artistic Director Lawrence Edelson introduced this concert performance, with piano, as "a work-in-process" and the first hearing ever of the full work. As Tennessee Williams' "The Glass Menagerie" is a memory play, "The Life and Death(s) of Alan Turing" could be called a memory opera, as it begins with Turing's death, moves chronologically through episodes in his life, has major figures reappear in spirit and, evoking the Akira Kurosawa film "Rashomon" and Rupert Holmes' Charles Dickens-based musical "The Mystery of Edwin Drood," ends with the characters mulling over the contradictory findings of the coroner's report—and of aspects of the life of Turing, as they knew him. As the work, described as a historic-fantasia on Turing's life, is still in progress, reviewing, per se, was not invited, so here, instead, is a description, a preview of what the opus' future audience might anticipate.
The opera's prologue depicts the death of Turing (baritone Jonathan Michie), apparently by eating an apple laced with cyanide, evoking the apple with which Walt Disney's Evil Queen poisons Snow White. A sighing chorus (members of MasterVoices, formerly the Collegiate Chorale) accompanies Turing's demise and becomes the "chat cloud," intoning words and concepts associated with Turing and suggesting electronic or computer sounds. This chat cloud chorus is heard periodically throughout the opera, particularly between scenes.
Act One, Scene One, takes place in a stone church in 1930, where we see teenage classmates Turing and Christopher Morcom (tenor Andrew Bidlack). Alan complains that professors carp about his penmanship and Christopher counters that handwriting is the portal to ideas and should have clarity. The spirit of Alan's mother, Sara (soprano Keely Futterer) joins Chris in predicting for Alan, "Your ideas will change the world." We glimpse the school's Masters, older prefects, served by Fags, underclassmen (members of MasterVoices). The Masters issue, a cappella, such orders as "Boy, black my boots" and "Boy, defend your honor." Alan and Chris enjoy a tender duet, with the recurring word "sanctuary," both the church and what they find in each other. Chris dies of tuberculosis that year and Alan mourns him, limning him quietly, lovingly. His spirit returns to Alan many times, as an ideal and as an advisor. Though Turing had relationships with other men—James Atkins, Neville Johnson, according to biographer Andrew Hodges ("Alan Turing: The Enigma")—Christopher is the only male romantic figure included here.
In Scene Two, set in 1939, Alan and Fred Clayton (bass-baritone Joseph Beutel) go boating. They wrestle playfully. Fred imitates Hitler. He comments on "the Turing machine," which Alan explains is, at this point, "imaginary," an experiment. Turing says that everything can be "broken down to binary expression," even a kiss, and comes on to Fred. The feeling is not reciprocated—Fred mentions that he is getting married soon. Alan covers the awkwardness with a campy Wicked Witch impression.
Scene Three, in 1941, finds us in Bletchley Park, the British Intelligence headquarters, where Turing will break the Nazis' Enigma code. Steve Todd (tenor Javier Abreu) is his comely assistant. Joan Clarke (mezzo-soprano Elise Quagliata) is Alan's cryptographer colleague, who becomes his fiancée. A small chorus of "crypts" (members of MasterVoices)—akin to the pop trio in Leonard Bernstein's "Trouble in Tahiti"—comments on the secretive situation, at Bletchley, about the Enigma code. Colleague Don Bayley (bass-baritone Thomas Shivone) cautions Alan about his behavior: "You could be arrested—or worse."
Scene Four takes place in 1946. Sara and Alan, now warm, now awkward, exchange enigmatic Christmas gifts: he gives her a sextant—"It might help you navigate this conversation"—and she gives him "a silver-plated fish knife," which he immediately uses as a nail file, to her dismay. Sara is disappointed that it didn't work out between Alan and Joan. Alan and Joan play chess. Singing "You taught me how to knit" and "I can talk to you like a man," Alan admits that he has "homosexual tendencies," which would preclude marriage. Joan would overlook his "tendencies" and, frustrated, sings, "Think of us, Alan—a near-perfect match." Alan soliloquizes, "I can't let fear dictate my life. My life is not a game."
In Scene Five, Alan is in Manchester in 1952, at a showing of Disney's "Snow White." Alan notices Arnold (Abreu), essentially a rent boy, half his age, who has stolen an apple. A Bobby, or policeman (Shivone), searching for the apple thief, eyes them suspiciously. A vision of Chris appears—the refrain of Alan, Chris, and Arnold's trio is "Hold me tonight."
Act Two, Scene Six, opens on the morning after, in 1952. Arnold robs Alan. Chris' spirit tells Alan, "You don't need this kind of trouble." Arnold claims, "I like girls. I'm not some bloody pervert" and, when Alan threatens to call the police, counters, "You wouldn't dare. The police won't come. They'll put you away." Alan reports the burglary.
In Scene Seven, in the Magistrate's office in Manchester in 1952, Judge Harrison (Beutel) and the Prosecutor (Shivone) ominously intone the verdict, telling Turing, "You have been found guilty of 12 acts of gross indecency under Section 11," of the Criminal Law Amendment Act, concerning "unnatural acts." In a combination of what Turing might have wanted to respond and what he actually said, we hear him sing, "A system that punishes a man for spending time with a man is clearly diseased." Pronouncing the sentence, the Judge magnanimously offers an alternative to two years of "hard labor" in prison: "modern science has a cure"—how Mike Pence—chemical castration with estrogen. Alan might have declared, "I've saved more lives"—i.e. by cracking the Nazi code—"than this so-called cure ever will" and predicted, "People like me will survive—to live and love and thrive in the open." As prison would have disrupted "my work," he choses the estrogen, saying, "I humbly plead no contest."
In the Epilogue, "the four deaths of Alan Turing," we learn that Turing's death was, variously, a suicide, an accident, attributable to violence, asphyxiation, assassination, or the result of his final experiment with computer wiring. Sara muses, "Alan was brilliant. Alan was messy." Joan points out, "Alan led the Allies to victory," but was deemed unworthy to be trusted to keep state secrets, and concludes, "Alan was a hero, not a coward." Chris comments on the "incompetence" of the report. Prince Charming (Shivone), an assassin bearing an apple, comes to Alan, who protests, "I would never betray my Queen!"—Snow White's Evil Queen or Queen Elizabeth the Second—before he dies.
A discussion with composer Chen and librettist Simpatico, moderated by Edelson, and with input from the audience, took place after this premiere.