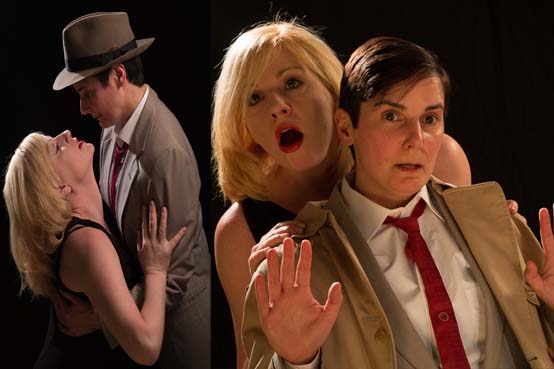 photo by Ben Strothmann

Karen Stanion and Virginia Baeta

.......................................................................................................................................................................................
With Virginia Baeta's "Damaged Goods," TOSOS' (The Other Side of Silence) current offering, in association with Emerging Artists Theatre's New Work Series, TOSOS continues leading the vanguard of New York-based LGBTQ theatre companies, presenting performances that are as thought-provoking and relevant as they are entertaining.
Inspired by Film Noir/Pulp Fiction crime stories of the mid-20th century, Baeta's play offers abundant opportunities both for a savvy director and a company of actors to paint in vivid, sometimes lurid, colors and for literate audiences to be swept away by a rip-tide of blunt references, subtle allusions, and snappy one-liners.
Director Mark Finley takes the ball and runs with it, deftly populating the twilight world of Gotham with a band of players, who enthusiastically deliver the iconic, immediately recognizable types that Baeta, who also plays the leading role, has written with such care. An extra-strong ingredient of gender-bending theatrical spice is revealed as one character after another makes an entrance.
Ironies, role-play, and over-the-top melodrama are the rule, and a perfect tone for the evening is set immediately when lights come up on Act One, Scene One. The visual impact of Baeta in her role as private detective Thomas Sparks is provocative and sensual. Moreover, she/he delivers the opening monologue with the punch of a broadside salvo, reminiscent of Barbara Stanwyck in her best form. The binary structure of the play is built for speed: narrative soliloquy by Thomas Sparks alternates with dialogue scenes that propel the story forward, and Baeta's firm, stylish helming of the tale hurtles the piece breathlessly along to its dramatic climax.
Director Finley has assembled an excellent supporting cast, some playing multiple roles. Elizabeth A. Bell, Karen Stanion, and Cindy Weaver all offer distinctive performances. Special mention must go to Jamie Heinlein's star turn as Sparks' Jean Harlow-esque working girl secretary, Apple Pie. Her wide-eyed naiveté and bulls-eye comic delivery were the perfect foils to Baeta's brusque machismo drawl, and their duo scenes were always a win/win. One could only imagine that, in another time and place, this actress and Charles Ludlam would have been a marriage made in heaven.
Splendid music and sound design by Morry Campbell enhanced the proceedings onstage with suggestive period atmosphere and perfectly timed humor.
In the current political climate, it is more important than ever for the queer presence to be seen, felt, and heard, and it is heartening to see the success of Emerging Artists Theatre's New Work Series—the house was full on the night I attended; the Fresh Fruit Festival; and Hot! at Dixon Place.
The best news for my day would be to hear that TOSOS had settled in a permanent, year-round home, had expanded its range to include works by Jean Genet, Oscar Wilde, and Larry Kramer, and had embarked on a capital fund drive to establish an endowment to ensure its permanence. Perhaps that day will come. Meanwhile, I can dream, can't I?
"Damaged Goods" runs at TADA!, at 15 West 28th Street, through March 18. Catch it if you can.