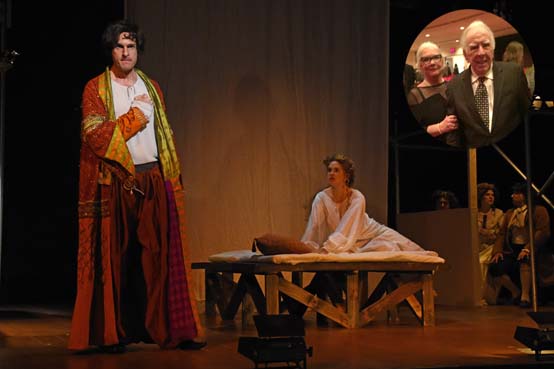 Michael Kelly as Edward Kynaston & Maeve Höglund as Margaret Hughes play the final scene of "Othello" in "Prince of Players" - Photo by Tina Buckman (inset: Composer Carlisle Floyd with niece Jane- Photo by Joseph R. Saporito)

.......................................................................................................................................................................................
Composer and librettist Carlisle Floyd ("Susannah," "Of Mice and Men") is still going strong at 90. His opera "Prince of Players," after Jeffrey Hatcher's play "A Compleat Female Stage Beauty" and the subsequent film "Stage Beauty," debuted at the Houston Grand Opera Studio last March and the little Opera theatre of ny (LOTNY) brought Floyd's revised version of "Prince of Players" to the Sylvia and Danny Kaye Playhouse, at Hunter College, for four New York premiere performances, double cast, from February 23 to 26. The opening night, for which Floyd was present, is considered here.
Conducted by LOTNY Music Director Richard Cordova and staged by Artistic Director Philip Shneidman, "Prince of Players," set in London in 1661, is written in Floyd's familiar American classic neo-Romantic idiom, with nods to the courtly dance and music hall ballad for local color. The protagonist is Edward "Ned" Kynaston—baritone Michael Kelly in a tour-de-force—an actor specializing in leading female roles in William Shakespeare plays, and called "the most beautiful woman in the theater and the most beautiful man in London." He is loved and envied by Margaret "Peg" Hughes—terrific soprano Maeve Höglund—his dresser, who idolizes him; laments her life of invisibility, although—shades of Eve Harrington—she feels she knows his major roles as well as he does; and sneers at the flighty noblewoman, Lady Meresvale (mezzo-soprano Elizabeth Pojanowski) and Miss Frayne (soprano Heather Hill), who take him to the palace, en travesti, to make sport of him. Kynaston and Hughes work at the theater owned by Thomas Betterton (baritone Rob Loyd), also the company's leading man, and many scenes are set here. Sir Charles Sedley (Raùl Melo), who proves one of the two or three tenor villains of the piece, propositions Meresvale and Frayne, who flee, and Kynaston, who puts Sedley's hand on his crotch to show him what he'd be getting. Betterton vows revenge. Kynaston and Villiers, Duke of Buckingham (tenor Bray Wilkins) share a tender love scene. Hughes rehearses with Kynaston to learn from him.
A scene at the palace of King Charles II (tenor Marc Schreiner) begins with a formal dance. The King declares that, as part of the Restoration, after 20 years of Puritan rule, women may now appear on stage, effectively putting Kynaston out of business. The actor, who insists, "My life is my art, my art is the stage," rages about the change and reproaches Hughes, and when Nell Gwynn, the King's mistress (soprano Sharin Apostolou) comes to their defense, Kynaston rebukes her. The King coldly tells him he's out of line and makes the policy official.
Kynaston laments to Betterton, "The King's edict is law. I no longer have a profession." Women audition for the impresario. The first is Gwynn, who sings a lilting music hall number, "My Johnny has asked me to marry him," exceedingly amateurishly. Asked for his assessment, Kynaston concludes, "Perhaps the city's taverns are more suitable" for Gwynn's efforts. Hughes, championed by Kynaston's archenemy Edley, tries out with Desdemona's death scene, with Betterton feeding her Othello's lines. Kynaston reluctantly blesses her work and attempts Othello's part, for which 20 years of playing women have ill-prepared him. Distressed, he runs off—"How can this be happening?—my life as a player over," he cries. Beginning "I love you like a brother," Betterton encourages him to take up "Hamlet, Macbeth, and Lear." Kynaston responds, "Never! I'd as soon go back to the streets." Devastated by the loss of his career, Kynaston loses his lover as well. In a wrenching scene, Villiers breaks up with him—gossip about them could ruin his noble family, so he is going to wed a woman.
Kynaston finds employment, in drag, in a risqué revue, run by Mistress Revels—noted veteran mezzo-soprano Jane Shaulis making an outrageous cameo appearance. Kynaston sings a bawdy song with the refrain, "I've married a man with no balls at all," which the raucous crowd, including soprano Elizabeth Novella and baritone Robert Balonek, takes up. Hughes rescues Kynaston as the revelers are on the verge of trying to strip him to learn his true sex.
In the street, Hughes, and particularly Kynaston, are set upon by thugs, sent by Edley, to avenge Kynaston's having embarrassed him at the theater and taunted him at court about it. Hughes rescues Kynaston anew and, once having dressed him, she now tenderly dresses his wounds. He asks, "Why are you doing this? I've not always been kind to you." In their intense duet, he tells her that, in his youth, as an orphan, he was beaten by one of his fellows and risked being raped. Hughes emotionally confesses, "I love you, Ned, I love you; with all my heart, I love you!"" She will shelter him until he recovers. A lyrical orchestral interlude follows. When Kynaston is in better health, Hughes spars with him about how Desdemona and other female roles should be played: as real, not as caricatures. They wind up making love.
At a command performance of "Othello," before King Charles and a full, paying audience, Hughes refuses to play the death scene as it has been played before. Betterton runs to fetch Kynaston to restage the final scene for her, so that the performance may continue. Kynaston agrees to do so—for 10 percent of the box office take. Edley thanks him for coming and hopes they will let bygones be bygones. Aptly putting him down, Kynaston icily replies, "Perhaps when my wounds heal," before turning to the business at hand. The first thing he tells Hughes to do, in the interest of realism, is exchange the pretty dress for a rumpled nightgown. He takes over the role of Othello himself and they play a passionate, no-holds-barred final scene.
The crowd applauds the new Desdemona. Once more she defends Kynaston, graciously announcing, "We have one more speech," and allowing Kynaston the last words, "I kiss'd thee ere I kill'd thee," for which he is justly roundly acclaimed. The crowd at last cheers, "Bravo, bravo, Kynaston and Hughes!" and their triumph is sealed.
Completing the cast were Daniel Klein as Hyde; Oswaldo Iraheta and Sahoko Satro Timpone as the male and female Emilia, respectively; Kyle Guglielmo as a stagehand; and Hunter Hoffman as Samuel Pepys.
How good it is to have a new, unfamiliar Floyd work to add to the canon—and good, too, that he was there to hear it applauded and to receive an ovation himself!