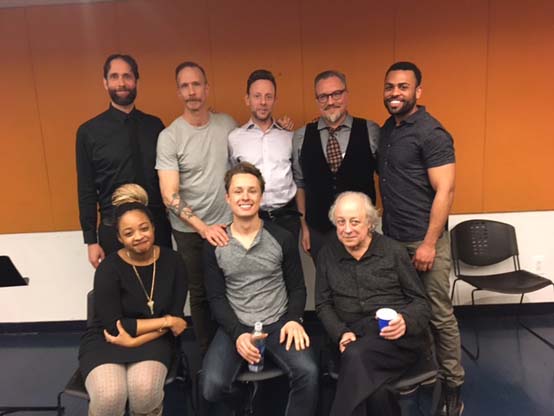 photo courtesy of TOSOS

(back row, left to right) James Eden, J. Stephen Brantley, Tim Cusack (director), Christopher Borg & James Arthur M. (front row, left to right) Sajda White, David Gow & Jeremy Lawrence
.......................................................................................................................................................................................
According to Italian designer Valentino Garavani, "Elegance is the balance between proportion, emotion, and surprise." Elegant is certainly one way to describe Tim Cusack's taut and insightful direction of Martin Sherman's "Bent," but it would be difficult to limit oneself to a single word of praise for this reading, which exemplified the balance of proportion, emotion, and surprise. Almost forty years after its premiere, "Bent" might well be regarded as Sherman's masterwork, and it was handled masterfully by the forces that TOSOS (The Other Side of Silence) assembled for its presentation, as part of the Robert Chesley/Jane Chambers Playwrights Project, for one performance only, on April 2.
At lights up, the soft tone of Sajda Waite's mezzo-soprano narration immediately provided the element of surprise: "Bent" boasts an all-male cast, and the introduction of a female sound to counterpoint the pots of testosterone being flung about was a coup de théâtre. Bravo, Cusack!
"Bent" rises or falls on the execution of the first scenes of Act One: snappy repartee must serve as seamless counterpoint to the grim undertone of threat.
J. Stephen Brantley brought an imposing masculinity and vocal maturity to his portrayal of Max, with some of the best comic timing this writer has seen in quite awhile. It was immediately clear that, for all his dissipation and joie de vivre, Brantley's Max was a tormented soul, establishing an internal cohesion of character that made his personal tragedy as inevitable as his catharsis was welcome. James Arthur M. offered a delightful interpretation of Rudy that was part "Our Lady of the Flowers," part "La Cage aux Folles," and part "Paris Is Burning." Rudy is a very simple person, with very simple wants and needs. Too often, a true innocent is the victim of circumstance, and James Arthur M. delivered a most touching sacrificial lamb.
In his dual roles as Wolf and Horst, David Gow was a revelation. In total command of his instrument, this is an actor's actor. Limitations of space prevent me from detailing his performance, but I must say that his final scene, desperately attempting to win himself a few moments more of life, was as harrowing and heartbreaking as it was unforgettable, Remember his name.
James Eden brought strong presence, variety, and a Film Noir vibe to his multiple roles as the Nazi Captain/Officer/Guard. Jeremy Lawrence as the treacherous Greta was as hateful as he was amusing: part Tessie O'Shea and part Toti Fields, a classic vaudevillian tough old broad/drag king. Special mention must go to Christopher Borg as both Uncle Freddie and Kapo, a virtuoso performance of two roles that could not demand more disparate qualities,
This reading of "Bent" was an uncommonly coherent theatrical experience, for which much of the credit must certainly go to director Cusack: attention to detail, demonstration of the arc of the piece itself, a strong and beautifully aligned cast without a weak link. TOSOS has scored another hit. Perhaps a full production lies ahead? Bravi, tutti!!