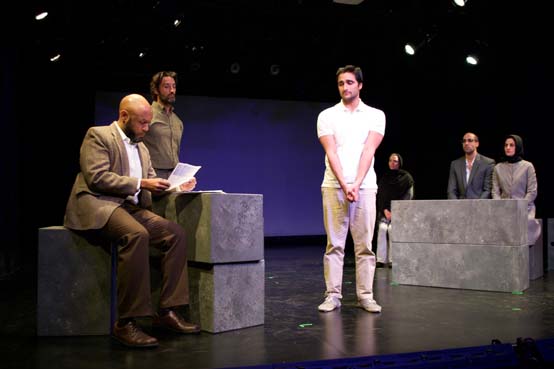 photo by Hershey Miller

cast of "Haram! Iran!"

.......................................................................................................................................................................................
The fine line between Life and Art can separate or divide. For playwright Jay Paul Deratany, who wrote "Haram! Iran!," it affords an extraordinary opportunity to demonstrate the fundamental unities that characterize the best of human nature, all of which serve as springboards for the many other themes that he treats with extraordinary sensitivity, discretion, passion, and a sure sense of theatrical art.
The New York premiere of "Haram! Iran!," presented in a limited engagement at TADA by Red Spear Productions and Creative Concept Productions, in association with Emerging Artists Theatre, is as skillfully wrought technically as it is graceful and understated in its narrative. The through line is the growth of the love between two teenage Iranian boys from its unlikely beginning to its tragic and transcendental end. This relationship serves as the hinge factor for the other levels explored in the drama: the family dynamic, peer pressure, maternal love, and self-sacrifice for the betterment of a society pitted against itself
Inspired by actual events, the story stands on its own merits: at one stroke, charming, engaging, gripping, and harrowing, it needs no underlining whatsoever. Deratany's writing is fluid and unforced, clearly and effortlessly overlapping the layers of narrative, as they grow in number, density, and complexity.
The script is handled with loving care by director Rick Leidenfrost-Wilson, his splendid ensemble of actors, and a production team that delivers the visuals with style, eloquence, and rigor.
Roberto Tolentino etched a completely sympathetic figure as the bookish intellectual, romantic Ayaz, whose idealist vision of friendship and love entrances his soccer-playing, working class friend Mahmoud, played with keen observation and commitment by Amir Darvish. The two boys make for a study in contrast, and an electrifying triangle is completed by Kal Mansour's portrayal of a third victim, the conflicted Fareed, an actor's dream role which Mansour carries off with panache. High praise goes to all three actors for obliterating the credibility gap posed by playing characters much younger than themselves. Strong performances and meticulously detailed characterizations from Sahar Bibiyan, Colin Mulligan, and Russell Jordan were each, in their turn, thought-provoking and emotionally charged.
Special mention must be made of Naama Potok's portrayal of Ayaz's Mother, truly "The Door of Mercy opened by Allah." With the physical control of a Martha Graham dancer and the vocal presence of an Irene Pappas, she established the central theme of maternal love from her first appearance to her last. The enormous emotional range of her revelatory portrayal progressed relentlessly in an uninterrupted arc from domestic simplicity to the ultimate tragedy of loss, and was, for this writer, the spine of the play. An actor to watch is Thamer Jendoubi: alive, responsive, and fully engaged.
"Haram! Iran!" requires the audience's full intellectual and emotional participation, not only because of the topical interest and cultural relevance of the play itself, but because of the dark smog of prejudice that is currently polluting the atmosphere of these United States and so many other places across the globe.
It is the responsibility of any artist who CAN speak out right now TO speak out right now. My fervent hope is that this play finds the largest possible audience: the metaphor only grows stronger with each passing day.
It comes as no surprise that "Haram! Iran!" has been enthusiastically received both in the United States and abroad. Its Los Angeles run brought a Best Play nomination from the Gay & Lesbain Alliance Against Defamation, and the London Arts Council awarded it a development grant. Program notes inform us that this production has been nominated for an Innovative Theatre (IT) Award. It will certainly get my vote.
News of "Haram! Iran!" having an extended Off-Broadway run, available on television, or being made into a feature film would be very good news indeed.