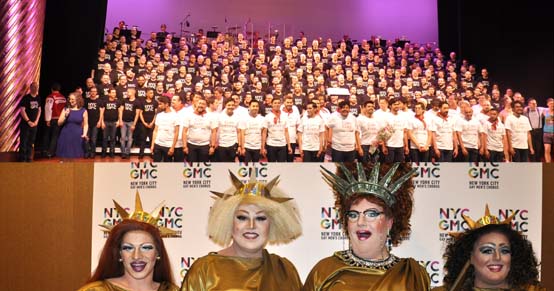 photos by Bruce-Michael Gelbert

top- Curtain call—Coro Gay Ciudad de México (front) & New York City Gay Men's Chorus (back)
lower- the Misses Liberty

.......................................................................................................................................................................................
The New York City Gay Men's Chorus' (NYCGMC) "Big Gay Sing 9" weekend began on March 24, at Skirball Center at New York University, with the first of three concerts, billed as "Welcome to New York," with very special guests, the not-quite-four-year-old Coro Gay Ciudad de México, from Mexico City The bilingual sing-along program was led with flair by NYCGMC Artistic Director Dr. Charles Beale, Assistant Conductor John J. Atorino, and Coro Gay Musical Director Horacio Mendoza Navarrete. Accompaniment was by NYCGMC pianist Aaron Dai and an instrumental complement of seven other musicians; staging and choreography/choralography were by Ryan Scobie, with Christopher J. Anderson and Sean Segerstrom; and sign language interpretation was by Shelly Guy and John Colon. Lisa Reilly is Executive Director of NYCGMC, Stephen Kurowski was Production Manager, and hosting "Welcome to New York" was Ms. Ermine Muff as the Statue of Liberty.
NYCGMC and soloist Ryan Hontz enthusiastically welcomed one and all, with open arms, to New York City with Barry Manilow's "Just Arrived." The chorus paired a hushed a cappella "Give Me Your Tired, Your Poor," Irving Berlin's setting of Emma Lazarus' words, from the show "Miss Liberty," with a proud and lively "Welcome to New York," by Taylor Swift, enhanced by Ms. Muff and her Statue of Liberty sisters. "An Open Letter to NYC," with soloist Ruben Olvera and streetwise dancers, proved a joyously rapped ode to the city's diversity. The choristers juxtaposed a mellifluous "(We'll have) Manhattan," of Rodgers and Hart, with "My My Metrocard," a qvetch about the subway, by Johanna Fateman, Kathleen Hanna, and Sadie Benning. Next came a film and Broadway medley, with audience sing-along, of beloved melodies Harry Warren and Al Dubin's "Lullaby of Broadway" from "Gold Diggers of 1935," Stephen Sondheim's "Broadway Baby" from "Follies," and George M. Cohan's "Give My Regards to Broadway" from "Little Johnny Jones," with soloists Ryan Frostig and Frank Stancati. "New York," an energetic Korean pop song, by Moon Byul-Yi and Park Woo-Sang, featured soloists Trevor Kim, Yuan Gao, and Daniel Jeoung. A zesty account of Manilow's "New York City Rhythm" boasted dancing waiters and a refrain, heralding music to come, of "Nueva York."
The combined choral forces of NYCGMC and Coro Gay and dancers reveled in the catchy rhythm of Tito Puente's "Oye Como Va." Coro Gay and soloists Pablo Otero and Ricardo Bonilla poured out hearts and voices in a romantic-sounding medley of songs by Juan Gabriel, to a standing ovation. "Empire State of Mind" made for a vibrant first act finale, pairing a gently rocking sing-along, with soloist James M. Teague, with emphatic rapping, by Luis Herrera and Tym Byerz.
The second half of the concert began with NYCGMC's singing, dancing, glittering salute to the fabulous RuPaul, made up of the diva and Lucian Piane's "Jealous of My Boogie" and "Sissy That Walk." Helping to illustrate the Gay Men's Chorus' warm "Native New Yorker," by Sandy Linzer and Denny Randell, were a disco ball and a corps that included Ms. Muff on roller skates and a go-go boy not wearing very much at all. The chorus and soloist Justin Benefiel considered farewells with a contemplative rendition of Sara Bareilles' "(You can have) Manhattan ('cause I can't have you)." Terri Odabi's "Gentrification Blues," with soloists Damon Epps, Johnathan Gibbs, A. LaMar Torrence, and Jo Lee, was more protest against than lament for the losses entailed, with prominent saxophone solo and tambourines helping to raise its pitch to gospel fervor. A reprise of "Open Letter to NYC," with soloist Gregory LeCleir, concluded this section.
Coro Gay returned to join NYCGMC and dancers for Justi Barreto's "Un Verano en Nueva York," with impressive solos sung by Helio A. Sepúlveda-Zornosa, from New York, and Maestro Mendoza Navarrete, from Ciudad México. Coro Gay sang "Intro La Bamba," arranged by Sergio Cano, complete with rhythmic clapping and dancers in cowboy hats, and Coro Gay and NYCGMC together gave us a lively "La Bamba" itself, in Ritchie Valens' familiar adaptation, arranged by Beale, and invited us to sing along. Coro Gay members limned their land with affection in a lulling "México lindo y querido" (Beautiful and beloved Mexico), by Chucho Monge, and all choristers joined hands for a proud, hopeful, and ringing "Beautiful City" ("Not a city of angels/But finally a city of man"), by Stephen Schwartz, from "Godspell." NYCGMC's Hontz began Charles Strouse and Martin Charnin's "N.Y.C.," from "Annie," with awe, and all of us happily blended voices with NYCGMC and Coro Gay for the apt encore, Kander and Ebb's "New York, New York." The Administration occupying the White House boasts about a wall—this concert showed how clearly music can break down any walls that may divide us.
For further information about NYCGMC, visit www.nycgmc.org. For more information about Coro Gay, visit www.corogayciudaddemexico.org. NYCGMC continues its season with "I See Fire: Anthems for a New Era," with the London Gay Men's Chorus as its guests, at Skirball, 566 LaGuardia Place, on May 20 at 8 p.m.