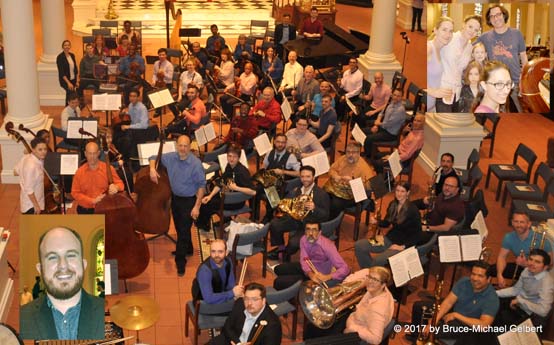 photos by Bruce-Michael Gelbert
QUO
insets: (lower left) composer Andrew Bukowski and (upper right) Kathryn Sloat demonstrates the harp

.......................................................................................................................................................................................
On May 7, at Church of the Holy Apostles in Chelsea, the Queer Urban Orchestra (QUO) presented a "kid-friendly" edition of the previous night's concert, and it was "an immersion experience," according to narrator Navida Stein, in which audience members were seated directly behind the players or between sections of players, and children who were present were treated to demonstrations of instruments and invited to try their hands at playing them. Some pieces were abbreviated for the afternoon performance.
The program opened with the world premiere of Andrew Bukowski's minimalist "High Tides," winner of QUO's 2016-2017 Composition Contest, under Artistic Director Julie Desbordes' baton. "I am very inspired by Nature," Bukowski told us, introducing his piece, which Desbordes described as "waves of sound … inspired by the ocean." In "High Tides," each instrumental section chimes in, adding its own particular comment, until it becomes part of the swelling, ringing whole. As waves ebb and flow, so do the sections retreat and then reenter to become elements of the full fabric of the work once again. We hear the sun, glittering on the waves, and the sounds of sea birds above. There is a fierce climax, followed by a quiet ending.
"Memorial for the War Dead," the first movement of Mohammed Fairouz's three-movement Symphony Number Two, was omitted QUO began with the second movement, 'Dabkeh," or debka, a festive line dance, which Stein taught us how to do, and which Assistant Conductor Ian Shafer, who guided the account, called "frenzied." It was indeed marked by whirling and storming, joyous and powerful, and led into the third movement "Apotheosis," which Stein defined as "elevated to a divine status." It proved ethereal, then triumphant, then lofty and calmer.
The afternoon ended with gay ancestor Piotr Ilyich Tchaikovsky's Symphony Number Five, led by Desbordes, with some internal cuts. Each movement's principal theme, a variation on the "fate motif," was played and explained, and performance of the movement followed. The opening Andante began with a statement of the ominous motif, giving way to a lively Allegro con Anima, akin to a bouncy folk dance. The Andante Cantabile sounded like a passionate romantic song and the Allegro Moderato was a waltz, mostly understated. The final movement's Andante Maestoso-Allegro Vivace was grand and, ultimately, jubilant.
QUO concludes the season with its third annual Pride Gay-La on June 17 at 8:30 p.m., with guest pianist Jacqueline Jonée, and featuring Dmitri Shostakovich's Jazz Suite Number Two, selections from Leonard Bernstein's "On the Town" and "West Side Story," John Corigliano's "Promenade Overture," and Arturo Marquez's "Conga del Fuego Nuevo." Visit www.queerurbanorchestra.org for tickets and further information. Church of the Holy Apostles is located at 296 Ninth Avenue at 28th Street.