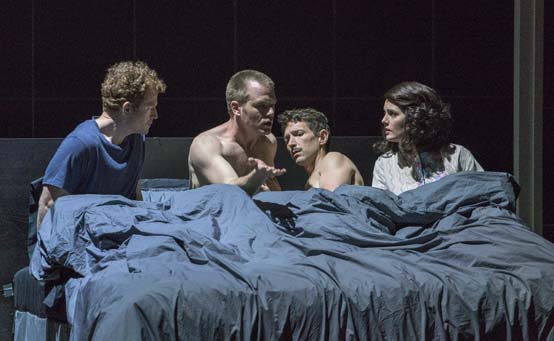 photo by © Sarah Shatz

Scene from "Angels in America" (left to right) Andrew Garland as Prior Walter, Michael Weyandt as Joe, Aaron Blake as Louis & Sarah Beckham Turner as Harper Pitt
.......................................................................................................................................................................................
Welcome back, New York City Opera! NYCO kicked off a brand new initiative this June with the production of Péter Eötvös and Mari Mezei's "Angels in America," based on Tony Kushner's monumental play, in a brand new New York premiere. This is an action-packed version of the story, telling the tale in primarily in recitative and adapting well to the Frederick P. Rose' Hall's stage. And, it is the first production of NYCO's plan to mount an LGBTQ themed opera each June from now forward, in celebration of Pride Month! Trust me–this is not your parents' opera! This is engaging and emotional with beautifully sung and acted sweep and scale. Mezei's libretto has distilled this seven hour drama to its most essential and, combined with Eötvös' provocative music, it's an evening to remember.
Andrew Garland is featured as Prior Walter and we see quite a bit of him. His character growth is something beautiful to witness, as he goes from unwilling victim to prophet, and his interaction with the Light, foretelling the Angel, makes the Light something tangible. The Light is muscular and compelling and, when it's pouring in, it becomes a character on its own. Roy Cohn is played darkly and deliciously snarky by Wayne Tigges and, when he rails at Ethel Rosenberg (Sarah Beckham-Turner), it's tragic for so many reasons. Harper and Joe Pitt, Beckham-Turner and Michael Weygandt, cut directly to the chase, arguing and struggling to find their way, while Sarah Castle, as Hannah Pitt, does her best to sort out the complicated world in which she suddenly finds herself. Louis Ironson (Aaron Blake) also finds his world is suddenly changed and while, at first one wants to feel that Louis is weak for not standing with Prior through thick and thin, the blanketing fear that many felt during that dark time encouraged many Neros to fiddle while Rome burned. Kirsten Chambers' Angel vibrates with intensity to match the brilliant light in which she descends, though vying for my favorite portrayal with Garland's Prior is Matthew Reese' Belize. Played with humor and pathos, with his glorious tone, Reese's performance is something I'll cherish. Beckham-Turner's Ethel and her frictive interactions with Cohn are emotional dark delight. Each of the singers was delightful and my only critique is with the quality of the voices I wanted more in the form of arias, trios and more!
Experiencing Pacien Mazzagatti's expert conducting is like watching a tightrope performance–utterly controlled and thrilling. Sam Helfrich's direction of the action and the visualization of the scenes brought the message home to the heart. My companion for the evening is a huge fan of modern music, and not so much of the opera. Yet, as we were mulling over the final scenes, he said he'd clearly have to rethink his position. This familiar story set in truly modern style touched his psyche as well as his heart.
This is just the beginning for the new NYCO! Visit their website at www.nycopera.com for more information about their brilliant 2017-2018 season!