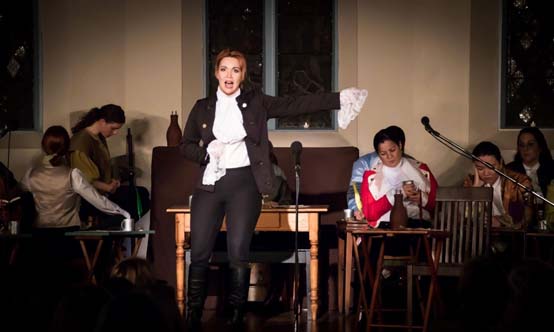 photo by Laura Iacometta

John Adams (Juliana Valente) & cast

.......................................................................................................................................................................................
McKenzie Musical Studios Production's "1776" had a brilliant weekend planned for November 3 and 4 when, they created a sensation–an all female cast of Sherman Edwards and Peter Stone's "1776." The timing could not have been better, reminding us of our civic duty just days prior to New Jersey's election cycle, where not only would a brand new governor be selected, but the opportunity exists to turn the Assembly and the Senate inside out and upside down. The timing was perfect, as was the venue–St. Luke's Episcopal Church's Assembly Space in Montclair.
A word about St. Luke's: the Assembly Space ceiling is vaulted and beautiful and, with a live miniature orchestra and the beautiful voices on stage, this was an experience that I hope will be repeated. This concert version, semi-staged by director Laura Iacometta, provided the highlights of the show with plenty of food for thought. Iacometta hand selected the voices for this production, under the musical direction of Sue Chandler, so we were in for a treat!
This show has power through and through and this cast really delivered–Juliana Valente was a strong and tortured John Adams, whose personal demon is always doing what is correct. Abigail was sung by Vivian Brock and their voices mixed beautifully! Karen Thomas gave us a Benjamin Franklin to remember, with brash manner and knowing ways and frankly appreciative of all that surrounded! Kay Koch as Thomas Jefferson was the ultimate intellectual, writer and quite the lover as well. Kelly Wenz sang rhapsodically about Jefferson's violin playing, and we were rhapsodic listening!
Carla Mieles gave us a rousing rendition of Richard Henry Lee's "The Lees of Old Virginia," while "But, Mr. Adams" featured Staci Block and Hui-Lian Garbaccio, in addition to Adams, Franklin and Jefferson, in a great game of hot potato for who would write the Declaration. Marsha Schreier gave us the Conservative view with the ensemble in "Cool, Cool Considerate Men," while Tara Haight, with harmonies by Erin Michele Harris, in the Courier's "Momma Look Sharp," was achingly real and affecting. Haight's clear voice and Harris' harmonies made it truly memorable. Reegan McKenzie delivered my personal favorite, "Molasses to Rum," with pure energy and was in peak performance mode, telling us the story of the hypocrisy of the North, decrying slavery while reaping its advantages indirectly, thus keeping its hands clean. From more than 230 years ago, clearly very little in government has changed.
Iacometta's all-star cast also included Erica Kresch as John Hancock, Aubrey Skolnick as Charles Thompson, Kelley Blessing as Caesar Rodney, Betsy Newberry as Joseph Hewes, Leyda Torres as Stephen Hopkins, Paula Skolnick as Samuel Chase, Haight as Dr. Lyman Hall as well as Courier, Harris also as Andrew McNair, Stephanie Thomas as Dr. Josiah Bartlett, Jessica Katz as Rev. John Witherspoon, Beatriz Esteban Messina, and Lewis Morris. This cast was amazing and the show was something inspiring to carry out into the early Autumn evening, as New Jersey voters contemplated the decisions before us. Only time will tell, as with our progenitors in 1776, whether our choices are sound. Speaking of sound choices, look for what's next from Iacometta, Chandler, and McKenzie Musical Studios–they are off to an auspicious start.