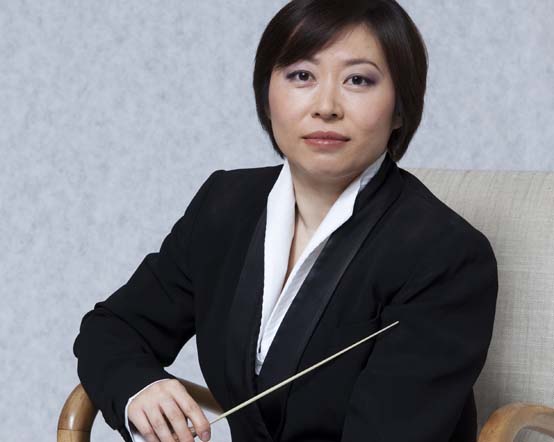 photo courtesy of NJSO

Xian Zhang

.......................................................................................................................................................................................
Christmas arrives for me whenever I hear George Frideric Handel's "Messiah" and, for the past few years two of my favorites have come to me in one gift-wrapped package–New Jersey Symphony Orchestra (NJSO) has done it again! On December 15 and 17, Handel's epic oratorio was performed with the Montclair State University Singers, a group of strong young voices that made a beautiful tapestry with the soloists for Xian Zhang's first "Messiah" at NJSO.
This year, the soloists were soprano Erin Wall, mezzo-soprano Nancy Maultsby, tenor Miles Mykkanen, and bass-baritone Michael Sumuel. Each gave us their very best for the Holidays with some special highlights. Mykkanen's opening Accompagnato "Comfort Ye" was the perfect taste of what was to come–his voice is rich and buttery, clear and beautiful and the articulate phrasing was equally delicious–right from the gate, a sparkle of happy tears. I have followed him since he first appeared with New York Festival of Song, and this Juilliard-trained tenor was perfect for this role.
Special highlights for me included Maultsby's mellow richness and butterscotch warmth on "O thou that tellest good tidings to Zion" and Maultsby's and Wall's duet on "He shall feed his flocks" and "Come unto Him"–I just closed my eyes and enjoyed!
Xian Zhang took the singers and the NJSO on a truly dynamic journey–the volume variations made for a textured nuance that added piquancy to a very familiar work. The energy that the choruses had made for a delicacy that seemed more like Mozart than Handel and I enjoyed every moment.
The penultimate Air for Bass is "The Trumpet Shall Sound." Sumuel's joy and power in this music, his technique brought to bear, was simply stunning. He seemed like he was introducing Christmas itself! Garth Greenup, Principal and Amadeus Circle Chair, took the honors on the piccolo trumpet and. together with Sumuel, it was Christmas alchemy! The final chorus, "Worthy is the Lamb," resounded in the well-appointed rafters, while we Handel-philes floated out on gossamer clouds, humming the bars ourselves as we walked into the chilly late afternoon. Now, it is well and truly the Holiday Season!
Where will you be next year the weekend before Christmas? Hopefully among the throng sitting with me hearing world-class music with artists of the same caliber! Visit www.njsymphony.org for more excitement throughout the year and to create your subscription package, or one as a gift for a friend. The Winter Festival is coming, why delay joy? You'll want to be there when Xian Zhang conducts America: Inspiring! I'll save you a seat.