Dinnerstein at Miller Theatre: One is Fun, Four is More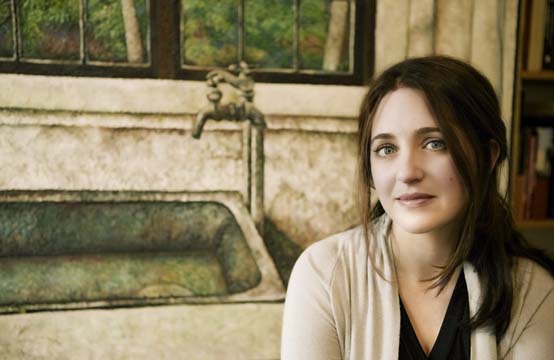 photo courtesy of Aleba Gartner

Simone Dinnerstein

.......................................................................................................................................................................................
On December 6, the Miller Theatre's dynamic season once again thrilled us, with the Bach Piano Concerto's program, with Simone Dinnerstein and some very special friends. We had not one, not two, but FOUR pianos on stage! And it wouldn't be a party without Ensemble Baroklyn to add to the festivities. Want details? Read on!
Melissa Smey, the Executive Director of the Miller Theatre welcomed us pre-curtain and set the stage for the brilliance to come. With thanks to Yamaha Artist Services, Smey was able to realize a longtime dream–four pianos on the Miller stage! The texture and nuance, along with the vision of imagining Johann Sebastian Bach writing works for his sons and friends, made for happy Holiday thoughts indeed.
Dinnerstein began the evening with a beautiful four-hand duet with Awadagin Pratt, the award-winning pianist, who is currently Professor of Piano, at the College Conservatory of Music, at the University of Cincinnati. Being able to see two artists of this magnitude sharing the keyboard, in "Gottes Zeit ist die allerbeste Zeit," BWV 106 (God's Own Time is the Very Best of Times), an early sacred work, was a salient reminder what we all can accomplish, when we create and respond to one another. Communication in music, truly listening to the person you are sharing the keyboard with, while working together to make something amazingly beautiful, set the tone for what was to come. Playing "Nun komm, der Heiden Heiland," BWV 62 (Now Come, Savior of the Heathens), Pratt's solo was beautifully measured and gracefully elegant. He continued with "Wachtet auf, ruft uns die Stimme," BWV 140 (Awake, the Voice Calls Us) was marked by power, great dynamic range, and deft phrasing, and near-seamless in segue from its predecessor.
Dinnerstein joined Pratt for the Concerto in C minor for two pianos, BWV 1060, with Ensemble Baroklyn, whom Dinnerstein conducted from her piano. Again, so synchronous as to feel like a hive-mind of artistry, the soloists and Ensemble were beautifully aligned. The Allegro movement sparkled with Pratt leading, with scintillating highs that in Dinnerstein's trills rolled like a soprano's high notes, while the duet felt like sparks chasing one another, and led to the Largo led by Dinnerstein, where grace notes in the strings become slow rain gliding down ferns. The final Allegro was a bright flourishing return to a shared lead, with the Ensemble going for Baroque.
Dan Tepfer's "Algorithmic Improvisation on B.A.C.H." was performed on a Yamaha Disklavier, a repeating player piano, and it is a very clever modern piece. Tepfer is a modern composer who is equally adept at jazz and classical, and his work combines his passion for music with his interest in astrophysics to astonishing result. Taking advantage of Bach's passion for writing and rules, Tepfer applied his Acoustic Informatics project, combining improvisation with computer programming, to duet with his own creation. Tepfer plays and the piano notes go to his computer, where his own programs speak to him, with their own improvisation, in a virtual call and response. It is a conversation between natural and artificial intelligence. Tepfer's algorithm, in this instance, utilizes the notes that correspond to the letters B-A-C-H, also used by Bach, in his work, as an aural signature. It was so impressive to watch in performance that my companion and I wished only that the screen on the piano had been broadcast to a larger screen, for more to see, and enjoy the sound waves created by both Tepfer and his creation. Perhaps for the next performance …
The final portion of the first act featured Dinnerstein, Pratt, and Tepfer on the Concerto in D minor for three pianos, BWV 1063. The Allegro saw the three pianos gamboling with one another, doubling and tripling, with the result being very much like Baroque surround sound. The Alla siciliana saw Dinnerstein conducting the Ensemble again, almost by telepathy–each soloist and the Ensemble playing as an organically integrated beautiful whole, which sparkled with sunlight and breathless wonder. The final Allegro showed exuberant, yet restrained happiness, with the full ensemble playing, then Dinnerstein leading us through the dappled forest to Pratt and Tepfer, and then all are together. The movement is a cocktail party with individual conversations leading to the overall, and back to a different conversation, in another part of the room, as the soloists take focus.
The beauty of this program was how each of the pianists brought a different sensitivity to the work. Together they are classical-inspired magicians and the pieces highlight each featured soloist's beauty and strength, like an extended conversation with dear friends.
This continued in the Concerto in C Major for two pianos, BWV 1061 where Dinnerstein and Tepfer did the honors. This piece set the stage for Philip Lasser's stunning Intermezzo and Fugatine on the E Major Prelude and Fugue from The Well-Tempered Clavier, Book 1 by J.S. Bach. Lasser is a composer of great depth whose work combines both French and American disciplines. He has studied at Nadia Boulanger's Écoles d'Arts Américaines in France, later studying at Harvard. His Master's from Columbia and his doctorate from Juilliard were just the beginning. Lush and beautiful, the Intermezzo and Fugatine is a fairy tale of a piece. The Intermezzo and Fugatine are delightful separately, while together they are jazzy and modern, thoroughly delicious contemporary expressions showing how music truly lives.
Dinnerstein then took the solo with the Ensemble for Concerto in F minor for piano, BWV 1056. This features a very passionate Allegro with a thread of minor that adds depth, with Dinnerstein demonstrating brilliant artistry in dynamic control. There was a long dramatic pause prior to the Largo with its sublime phrasing, and then quickly on to the Presto, the short pause heightening the thrill, as we plunged headlong with soloist and Ensemble Baroklyn into what lies beyond.
An aperitif of improvisation by Tepfer preceded the final work of the evening, the Concerto in A minor for four pianos, BWV 1065, featuring all four of our pianists, in a gorgeously-orchestrated finale. The Allegro has the feel of a majestic Russian Christmas, as we travel through snow in a scene from "Anna Karenina." The Largo is very dramatic at the beginning, while each piano comes through with its own dappled light, and contrary motion to one another, as each combines and creates a beautiful synergy in the quartet work. The Allegro with all four pianists, and the Ensemble again playing with a single animus, guiding and encouraging one another through the Vivaldi-influenced movement, convinced me that the only thing I want under my Christmas tree is piano lessons!
Ready for more? Me too! This magnificent concert whets the appetite for what's to come, when Simone Dinnerstein returns to the Miller Theatre for an evening of Glass + Schubert, on Thursday, January 18, 2018. Visit www.millertheatre.com for tickets! Now that's a great Holiday gift!


Advertisements
New York Q News
Fire Island Realtors
The Best Of Fire Island
Gay E-zine with everything hip and happening in New York City. News and events all around the city.
www.newyorkqnews.com
..........................................................
The best summer rentals properties and homes for sale in all of Fire Island, The Pines and the Grove.
www.fireislandrealtors.com
..........................................................
Fire Island Pines, Cherry Grove, Ocean Beach, Water Island & all of Fire Island Residentials Sales and Summer Rentals.
www.thebestoffireisland.com
..........................................................
Shopping Online?
Real Estate Blog
CJ Mingolelli
Gives Us a Try. Online Mega Mall. Your community online shopping mall/Apparel, Books, Movies, Cars, Homes and much, much more ...
www.qnewsmegamall.com
..........................................................
www.26west17.com
Real Estate News, tips and comments about New York City and Fire Island Real Estate.
Visit Our BLOG >>
..........................................................
Fire Island Pines & Cherry Grove Homes For Sale & Summer Rentals: Season, Month & Weekly.
www.cjmingolelli.com
..........................................................
FEATURED HOME FOR SALE
MORE FIRE ISLAND HOMES FOR SALE & RENT AT:
The Best of Fire Island.com >>
- - - - - - - - - - - - - - - - - - - - - - - - - - - - - - - - - - - - - - - - - - - - - - - - - - - - - - - - - - - -