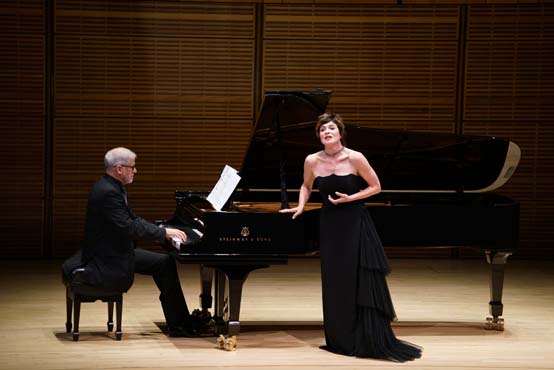 photo by Sarah Shatz

Donald Sulzen & Anna Caterina Antonacci

.......................................................................................................................................................................................
Bolognese soprano Anna Caterina Antonacci returned to the New York stage, on February 20 and 21, to dazzle us in song at Zankel Hall, with Donald Sulzen at the Steinway, under the auspices of the New York City Opera. The second night is discussed here.
In a silvery lyric soprano, with judicious use of chest voice, Antonacci, with Sulzen, probed the music and colors of songs by Claude Debussy to Paul Verlaine's poetry, "Mandoline," a lilting neo-Classical serenade; "C'est l'extase langoureuse," gentle and intimate; "Il pleure dans mon coeur," in which she lamented, with understatement; and "Green," a lover's quiet address. In Ottorino Respighi's five "Deità Silvane" (Sylvan Deity) songs, to Antonio Rubino's texts, singer and pianist wove a musical spell to evoke the magical fauna and wondrous flora of the woods, a thoroughly idyllic scene.
Nadia Boulanger is perhaps best remembered as a teacher, notably of expatriate Americans composers, but she was principally a composer, and we were treated to a septet of her songs, to words by major Francophone poets. Antonacci limned a stately "Versailles," with poem by Albert Victor Samain, which was clearly both royal home and work of art; a sad ode to love in "Cantique," to "Pelléas et Mélisande" playwright Maurice Maeterlinck's words; haunting "Soleils couchants," to Verlaine's words; a savage plaint, Chanson "Elle a vendu mon coeur," with poem by Camille Mauclair, with Antonacci suffering bitterly; "Mon coeur," of Samain, in which she conveyed vulnerability; and two songs with words by Émile Verhaeren, "Vous m'avez dit," in which she probed, with reserve, love, no more than temporal, and age and death, lying ahead, and "C'était un juin," in which she looked at flaws in a near-perfect June day.
Antonacci's repertoire also encompasses songs in English, and here we heard Benjamin Britten's settings of poems from W.H. Auden's "On this Island." "Let the florid music praise!" was punctuated by Sulzman's fanfares and by Antonacci's coloratura, particularly in the line "Shine on, shine on," the climax of the triumphant A section, which she contrasted with a pensive B section, "O but the unlov'd have had power." In "Now the leaves are falling fast," singer and pianist gave us four softly florid verses and resolution in a serious fifth one. In "Seascape,' such a Britten specialty, Antonacci and Sulzen gave us a sea that was hypnotic, inevitable, and at once life-giving and threatening. In "Nocturne," the lulling song gave way to acknowledgment that dangers also lurk in the night. The cycle came to a close with "As it is, plenty," a lively song of thanks.
In Francis Poulenc's "Le Travail du Peintre," with text by Paul Éluard, Antonacci and Sulzen offered vivid depictions of early 20th century artists: "Pablo Picasso," the cubist, a law unto himself; a rocking "Marc Chagall," his work populated with animals and birds, grasses and trees; "Georges Braque," the birds and leaves, clouds and sunlight; "Juan Gris," a still life with table, guitar, empty glass, lamp, and newspaper, come alive; "Paul Klee," hurrying along, in its drama and violence, mountain, beach, and sea; "Joan Miró," baked in the bright Spanish sun; and "Jacques Villon," the ashes and blood, the night and light.
The finale was Poulenc and Jean Cocteau's lyric monologue "La dame de Monte-Carlo," a mini-drama, in which Antonacci and Sulzen gave us a fervent and nervous realization of Monte Carlo, land of fantasy that can make you or break you, and of hopes that are raised and dashed there.
There were two encores: a breezy "Se l'aura spira," of Girolamo Frescobaldi, and a "Habanera," from Georges Bizet's "Carmen," that was finely detailed and most carefully etched.
Expect Antonacci to return to New York City Opera, according to General Director Michael Capasso, in a staged opera to be announced, during the 2019-20 season.