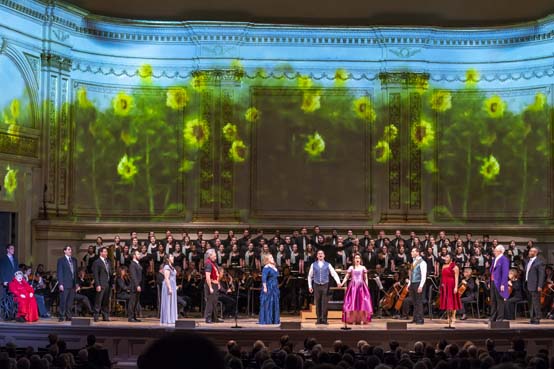 photo by Chris Lee
"Make Our Garden Grow"

.......................................................................................................................................................................................
As a contribution to the celebration of the centennial of Leonard Bernstein's birth, Carnegie Hall presented a splendid semi-staged gala concert performance, benefiting its artistic and music education programs, of Bernstein's—and Hugh Wheeler, Richard Wilbur, Stephen Sondheim, John La Touche, Lillian Hellman, Dorothy Parker, Hershy Kay, and John Mauceri's—"Candide" (1956) on April 18, with a dazzling array of opera and theater luminaries; the Mansfield University Concert Choir from Pennsylvania; and the Orchestra of St. Luke's, conducted by Rob Fisher, directed by Gary Griffin, and choreographed by Joshua Bergasse.
Bernstein began his long association with Carnegie, former home of the New York Philharmonic, when he made a sensational unscheduled debut in 1943, replacing an ailing Bruno Walter, and later became the Philharmonic's Music Director, with his tenure including the orchestra's 1962 move to the Lincoln Center hall especially built for it. This was the first-ever complete Carnegie "Candide," though Bernstein introduced its music here, when the work was still running on Broadway, by leading the Philharmonic in its overture.
Fisher and the St. Luke's set the tone for the evening with their own rousing rendition of the frisky overture and the chorus further welcomed us with an a cappella "Westphalia Chorale."
We had the most lyrical of all possible Candides in tenor Paul Appleby, beginning with his refreshing "Life Is Happiness Indeed," and continuing with quiet accounts of "It Must Be So," his lament, and his further plaint, "It Must Be Me." Appleby limned a joyous paean to the peaceful, blissful utopia that he found, in the "Ballad of Eldorado," and later, embittered, rebuked his beloved Cunegonde, the Baron's daughter, for her greed, putting money ahead of his devotion to her, in the rarely heard "Nothing More than That."
Interpolating more high notes than the written ones, soprano Erin Morley made a show-stopping tour de force of Cunegonde's "Glitter and Be Gay," capped with a long-sustained top tone near the end. Appleby and Morley aired their very different attitudes about marriage in "Oh, Happy We;" rejoiced as they found each other again, after their separation, in an ecstatic "You Were Dead, You Know," where she carefully edited out the more salacious aspects of her adventure; and finally made their peace in a clear-eyed, heartening "Make Our Garden Grow."
Joining Appleby and Morley in a cheerful, lyrical "Best of All Possible Worlds," and completing a most delicious quartet, were, as their fellow students, Ryan Silverman as Cunegonde's vain brother Maximilian and Bryonha Marie Parham as the much-desired Paquette. John Lithgow was their relentlessly optimistic teacher, Dr. Panglosse, and also functioned as Voltaire, the original novella's author and, here, narrator. Lithgow shared with Candide an invaluable lesson he had learned in a wry "Dear Boy," also known as the Syphilis Song, sometimes omitted. After armed dancers, women and men, waged war in Westphalia, Appleby's Candide and Lithgow's Panglosse found themselves in Lisbon, where Inquisitors Silverman, Glenn Seven Allen, Ross Benoliel, and Kyle Pfortmiller decreed, much to the chorus' delight, that it was perfect day for an "Auto-da-fé," with heretics Panglosse, sentenced to be hanged, and Candide, to be flogged.
Soprano Patricia Racette played the Old Lady, bawdy and wise, who led Candide to Paris, France, and to Cunegonde, where with jealous spontaneity, he slew rivals for her favors Don Issachar, the Jew, and the Archbishop, played by Danny Burstein and Len Cariou, making welcome cameo appearances. As the action moved to Cádiz, Racette reveled in her own sung-and-danced showstopper, a delightful "I Am So Easily Assimilated," assisted by her admirers, the lusty Señores, and the men's chorus.
With Wendall K. Harrington's colorful projections helping us keep track of where in the world we were, the principals set sail for South America, where Morley and Racette harmonized mellifluously about their attributes and advantages, in rarely-heard polka "We Are Women," and the cast's other star lyric tenor, William Burden, as the Governor of Buenos Aires, let Cunegonde know of his interest in her, in his bel canto serenade "My Love." Candide and Maximilian, now the Jesuit Reverend Commandant, had a reunion in Paraguay, but Maximilian made clear his continued opposition to Candide, not only a commoner, but also illegitimate, marrying his sister. In Eldorado, Candide met "large red sheep … studded with precious jewels"—but shorn of their "Sheep Song"—and the Queen of Eldorado—Marilyn Horne, cheered as she returned to the stage in a speaking role—explained to him how her realm functioned without animosity or conflict.
Back in Buenos Aires, Burden's Governor knowingly sold Candide an unseaworthy vessel and, with a rollicking "Bon Voyage," sent him back to Europe in pursuit of Cunegonde. There was no desert island scene and no cantankerous "Quiet" trio, but in Venice, Racette; Nathaniel Stamply as "clip joint" proprietor Ragotski; Silverman, now prefect of police; Parham; and the chorus joined forces for the evening's third showstopper, a louche and sweeping "What's the Use," assessing how crime does and doesn't pay. Candide and Cunegonde, in Carnival masks, had an uneasy reunion, as they collaborated with the Old Lady and Dr. Panglosse—who did not die in Lisbon after all—for "The Venice Gavotte," to the melody of "Life Is Happiness Indeed." Life's hard lessons learned, all returned to Westphalia, where the chorus summed matters up in "The Universal Good," and the company, Parham, Silverman, Raquette, Lithgow, Burden, and Horne, took places on stage, beside Appleby and Morley, to sing the uplifting finale.
This was a fantastic journey and a fine and fitting tribute to the composer.