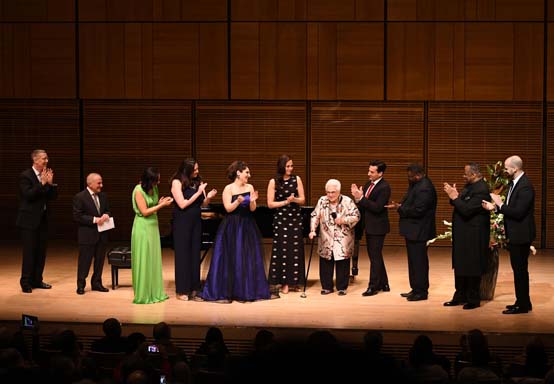 photo by Pete Checchia

(left to right) Warren Jones, Martin Katz, Nicole Cabell, Susanna Phillips, Beste Kalender, Isabel Leonard, Marilyn Horne, Leonardo Capalbo, Russell Thomas, Lester Lynch & Edward Parks

.......................................................................................................................................................................................
"The Song Continues," which mezzo-soprano Marilyn Horne founded to promote young singers singing art songs, closed this year's edition, the one with which she bids farewell as artistic adviser, with a gala "Marilyn Horne Song Celebration," at Zankel Hall at Carnegie Hall on January 28, featuring eight accomplished young singers, whom she had mentored, and two pianists, with whom she had worked closely. Acknowledging ovations from a box overlooking stage right, Horne was characterized as "generous and ferocious," to the singers, by Carnegie Hall's Jeremy Geffen, which indeed sounds like the Marilyn Horne we know and love.
Assisted by Warren Jones at the Steinway, mezzo-soprano Beste Kalender sang selections from Reynaldo Hahn's "Venezia," lyrical barcarolles in Venetian dialect, in an account marked by sweetness and intimacy. These were her seductive "Sopra l'acqua indormenzada," nocturne "La barcheta," and sassy and pattering "Che peca!" Singing Pietro Mascagni's "Serenata," "Rosa," and "M'ama … non m'ama," tenor Leonardo Capalbo offered aptly romantic delivery of these almost operatic selections.
Lyric baritone Edward Parks' group of Charles Ives songs consisted of "In the Alley," lovingly, then angrily limning his fickle Irish love; "Berceuse," a tender lullaby; and "General William Booth Enters into Heaven," in which he preached an intense hellfire-and-brimstone sermon. Praising Horne's legacy as a mentor, soprano Susanna Phillips, singing songs by Richard Strauss, embodied the doting new mother in the lilting "Muttertänderlei;" quietly expressed fullest devotion in "Morgen;" and made of "Cäcilie" a passionate outpouring.
With Martin Katz assisting, Nicole Cabell began with a ravishing renditiion of Fernando Obradors' lied-like "Del cabello más sutil," with a rapturous vocalise between verses; found peace and consolation in Henri Duparc's "Chanson triste;" and closed with an exuberant melismatic "Joy," from "Genius Child," with music by Ricky Ian Gordon and poetry by Langston Hughes, capped with a radiant high note. In a strong baritone, Lester Lynch opened with Franz Schubert's "Gruppe aus dem Tartarus," a dramatic cry of the damned; continued with Johannes Brahms' "Wie bist du, meine Königin," a tender love song; and concluded with a stormy and angry "I hear an army," the song of a jilted lover, by Samuel Barber.
In a ringing tenor, Russell Thomas passionately lamented the loss of a love in Stefano Donaudy's neo-Classical "O del mio amato ben;" conveyed conflict in Paolo Tosti's "Non t'amo più," concerning a break-up; and finished with an ardent "L'alba sepàra dalla luce l'ombra," of Tosti, with a wide dynamic range. Also lauding Horne as a mentor, mezzo-soprano Isabel Leonard drew on the oeuvre of Leonard Bernstein, the centennial of whose birth comes in August, for an uplifting exhortation to "Take Care of This House," meaning the White House, a call its current brash inhabitant would do well to heed, from "1600 Pennsylvania Avenue," written with Alan Jay Lerner; "Greeting," an encouraging address of the new parent, from "Arias and Barcarolles;" and an a cappella "Somewhere," from "West Side Story," to Stephen Sondheim's words, which she invited us all to join her in singing to Horne.
Each pianist chose a meaningful encore, with which the company serenaded Horne. Jones' was "a favorite song of Marilyn Horne," Stephen Foster's "Beautiful Dreamer," led off by Leonard, and Katz's was Strauss' "Zueignung," with Jones joining in the singing. Horne then took center stage, declaring, "This has been an unforgettable afternoon. I have such connection to these singers that comes from deep down." Speaking of the role that Carnegie Hall has played in her life since 1961, Horne urged us all, "not only take care of this house," but also "take care of this song." Renée Fleming will succeed Horne as "The Song Continues'" artistic adviser.