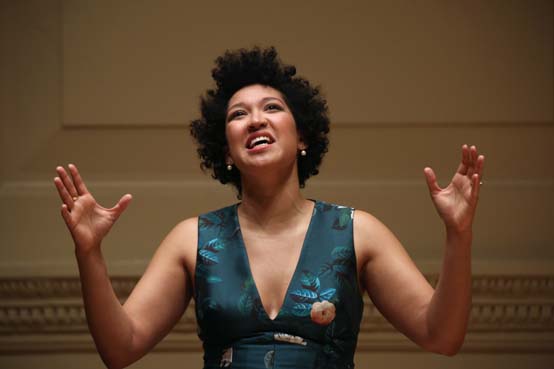 photo by Steve J. Sherman

Julia Bullock

.......................................................................................................................................................................................
Imagine if you could have heard Leontyne Price or Beverly Sills in the 1950s, before they became the stars they were destined to be. That's what's like to get to know the work, at this stage, of outstanding young soprano Julia Bullock. With pianist John Arida giving strong support on the Steinway, Bullock gave a sold-out song recital at Weill Hall at Carnegie Hall on April 20, with the emphasis on songs by or about women, mostly concerning African-American women, her musical and spiritual ancestors, and it was an event about which people will long say, or long to say, "I was there and heard her when!"
The repertory ranged from classic art songs to classic African-American women's songs and the hues, in Bullock's varicolored vocal palette, ranged from light and lyrical to very dark. From her opening Franz Schubert group on, she sang expressively, with warmth, passion, and intimacy, all of these evident in Schubert Lied "Suleika I," with poem by Marianne von Willemer. Her approach ranged from lilting to somber within a single song, "Lachen und Weinen," to Friedrich Rückert's words, and she contrasted a solemn, "Wandrers Nachtlied II," with text by Johann Wolfgang von Goethe, with a cheerful, "Seligkeit," to Ludwig Christoph Heinrich Hölty's poetry, explaining that the latter assures us that "we can find bliss right here on earth."
Samuel Barber's "Hermit Songs," settings of words by Irish monks, were given their premiere by the young Leontyne Price and, though Price's interpretation, preserved in recording, is familiar, Bullock made them very much her own. She conveyed determination in "At Saint Patrick's Purgatory," song of the penitent, making a pilgrimage of atonement. With seriousness, she saluted the tolling of the "Church Bell at Night," piercing the fog or gloom. She lent reverence and tenderness to "Saint Ita's Vision," Mary's lullaby to the Infant Jesus. She left no doubt as to the earthiness of "The Heavenly Banquet," celebrating drinking. Awe and sadness marked Bullock's "The Crucifixion," in which she drew lightly on her chest register. Her "Sea-Snatch," with its melismatic passages, was an aptly turbulent depiction of a storm. Her simple, frank "Promiscuity"?—no vow of celibacy here! She made of "The Monk and His Cat" a monastic brother's fond address to a beloved pet and companion, "white Pangur," finding the similarities between them. Her "The Praises of God" was gently rocking, with its ascending florid final lines. She capped her performance with a prayerful and dramatic "The Desire for Hermitage," praising solitude and peace, perhaps only found in death.
Gabriel Fauré's 10 songs of "La chanson d'Ève," which Bullock called "one of my favorite song cycles," posits an Eve created without an Adam. The six selections that she sang were suffused with awe and introspection and she drew on an almost mezzo-soprano timbre for them. Her "Prima verba" was full of wonder. In "Roses ardentes," her Eve observed her surroundings, flowers, trees, the sea, and the sun, and most fancifully, her soul, and in "Comme Dieu rayonne," found the Deity's presence in the most wondrous creations. Her bustling "Veilles-tu, ma senteur de soleil" found her among bees, flowers, and forest. She made "Crépuscule" a veritable cri de coeur and, in meditation "O mort, poussière d'étoiles," expressed awareness of the end at hand.
Few others have had the vision to set Alberta Hunter, Billie Holiday, and Nina Simone beside Schubert and Fauré. Bullock began her closing group with "Driftin' Tide," by Spencer Williams with his wife, often not credited, Pat Castleton, and sang us the blues in round, dusky tone, pouring out her heart about the man that ran off and left her. Maceo Pinkard's "You Can't Tell the Difference After Dark" was written for, and perhaps in part by, Hunter. Bullock's account was up-tempo and wry in its commentary about skin color, and Arida contributed a swinging piano interlude before Bullock repeated the last two verses.
Cora "Lovie" Austin's "Downhearted Blues," written with Hunter, was a hit of the 1920s and, covered another notable, "made Bessie Smith a household name." In this song, her man did her extremely wrong, made her moan and groan, and apparently drove her to drink, too. In Holiday's unusually joyful "Our Love Is Different," written with Sonny White, Basil Alba, and R. Conway, Bullock limned a more rewarding love. Between these numbers, Arida was inspired to play a fine "Frog Tongue Stomp: A Lovie Austin Tribute" to connect them. Referring to it as an anthem, Bullock gave us an a cappella "Revolution," by Simone and Weldon Irvine, Jr. that was almost a prayer. Introducing Simone's "Four Women"—of color, that is—Bullock pointed out the women's lives are bitter and, ironically, their given names are sweet. And the final one is nameless. Bullock's "Four Women" was at once plaint, confession, and song of rebellion, sad and weighty, and bearing witness.
In her first encore, Connie Converse's "One by One," which she found akin to a Schubert Lied, Bullock conveyed a feeling of desolation. But to send us off, she reveled in a sultry "La Conga Blicoti," a Joséphine Baker number.