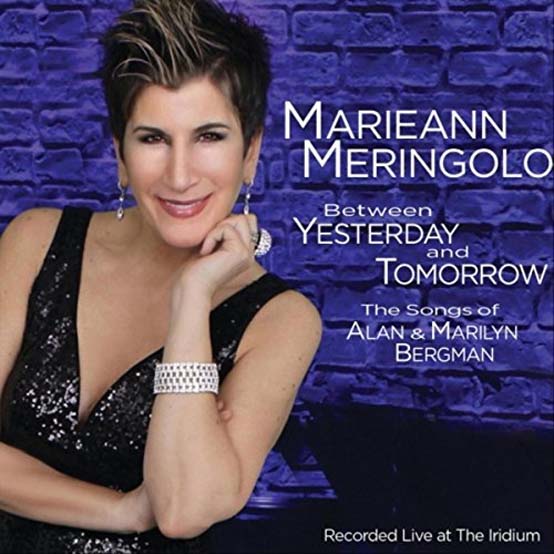 CD Cover

.......................................................................................................................................................................................
"Between Yesterday and Tomorrow" is the latest release from Marieann Meringolo, cabaret star and expert interpreter of the American songbook. This program is all about the wealth of wisdom in the songs of Alan and Marilyn Bergman–how do they know so much about the human heart and what balm we need or what pick-me-up? The only thing better than seeing Meringolo at an intimate venue like NYC's Iridium is the intimacy of having someone sing these amazing songs to you in headphones.
Starting off with the bittersweet pairing of "The Way We Were" and "Where Do You Start," the limerance begins at the end of an affair. Anyone who's had their heart broken vibrates like a violin string and it is impossible to not go down the rabbit hole of your own memory to That Day in your life. "Nice 'n' Easy" and "That Face" remind us that there is always someone to love, and the experience is something that causes us to ponder, as in "It Might Be You" and "What Are You Doing the Rest of Your Life." It is the torchy anthem "I Was Born in Love With You" that had me leaning forward in my chair–the words are typical of someone who touches the past and the future at the same time, when that special someone comes into your life. Meringolo's voice takes you in, lifts you up, and I can only wonder at the lucky soul who receives that gift. That person for whom all the travail before was necessary. You must know the depths to know how high the heights truly are.
"The Way We Were" comes back with a contemplative "How Do You Keep the Music Playing," and I keep returning to this, "The Windmills of Your Mind/Between Yesterday and Tomorrow," and "Where Is It Written/Piece of Sky." All of these capture the world where we find ourselves falling in and out of love and, should you find yourself walking a Fire Island beach, with a pair of headphones and this music in your i-whatever or Andro-whosit, the elements and the elemental will combine in a most satisfying way.
Get this album at your favorite music outlet, so "Summer Me, Winter Me" takes you through the seasons of love.