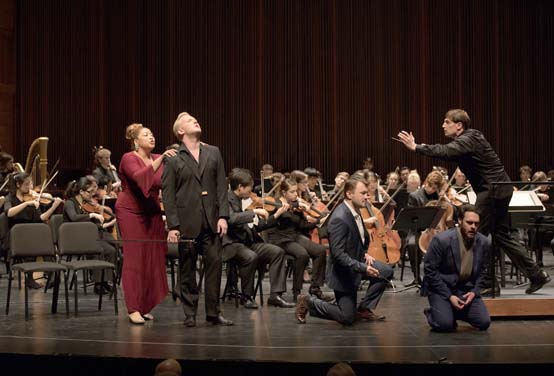 photo by Rosalie O'Connor

(left to right) Michelle Bradley, Ian Koziara, Adrian Timpau, Gerard Schneider, & Evan Rogister conducting the Juilliard Orchestra in Act Two of "Stiffelio"

.......................................................................................................................................................................................
Much of Giuseppe Verdi's (1813-1901) music is not considered good for the health of young voices, but on February 23 at the Juilliard School, singers from the Metropolitan Opera's Lindemann Young Artist Development Program and musicians from the Juilliard Orchestra, under the knowing baton of Evan Rogister, proved in a spirited "Evening of Verdi," that if judiciously chosen, selections by this all-important composer, from repertory both rare and popular, can indeed be put across by emerging singers, with fresh voices, without doing damage to their instruments. Effective staging of the scenes-in-concert was by Stephen Wadsworth.
Violinist Brian Hong, his solo marked by sweetness and urgency, introduced a breathtakingly dramatic third act trio, "Qui posa il fianco … Qual voluttà trascorrere," from "I Lombardi alla prima crociata" (1843, revised 1847), sung by soprano Michelle Bradley as Giselda, tenor Kang Wang as Oronte, and bass David Leigh as Pagano.
In Act Two of "Stiffelio" (1850), Bradley, as Lina, gave us a touching bel canto prayer, "Ah, dagli scanni eterei," with a well-placed high, quiet conclusion, followed by "Ah! Perder dunque voi volete," her fiery cabaletta. Tenor Gerard Schneider, as Lina's lover Raffaele, and baritone Adrian Timpau, as Lina's father Count Stankar, joined voices in angry duet, prior to their duel, and tenor Ian Koziara, as the eponymous minister, Lina's spouse, collaborating with Bradley, Schenider, and Timpau, offered a quartet full of turmoil and fury. Leigh, as the preacher Jorg, completed the cast.
In Act One, Scene Two of "Falstaff" (1893), with its sprightly ensembles, we were charmed by the lyrical 'Merry Wives of Windsor" Alice Ford, soprano Gabriella Reyes de Ramírez; Meg Page, mezzo-soprano Emily D'Angelo; and Mistress Quickly, mezzo-soprano Sara Couden; and Alice's daughter Nannetta, soprano Hyesang Park, and Nannetta's suitor Fenton, tenor Petr Nekoranec, who quote Boccaccio to each other ("Bocca baciata non perde ventura, anzi rinnova come fa la luna") in ethereal duet; as well as Alice's spouse Ford, baritone Timpau; and his louche cronies Bardolfo, tenor Charles Sy; Pistola, bass Leigh; and Dr. Caius, tenor Koziara.
Returning for Act Three of "Rigoletto" (1851), Wang, as the Duke of Mantua, tossed off a dashing "La donna è mobile" with ease and blended with soprano Park, as an innocent Gilda, baritone Kidon Choi, a sturdy Rigoletto, and mezzo-soprano Rihab Chaieb, a sultry Maddalena, in a rousing "Bella figlia dell'amore." Rogister led Park, Chaieb, and bass Leigh, a menacing Sparafucile, and the players in a particularly gripping storm trio and ensuing interlude.