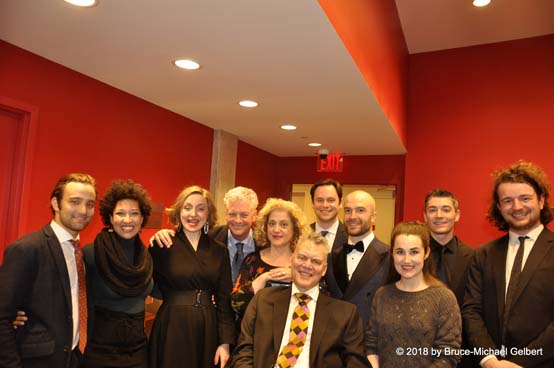 photo by Bruce-Michael Gelbert

(left to right) Theo Hoffman, Julia Bullock, Antonina Chehovska, Michael Barrett, Mary Testa, Steven Blier, Paul Appleby, John Brancy, Lauren Worsham, Eric Borghi & Jack Gulielmetti (missing from photo: David Ostwald)

.......................................................................................................................................................................................
The New York Festival of Song (NYFOS) concluded its 30th anniversary season, on April 24 at Merkin Concert Hall, with a wonderful gala, featuring a wealth of songs from well-remembered past NYFOS programs, sung by a septet of favorite accomplished singers associated with NYFOS. The singers, a treasure every one, were sopranos Julia Bullock, Antonina Chehovska, and Lauren Worsham, theater's Mary Testa, tenor Paul Appleby, and baritones John Brancy and Theo Hoffman. Brilliant NYFOS founders Artistic Director Steven Blier and Associate Artistic Director Michael Barrett, at the Steinways, shared pianistic duties, and were assisted by guitarist and banjo player Jack Gulielmetti, tuba player David Ostwald, and percussionist Eric Borghi, who was sometimes joined by Barrett.
Hoffman and Blier began this "30th Anniversary Celebration" with a refined bel canto "Orpheus With His Lute," by Ralph Vaughan Williams, with an almost early music sound. This was the first song NYFOS had ever performed. Blier and Barrett met as a result of a Marc Blitzstein program in 1985, so Hoffman and Worsham, assisted by Barrett, honored this with an upbeat account of Blitzstein's "Croon-Spoon," from "The Cradle Will Rock," playing siblings breezily bickering over their respective obsessions, pop music (his) and the movies (hers). Appleby, with Barrett, seduced us with a slinky, bluesy "I Knew a Woman," from "Open House," William Bolcom's setting of a Theodore Roethke poem, which, Bier commented, contains a "sexual innuendo in every single line."
Beginning a Northern European group, Chehovska, with Barrett, offered an impassioned "Mé srdce casti v bolesti" (My heart often ponders), by Antonín Dvorák and Gustav Pfleger-Moravský, using both light and dark colors in her vocal palette. Bullock, with Blier, gave us an at once dramatic and thoughtful rendition of "En svane" (a swan), Edvard Grieg's setting of a Henrik Ibsen poem, inspired by a deathbed confession of love—a swan song—that Ibsen experienced. Brancy, with Barrett, made a passionate outpouring of Sergei Rachmaninoff's "Vesennije Vody" (Spring Waters), with poem by Fyódor Ivánovich Tyútchev and, in a wrenching "K nej" (to her), by Rachmaninoff and Andrei Bély, Chehovska, assisted by Blier, played Orpheus seeking his dead Eurydice.
Proceeding to songs in Spanish, with Blier at the piano, Worsham delivered a lilting 18th century "El dulce de América," about the sweet (one) from America, in which, or in whom, she overindulged, which made her ill, and Chehovska expressed the pain burning within, in Enrique Granados' tonadilla "El mirar de la maja," to Fernando Periquet's text. Appleby followed up with a steamy, romantic "Flor de Yumuri," by Jorge Anckermann and Gustavo Sánchez Galarraga, concerning "Romeo and Juliet"-like lovers from rival indigenous Cuban tribes, which he ended in head voice, and Brancy joined him for "Como el arrullo de palmas," limning their lady love(s), by Ernesto Lecuona. Gulielmetti, on guitar, and Borghi, on percussion, sometimes with Barrett, made contributions here.
Gabriel Fauré's serenade-like "En sourdine," from "Mélodies de Venise," to poetry by Paul Verlaine, mentions half-daylight ("le demi-jour") and eyes half-closed ("Ferme tes yeux à demi) and Brancy, with Barrett assisting, sang it mostly in a dulcet legato half-voice. "Tu vois le feu du soir," from "Miroirs brûlants," a favorite of Francis Poulenc from among his own songs, and also a favorite of Blier's, to Paul Eluard's poetry, was sung by Appleby, with Barrett, in part quietly, in an almost voix-mixte, in part very much in full voice, all of it with heart.
A sextet of American songs came next. Hoffman sang a brash "Talent" from Stephen Sondheim's much-reworked "Road Show," an ode to talent owned, admired, or envied. Bullock gave us a light-hearted "Ain't-cha Glad," a love song by Thomas "Fats" Waller and Andy Razaf, in lyric soprano with mezzo-soprano undertones, with Blier ornamenting the piano line. Blier assisted Testa in a wistful, hopeful "Heaven," from Michael John LaChiusa's "Hotel C'est L'Amour," and a bouncy "Ole Buttermilk Sky," a love song of the South, by Hoagy Carmichael and Jack Brooks, with Gulielmetti on banjo and Ostwald on tuba. Brancy, with Blier, made of Adam Guettel's "Awaiting You," from "Myths and Hymns," an unusually aggressive song of devotion, with its last lines in gentle head voice, however. Worsham's tour-de-force, with Blier, was Jonathan Larson's "Hosing the Furniture,' from one-night-only musical 'Sitting on the Edge of the Future," positing a 1939 World's Fair-view of a futuristic home, made entirely of vinyl, with a drain in the living room floor. Worsham, as Mrs. Modern, unraveled, as she saw her life go down that drain, even as she feigned reveling in her easy-to-clean surroundings.
NYFOS did a program comparing and contrasting Franz Schubert Lieder and Beatles songs and, drawing on that, Appleby, with Barrett, sang Schubert's "Die Taubenpost" (the carrier pigeon-post), with poem by Johann Gabriel Seidl, smoothly, lightly, and sweetly, and Bullock and Hoffman, with Blier, moving directly into John Lennon and Paul McCartney's "In My Life," expressed fond affection, as they looked back with nostalgia. The full company's encore came from the Beatles as well, "Ob-La-Di, Ob-La-Da," and while I'm not sure if the audience was invited to sing along, we did so just the same.