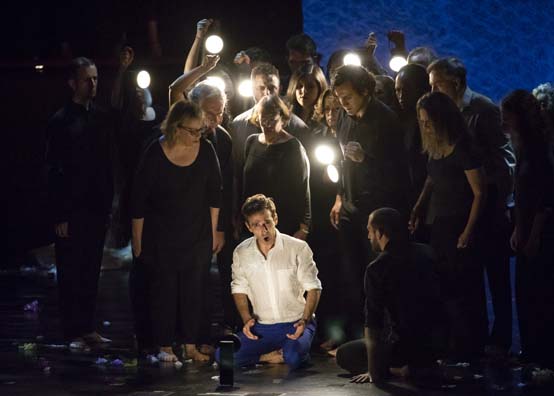 photo by Erin Baiano

Anthony Roth Costanzo as Orfeo & MasterVoices as the Furies

.......................................................................................................................................................................................
Early in May, MasterVoices presented composer Christoph Willibald Gluck and librettist Ranieri de' Calzabigi's beloved "Orfeo ed Euridice" (1762), starring young countertenor Anthony Roth Costanzo as Orfeo, the demi-god considered the father of music. Composer Matthew Aucoin's take on the proceedings shared the bill, on May 6 and 7, at Jazz at Lincoln Center's Rose Theater. Ted Sperling led the MasterVoices, Orchestra of St. Luke's, and guest soloists. The first night is discussed here.
As staged by Zack Winokur, Orfeo and Euridice's happy wedding took place during the lively prelude, with those in attendance dressed by Stacey Berman in more or less contemporary attire or work or rehearsal clothes, running barefoot through the flower petals. Then Euridice, clear-voiced light soprano Kiera Duffy, was stricken, and the wedding became her funeral instead.
Costanzo, as Orfeo, mourned his spouse in a lightly and tastefully embellished "Chiamo il mio ben così." Sent by Lauren Snouffer, displaying an appealing bel canto as soprano Amor, to rescue Euridice from the underworld, Costanzo's Orfeo gently soothed the savage breasts of the furies by suggesting that he suffered as they did and he sadly and lyrically observed idyllic Elysium, where he alone could not find peace. Tension grew between him and Euridice, who had been restored to him. Not knowing of his oath not to look at her until they were once again on terra firma, she accused him of no longer loving her.
Then Orfeo went into a zone and took us with him—a contemporary, agitated, and jarring zone, Aucoin's zone, which, he has maintained, represents Orfeo's conflict, his ambivalence about bringing Euridice back to life. This listener might have been more sympathetic to "The Orphic Moment" (2014), Aucoin's musical view were it expressed in his own opera, instead of near the climax of Gluck's two-and-a-half-century-old one.
Orfeo's keening done for the moment, the singing returned to Italian, and losing Euridice a second time, Costanzo's hero offered a magnificent "Che farò senza Euridice?" his lyrical lament for her. Snouffer's Amor interceded once again and reunited the titular pair. Gluck wrote two final trios, for different versions of his opera, healing, resolving, and celebrating the triumph of love. We got neither one of them—instead we went back into Aucoin's zone.
The masterful MasterVoices gave us moving funeral dirges, at the beginning; raged and then were placated as the furies; and reveled in the beauteous wonders of Elysium.
Dancer Bobbi Jene Smith and violinist Keir GoGwit represented Euridice in Aucoin's work. Douglas Fitch, scenic designer; Marcus Doshi, lighting designer; Julia Eichten, movement director; and Cori Ellison, dramaturg, contributed to this effort.