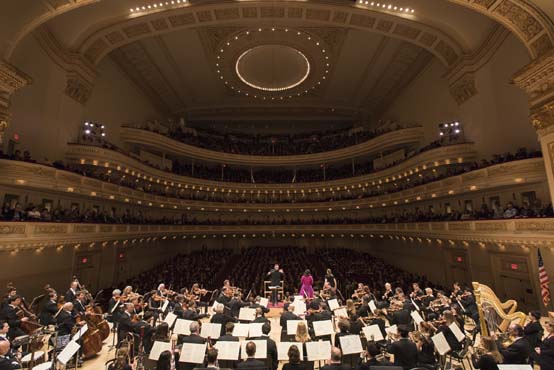 photo by Stefan Cohen

Bayerische Staatsorchester, with Kirill Petrenko, Adrianne Pieczonka & Angela Brower, at Carnegie Hall

.......................................................................................................................................................................................
On March 29, the Bayerische Staatsoper brought a concert performance of Richard Strauss and Hugo von Hofmannsthal's "Der Rosenkavalier," with Music Director Kirill Petrenko leading the Choir of the Bayerische Staatsopera, nearly 100 members of the Bayerisches Staatsorchester, and a high-level cast, and made this a "Besuch" (visit) to remember indeed!
Under Petrenko's baton, the Staatsorchester's sound was glowing and rich from the start of ecstatic prelude; its second act Presentation of the Rose, with soprano-timbred mezzo-soprano Angela Brower, as Octavian, and soaring—to high C-sharp—and crystalline-toned soprano Hanna-Elisabeth Müller, as Sophie, proved ethereal; and its players certainly captured all the scurrying and the sub-rosa intrigue depicted as Act Three began, to mention just a few highlights. The singers, who have been performing the opera together at home in Munich this month, were entirely undeterred by the concert format, and delivered vivid portraits of the characters and clear accounts of their exchanges. If anything jarred slightly, it was that when remarks were addressed to silent figures Hippolyte, Mohammed, and Leupold, who were naturally not present here, they were addressed to us instead.
Adrianne Pieczonka, as the Marschallin, and Brower, as her young lover Octavian, in pantsuits to remind us that she was playing a man, conveyed true affection in their early intimate scenes. The mezzo's Octavian threw a bona fide tantrum, when her love let slip that there had been others before him, and the soprano's Marschallin, who had contributed a thoughtful monologue about aging, kept us fully riveted at the end of the act, after she had finished singing, but remained in contemplative mode. In Act Three, Pieczonka's Marschallin, in all her dignity, set everything right, preventing bass Peter Rose's aptly earthy Baron Ochs from getting arrested, but freeing his young intended, Sophie, from the unwanted relationship, thus propelling her right into Octavian's arms. The scene for the Marschallin, Octavian, and Sophie, culminating in the famous trio, "Hab' mir's gelobt," and Brower and Müller's final duet, were as exquisite as one would wish.
The Act Two letter-reading scene between Rose's Ochs—quickly recovered from a sword-wielding Octavian's assault—and Helene Schneiderman's Annina merits mention, and after the orchestra's last note, Petrenko turned to Rose to congratulate him on his long-sustained last low tone. Lawrence Brownlee made a cameo appearance as the Italian tenor, giving us a smooth bel canto "Di rigori armato il seno." Markus Eiche and Miranda Keys played Herr von Faninal and Sophie's duenna Marianne Leitmetzerin, and were more than willing to be taken in by the badly-behaving Baron, even as Brower's Octavian and Müller's Sophie were clearly appalled, when he harassed his fiancée. Ulrich Ress as Valzacchi, Annina's uncle and co-conspirator; Peter Lobert as the police commissioner; Kevin Conners as the innkeeper and major-domos; Christopher Rieger as the notary; and Long Long as the animal vendor completed the cast with distinction.