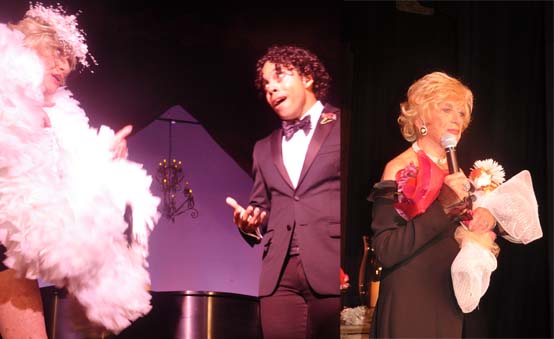 photos by Bruce_michael Gelbert

Rose Levine & Chris Bell, "Old Fashioned Wedding" and Rose Levine, curtain call

.......................................................................................................................................................................................
On July 14, le quatorze juillet, at the Cherry Grove Community House, under the auspices of the Arts Project of Cherry Grove, veteran chanteuse and thespian Rose Levine celebrated Bastille Day, as well as marking 64 years in Cherry Grove, with a generous helping of familiar favorites, classic songs by creators of the American Songbook, in a musical show billed as "La Vie en Rose." Chris Bell was the choreographer, stage director and, sometimes, assisting artist; George McGarvey served as artistic director; and Brian Taylor, at the piano, was the musical director.
After Homecoming Queen 2018 Rose, seated on her throne, gave us a royal greeting, Taylor sounded strains of "La Marseillaise" and Rose launched into a romantic "La Vie en Rose," en français and in English. An elegant Rose began selections by Stephen Sondheim, from "Follies," with an enthusiastic "Ah! Paris;" segued into a zesty "Broadway Baby," which, in a personal adaptation, included lines "singing like Ms. Merman/in songs by Jerry Herman;" and reminded "I'm Still Here," as she considered her career.
Moving onto Jule Styne, with Sondheim, Rose belted out a triumphant "Some People," from "Gypsy." She then calculated that she'd given some 6,825 performances in the Grove, the Pines, and New York City since 1955! In "Drop that Name," from "Bells Are Ringing," she amended the Comden and Green lyrics to salute Grove luminaries, instead of 1950s celebrities.
Rose paid tribute to both Cole Porter and Ethel Merman with "I've Still Got My Health," from "Panama Hattie," and from "Red Hot and Blue," expressed her musical preference in its title song and followed it with "Down in the Depths (on the 90th floor)," the quintessential lament.
Turning to Rodgers and Hart, Rose colorfully declared, in "That Terrific Rainbow," from "Pal Joey," "I'm a red hot Mama, but I'm blue for you," with a mid-song costume change, and gave us torch song "Ten Cents a Dance," full of some of Hart's gayest lines, like "pansies and rough guys" and "it's a queer romance."
Taking up top hat and cane for songs from Kander and Ebb's "Chicago," Rose let us know that there are changes in the air "Nowadays" and, in song-and-dance duets with Chris Bell, urged "(Give 'em the old) Razzle Dazzle" and fully evoked the Roaring Twenties with "All That Jazz," ending with high kicks in unison. Rose went on to "Maybe this Time," from "Cabaret," with a ringing climactic high note.
Moving on to Cy Coleman and Dorothy Fields, Rose cheerfully invited "Hey, Look Me Over," from "Wildcat," and ruefully disclosed shortcomings in "Nobody Does It Like Me," from "Seesaw." She continued with a sensitive "Don't Blame Me (for falling in love with you)," by Jimmy McHugh and Fields, from "Clowns in Clover."
There were more reminders of Merman in Rose's Irving Berlin group, starting with her lively "Hostess with the Mostess," from "Call Me Madam," and "I Got Lost in His Arms," from "Annie Get Your Gun," which she feels describes her relationship with Michael Fitzgerald, her partner for the past 25 years. She climbed up on the piano for "I Love a Piano," stretched out on it for some high kicks and, for a time, joined Taylor at the keyboard. On a serious note, Rose moved us with "Suppertime," written for Ethel Waters, in which a woman reacts to news that her husband has been lynched. Rose capped "Old Fashioned Wedding," with Bell, written for the 20th anniversary revival of "Annie Get Your Gun," with a big final top note.
Rose's spirited Jerry Herman medley consisted of "Shalom," from "Milk and Honey;" "It's Today" and "Bosom Buddies," from "Mame;" "A Little More Mascara" and "I Am What I Am," from "La Cage aux Folles;" and "Before the Parade Passes By," from "Hello Dolly." Bell accompanied Rose's "Tap Your Troubles Away," from "Mack and Mabel," with his bravura tap dancing. His bit of "Dancing," from "Dolly," gave Rose a chance to change into Dolly's red dress and feathered headdress, for the musical's title song, which we then all sang to her as "Hello Ros[i]e!" She ended with a touching "World Take Me Back," a seize-the-moment song that Herman added to "Dolly" for Merman, when she appeared in the last months of its original Broadway run.
Rose, a unique individual indeed, then took her leave of us by asserting, "(I did it) My Way," which she certainly did.