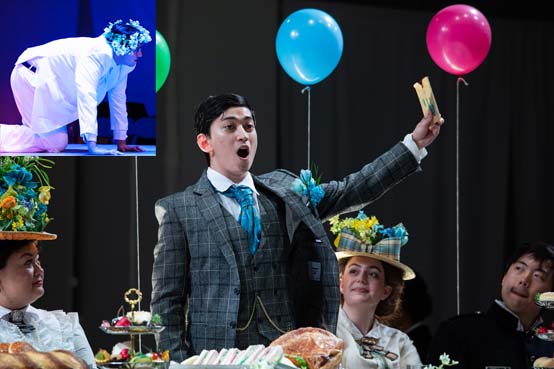 photos by Anna Yatskevich

(left to right) Riley Bragg, Adam Goldstein, Erin Wagner & Sung Shin (inset- Joseph Tancredi)

.......................................................................................................................................................................................
The Manhattan School of Music (MSM) Senior Opera Theater's offering, in the Ades Performance Space, the school's intimate chamber theater, has been a charming realization, directed by Artistic Director Dona D. Vaughn and conducted by Jorge Parodi, for three performances, triple cast, of Benjamin Britten's third opera "Albert Herring" (1947), the comedy, with libretto by Eric Crozier after Guy de Maupassant, in which frightening elements of "Peter Grimes," Britten's first, grand opera, are turned on their ear. Both works concern small-minded, small town groups, judging and gossiping and galvanizing into a lynch mob in the first, and a sextet of hypocritical pillars of society, figures of fun, with serious underpinnings, in the second, versus an out-of-step outsider, a disturbed fisherman driven to suicide, in "Grimes," and a mama's boy who grows up fast, in "Herring." Both feature title roles, written for Britten's long-time life partner Peter Pears, who are thought to reflect the status of 'other' that the composer and tenor may have felt as gay men in England—not to mention a conscientious objectors who sat out World War Two in America—in the first half of the 20th century. I attended "Albert Herring" on its first night at MSM, April 12.
Pompous Lady Billows, sung by Riley Bragg, who unfurled a strong soprano spinto, rules her realm of Loxford with an iron fist. She is attended by tireless housekeeper Florence Pike, overworked and underappreciated, on whose lines Gabriella Chea lavished a lush alto, and followed obsequiously by the Vicar Mr. Gedge, lyric baritone Sung Shin; the Mayor Mr. Upfold, tenor Adam Goldstein; the school teacher Miss Wordsworth, fine high soprano Yvette Keong; and Police Superintendant Budd ("Give me a murder, with a corpse"), voiced by bass Edward Lim. Their task, on this day in April 1900, is to reward virtue by crowning a worthy young lady as Loxford's May Queen, but there is no deserving candidate to be found. To teach these flawed young women, guilty of the most laughable peccadilloes, their lesson, the committee decides to name a May King instead, shy and sheltered Albert Herring, the grocer's son, who's terribly embarrassed about having his innocence and naiveté publicly fêted.
Joseph Tancredi, a pure-voiced tenor pupil of Metropolitan Opera and New York City Opera soprano Ashley Putnam, made the most of his tour-de-force declarations of independence, first when he set out for an evening of all the debauchery that £3 can buy, following his coronation, and then when he came home the next morning, a hot mess, apparently hung over, and rubbed his fall from grace in the faces of Lady Billows' posse and the mother who's kept him tethered to her apron strings (Erin Wagner). Tancredi's Albert was aided and abetted in his loss of innocence by Sid and Nancy, a well-matched lyric baritone, Sam Krivda, and lyric mezzo-soprano Christina Parsons, singing a sweet love duet. Sid helped Albert along by spiking his lemonade with rum, to strains from Richard Wagner's "Tristan und Isolde," and Nancy shared Albert's first adult kiss. Vaughn had Tancredi lay on Albert's drunken act thick, for his patrons and matrons, and once they departed in a huff, Krivda and Parsons, with Melissa Lubars, Hyejin Yoon, and Yuchan Zhou, as Miss Wordsworth's charges, helped celebrate our suddenly sober hero's 'coming out.'
An undeniable musical highlight of the evening was the adult principals' final scene Threnody, "In the midst of life is death," a mournful, hymn-like nonet, when Albert was presumed dead, which abruptly ceased, to be replaced by accusation and inquisition, when he turned up flawed, but alive.
Kudos go to set and period costume designer Maureen Freedman, whose look for the opera's people and locales was just right.
"Albert Herring" turns up in repertory far too infrequently. A production such as MSM's showed how worthy of reinvestigation the opera is.